Mahsa Amini died on September 16, three days after going into a coma after being arrested by morality police in Iran's Tehran.
Iran said on Friday that an examination into Mahsa Amini's death in detention revealed she died of sickness rather than the claimed beatings that prompted three weeks of bloodshed.
Amini, 22, died on September 16, three days after going into a coma after being arrested by morality police in Tehran for allegedly violating the Islamic republic's severe clothing code for women.
Anger over her death has sparked the largest wave of protests in Iran in over three years, as well as a crackdown that has resulted in the deaths of dozens of protestors and the imprisonment of scores more.
Despite the use of fatal force by security forces, the women-led protests have gone on for 21 nights in a row, according to internet recordings authenticated by AFP.
According to Iran's Forensic Organization, "Mahsa Amini's death was not caused by blows to the brain and essential organs and limbs of the body."
Amini's death, whose Kurdish first name is Jhina, was linked to "treatment for a brain tumour at the age of eight," according to a statement.
Amini's parents have filed a complaint against the cops involved, and one of her relatives in Iraq has informed AFP that she died as a result of "a hard strike to the head."
Other young women and girls have been slain during the demonstrations, but Amnesty International claims Iran has forced public confessions from their families in order to "absolve themselves of guilt for their murders."
'Suicide'
The mother of Nika Shahkarami, 16, who died after going missing on September 20, asserted on Thursday that she was murdered by the state after participating in an anti-hijab demonstration in Tehran.
Nasrin Shahkarami also claimed that officials threatened her with a coerced confession in connection with her daughter's death.
"I personally observed my daughter's body… Her skull had caved in at the back of her head, indicating a serious hit. "That's how she was slain," she claimed in a video aired online by Radio Farda, a Persian station located in Prague that is supported by the United States. Ran's judiciary has subsequently disputed claims that security forces murdered another adolescent girl, Sarina Esmailzadeh, at a demonstration last month in Karaj, west of Tehran.
According to its website, a prosecutor stated that an inquiry revealed Esmailzadeh, also 16, had "committed suicide" by jumping from a building.
According to the Oslo-based NGO Iran Human Rights, the Esmailzadeh family was subjected to intense pressure from government operatives to "repeat the suicide state narrative."
According to the report, when the teenager's body was identified, "many injuries were plainly apparent on her face, and the right side of her forehead was entirely crushed owing to the intensity of the blows."
Iran has barred access to social media platforms such as Instagram and WhatsApp and has initiated a major arrest effort.
Protesters have tried every means to escape discovery, with schoolgirls in confirmed videos covering or obscuring their faces while yelling "Death to the dictator" and defacing portraits of Iran's top leader, Ayatollah Ali Khamenei.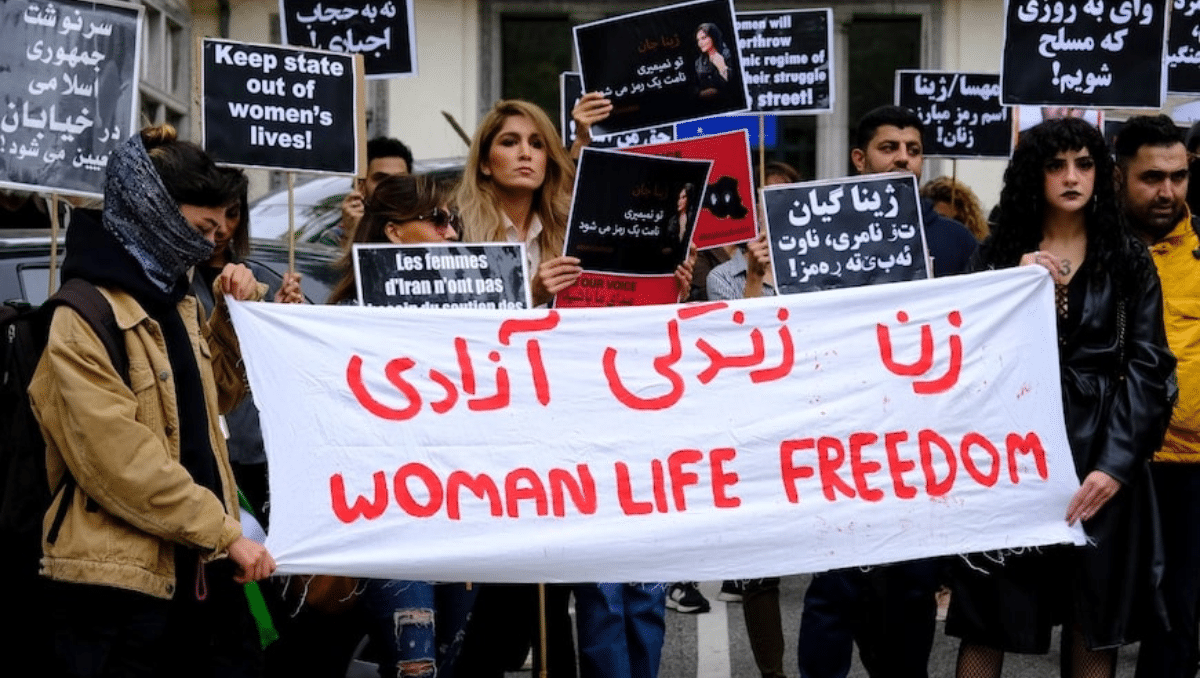 Other videos show individuals yelling the protest catchphrase "Woman, Life, Freedom!" from their apartment windows at night.
On Friday morning, another form of protest surfaced, with fountains in Tehran appearing to shed blood after an artist painted their waters red to signify the violent crackdown.
The water was eventually emptied, according to the BBC's Persian service, but streaks of crimson could still be visible on the fountains in photographs posted on Instagram.
Iran's guards are sanctioned by Canada.
The ensuing public violence in Iran, labelled "riots" by officials, has resulted in hundreds of deaths, forcing Western nations to tighten sanctions against the Iranian regime and its security apparatus.
Canada stated on Friday that it will exclude more than 10,000 officers and other top members of Iran's Revolutionary Guards from entering the country, accusing them of "heinous" crimes against the Iranian people.
"This is the toughest instrument we have to go after nations and state institutions," Prime Minister Justin Trudeau said, adding that it was previously only used against regimes accused of war crimes or genocide.
A petition signed by 21 human rights organisations, mostly from Iran, urged US President Joe Biden to do more to "discourage additional state violence and confront that country's long history of horrors and impunity."
Solidarity rallies continued throughout the world on Friday, including gatherings in Amsterdam and Berlin.
In Copenhagen, an Iranian armed with a knife broke into the embassy grounds, which Iran said was an attack on their female ambassador.
The Danish ambassador was called to the foreign ministry in Tehran to hear a formal complaint about the security breach, according to official media.
---
Read More: The Hijab row in India and Iran: 2 different stories with same roots
---