Japanese Prime Minister Fumio Kishida arrived in New Delhi on Monday morning to discuss ways to strengthen bilateral cooperation in sectors such as defense and security, commerce and investment, and high technology. The visit of Japan's Prime Minister is planned to take around 27 hours.
Later in the day, Prime Minister Narendra Modi and Prime Minister Kishida will discuss goals for India's G20 leadership and Japan's G7 presidency.
Table of Contents
Relationship between Japan and India's over the years
Japan and India have always had cordial relations. Soon after India's independence in 1947, the two nations established diplomatic relations. Japan gave economic support to India in the 1950s, which was critical to the country's growth. The connection between the two nations has only grown stronger throughout time, with both countries cooperating in numerous industries like commerce, military, and technology.
The Indo-Japanese friendship has recently been elevated to a unique level of strategic and global cooperation. Many agreements have been reached between the two nations, notably the Tokyo Declaration, which inaugurated a new era of cooperation.
Both nations have also collaborated on a number of global forums, including the United Nations, the G20, and ASEAN. Japan and India's relationship is founded on common principles such as democracy, the rule of law, and peaceful coexistence, making it a critical alliance in the area.
At a news conference on Thursday, Ministry of Foreign Affairs (MEA) official spokesperson Arindam Bagchi stated that Japan is a "very significant partner" and that India looks forward to exchanging ideas with Japan.
The Ministry of Foreign Affairs official remarked that they are looking forward to the visit of Japan's Prime Minister on Monday. It was said that Japan is an important ally, and that they have annual meetings with them, one of which being this one. Furthermore, Japan and their country are partners in plurilateral and multilateral frameworks, thus a good discussion is anticipated. The spokesperson expressed enthusiasm at hearing the Prime Minister's thoughts.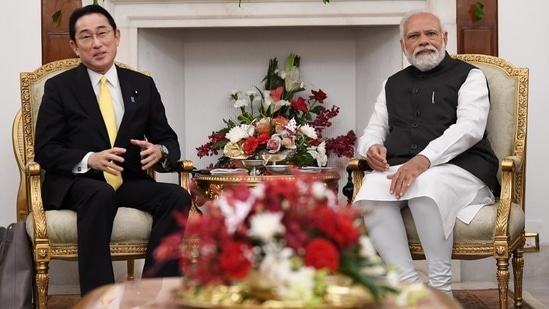 PM Fumio Kishida Agenda for the visit 
During his visit, the Japanese prime minister is scheduled to present his strategy for a "free and open Indo-Pacific," with an emphasis on India's growing importance in the area. The developing situation in the Indo-Pacific in the context of China's escalating military aggressiveness is also anticipated to be discussed in depth by PM Modi and PM Kishida.
In the afternoon, he is scheduled to present his "Free and Open Indo-Pacific Strategy for Peace" at a renowned think tank. The initiative is likely to emphasize India's importance in the Indo-Pacific region.
According to reports, Prime Minister Kishida made a comment during the prestigious Shangri-La Dialogue in Singapore in June of last year. He stated that the "Free and Open Indo-Pacific Strategy for Peace" will be presented in the coming spring. According to the Prime Minister, the strategy would strengthen Japan's efforts to promote a free and open Indo-Pacific. The emphasis will be on improving maritime law enforcement capabilities, supplying patrol vessels, and implementing cyber security, digital technology, and economic security measures. The strategy is intended to go into greater detail on Japan's policies and approach to the Indo-Pacific area."
Almost all major states have released their Indo-Pacific plans in the past several years. Japan has advocated for a free and open Indo-Pacific in order to preserve and strengthen the region's rules-based international order.