Hours after the nation witnessed the crash of WhatsApp, Facebook and Instagram, services of Reliance Jio network came crashing down majorly in Madhya Pradesh, Chhattisgarh, Delhi and in cities like Bengaluru, Mumbai, and Hyderabad. In just a while, 4000 users reported network issues on Downdetector, with 40% experiencing no signal.
The problem was heightened because Jio does not offer 2G or 3G services, and it is strictly restricted to 4G services and instead uses voice over LTE to provide voice services on the network. This made it even more difficult for the users as they could not switch to alternate 3G or 2G services.
It can be indeed termed a nationwide outage as thousands of remote employees faced inconvenience in working from home and for those whose business is solely online-based reported loss of livelihood of a day.
People took to Twitter to highlight the severe issues they faced at work and even criticized Jio services by threatening to switch to other network providers.
Whether it was a loss of cellular networks or a proper blackout, the hashtag of Jiodown started trending on Twitter on the morning of 6th October. Memes regarding the crash circulated on the social media websites, ridiculing Reliance Jio on their tweet when the social media crashed a few hours ago.
Free Data Candy:
As a goodwill gesture, recently, Reliance Jio took to its messaging services to inform its customers of a 2 Day Complimentary Unlimited Plan as candy to satisfy its customer after the inconvenience. This candy is a "hollow" one that compensates for a nationwide outage by offering free data packs.
Although, the step isn't altogether faulty as something had to be done to apologize more formally. But it cannot undermine the fact that this is not a win-win situation as the users counting on the network to carry on their daily tasks had no idea that something like this would compromise their work.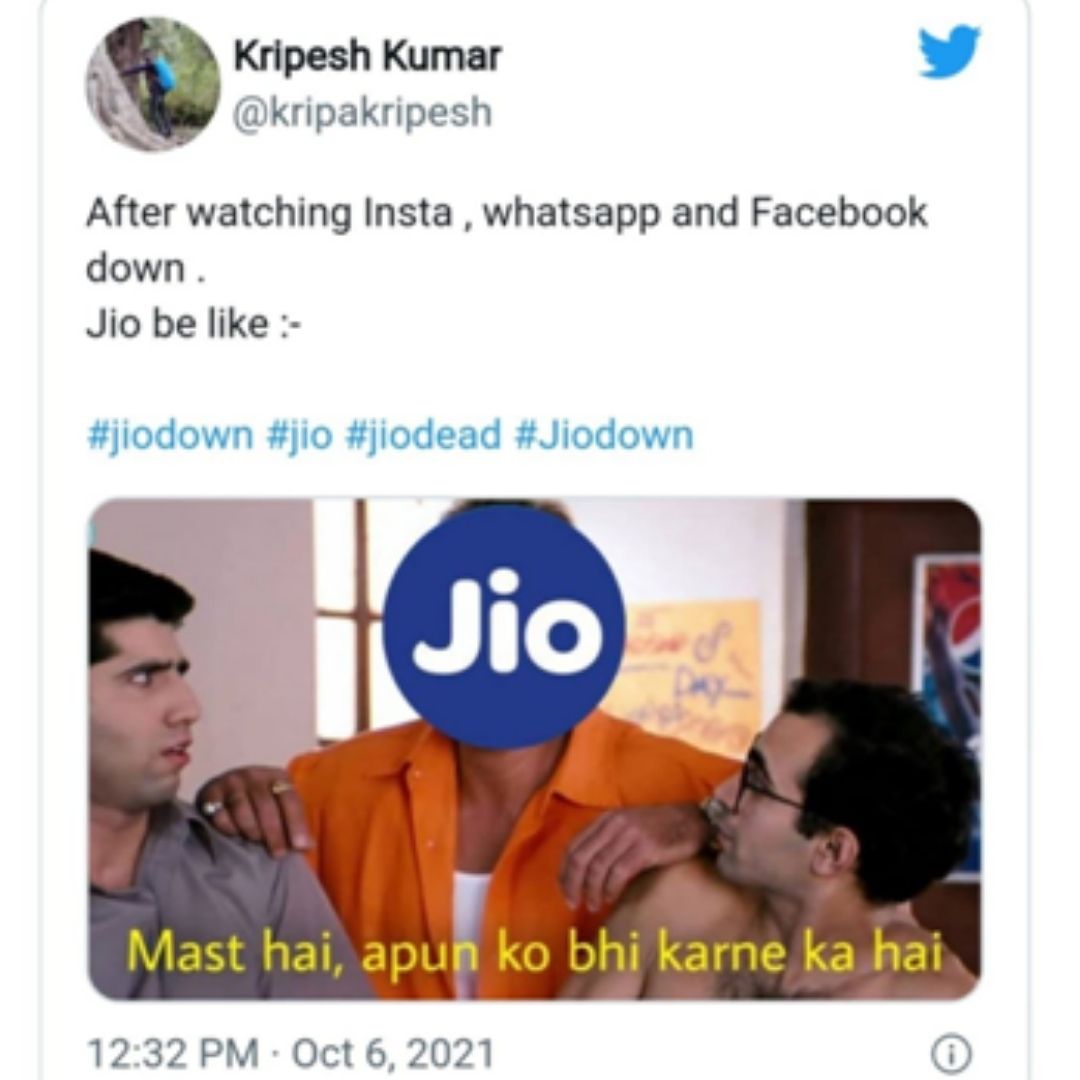 Inconvenience or Blunder?
A 6 to 7 hours nationwide outage of network services could not be in any way termed as an inconvenience. It was a blunder on the side of the network provider as Jio does not offer 2G and 3G services; thus, it should install a proper mechanism to ensure that the 4G network does not crash.
Accountability by India's 3rd largest service provider should be much more than a text message apologizing for the inconvenience and a 2 Day Free Data lollipop.
The reason behind the outage remains unknown, but the people depending on the services of network providers for their day-to-day work realized the importance of not relying on a single network. On the day itself, users requested to port their SIM into a network.
Also, the overall time taken to resolve the issue was way too much. In 2010, one of India's most dominant companies returned to the telecommunications space. And as a nationwide company, Reliance should show a more robust detection and analysis approach than a 7-hour long process to resolve a problem as grim as a network blackout.
Jio has, over time, become the representation of the Indian Telecommunications market, forcing other providers to lead by its example and offer user-friendly plans. It has by far manufactured a whole new strategy for users to enjoy unlimited talk time in a limited package of data services.
Thus, all the nation demands are a speedy detection of problems and solution of issues. After all, the words of the founder of Reliance, Mukesh Ambani, holds immense weight that, "The Treaty of India is that all our billion people count and they have aspirations."