Kedarnath: A Man-Made Disaster
On June 16 2013 flash floods struck the Kedarnath valley, killing more than 4000 people including animals as well. Limitless people lost their houses, and livelihoods, and were completely broken on all financial, emotional, and physical levels.
Reasons for the Kedarnath floods
Anthropogenic activities and unfavorable geographical conditions were the main two reasons for the Kedarnath floods and due to a sudden rapid melting of ice and snow on the Kedarnath Mountain, 6 km (3.7 mi) from the temple, which flooded the Chorabari Lake (upstream) and then Kedarnath. The temple was flooded, resulting in several deaths due to drowning and a panic-driven stampede.
Instead of a natural disaster, unplanned and haphazard construction, mismanaged tourism, and related activities, including intensive mining in this fragile ecosystem, are some of the reasons that made this natural disaster partially man-made, which heightened the intensity and magnitude of damages. This is the only explanation for what has been occurring in Joshimath since these calamities began.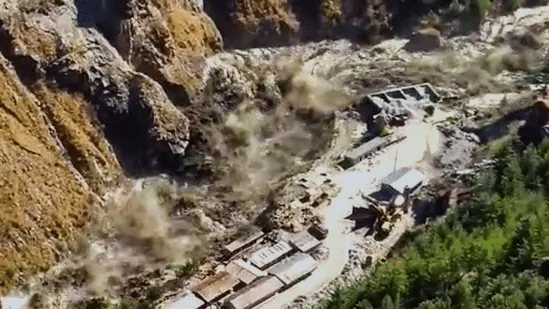 Up to now, 700 houses and roads have developed cracks as a result of the sinking of the land underneath the town. Geologists believe this cracking issue is a result of land subsidence caused by hydroelectric power projects under construction. Many geologists have blamed NTPC's Tapovan-Vishnugad hydroelectric power project for the current disaster.
Sati told India Today Group's The Lallontop that " This is the same tunnel where a disaster struck due to a glacier burst two years ago in which nearly 200 people died".
On 7 February 2021, a portion of the Nanda Devi glacier broke off in Chamoli. This triggered an avalanche and deluge in the Alaknanda river system that washed away hydroelectric stations. The sudden flash flood also washed away a 90-meter span RCC bridge on the Joshimath-Malari road located just downstream of the Rishi Ganga Hydel project and about two kilometers upstream of the Tapovan project.
"The project's tunnel passes through Joshimath," Sati said, adding that the tunnel got punctured in December 2009 and about 600 liters of water started overflowing per second. He said that for the last 12 years, this water has been flowing. According to Sati, the reservoir is empty, which is why the land is sinking.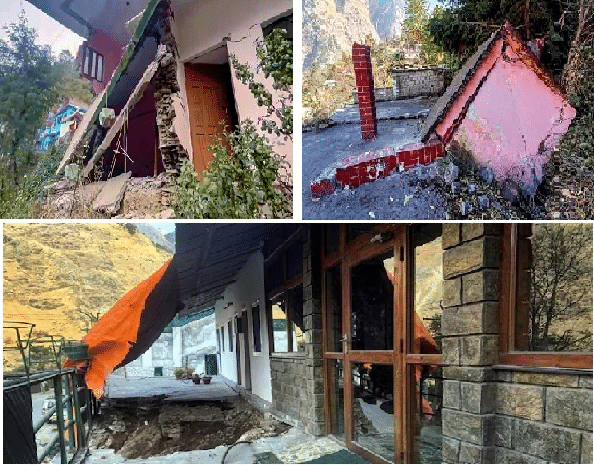 Why is Joshimath sinking?
The real reason behind land subsidence in Joshimath is not known yet. However, experts suggest that it might have been caused by unplanned construction, overpopulation, obstruction of the natural flow of water, and hydropower activities.
Dhami govt tells Joshimath residents to get a six-month waiver on water and power bills.
On Friday, the Dhami government announced that they would waive power and water bills for six months for the residents of Joshimath. Under the Mahatma Gandhi National Rural Employment Guarantee (MGNREGA) Act, the government also froze loan recovery from residents for a year and said two adult members of families whose livelihoods had been affected due to land subsidence would get wages.