With the alarming rapid increase of Covid cases globally, Karnataka Government has issued new Covid guidelines.
On 26, December 2022, the Karnataka government made masks compulsory in public places with immediate effect.
K Sudhakar, Karnataka Health Minister said, "Masks have been made mandatory inside movie theatres, schools and colleges. Masks will be mandatory to celebrate the New Year in pubs, restaurants and bars."
Covid-19 Guidelines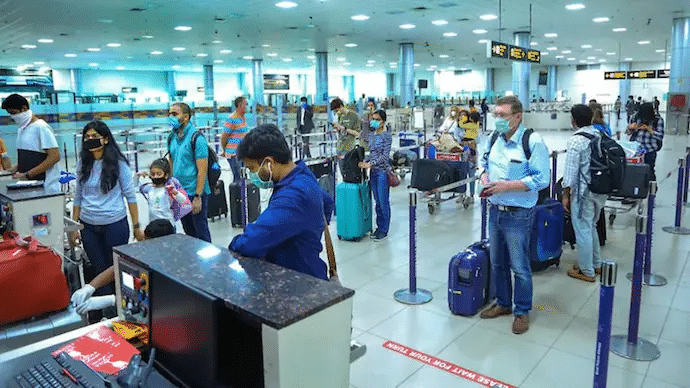 •Symptomatic travellers at Bangalore and Mangalore airports will be quarantined in Bowring Hospital in Bengaluru and Wenlock Hospital in Mangalore. Alternatively, the passengers themselves can choose the nearest eligible private hospital for quarantine. The hospital expenses will be borne by the passengers themselves.
•Travellers can leave the airport after verifying their RT-PCR test sample but should stay home quarantined.
In case of covid symptoms, contact the nearest health teams.
•Children under 12 years who arrive at the airport with symptoms of Covid will be accompanied by a guardian in good health to the medical centre.
•The 2% random sampling of international arrivals will continue as it was decided by the central government.
•Wearing a mask and verifying the RT-PCR report is mandatory.
•New year celebrations on 31 December 2022 and 1 January 2023 must end by 1 am on 1 January 2023 and 2 January 2023 respectively. The prescribed capacity of areas should not be exceeded.
•Pregnant, lactating women, elderly citizens, and people with health issues are advised to avoid public gatherings.
•Wearing N-95 face masks is compulsory in the theatres.
•Use of face masks and sanitizer and being fully vaccinated will be mandatory in schools.
Karnataka's Chief Minister Bommai stated "The current Covid situation was discussed at the cabinet meeting today, about the need to create awareness among the public about an increase in booster doses, testing, making testing compulsory for Influenza-Like Illness (ILI) and Severe Acute Respiratory Illness (SARI) cases, wearing masks in closed places."
He added, "We will have to bring in preventive measures step by step, without hampering normal life and economic activities in any way," he said, adding for New Year celebrations there will be certain directions, in the wake of an increase in COVID cases in different parts of the world.