The Ontario Teachers' Pension Plan, a significant Canadian pension fund, has entered into legally binding agreements to purchase 30% of Mahindra Group Renewables for an equity value of Rs 2,371 crore ($300 million).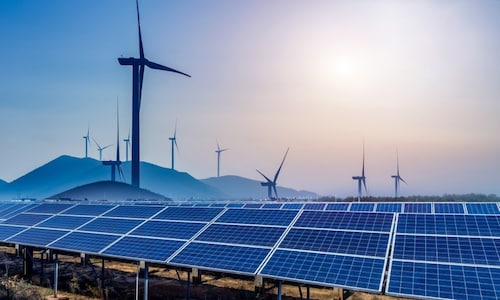 Mahindra Group & Ontario partnership
The Mahindra Group and Ontario Teachers' announced on Saturday the creation of a strategic partnership. As part of this partnership, the two parties will invest about Rs 4,550 crore in the expansion of the future portfolios of The Mahindra Group's Mahindra Susten Private Ltd (MSPL), a platform for renewable energy.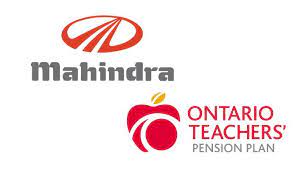 By May 31, 2023, Mahindra Group and Ontario Teachers' will work together to examine the possibility of selling a further 9.99% share in Mahindra Susten. Over the following seven years, the Mahindra Group will invest these funds, together with an additional sum of up to INR 1,750 crore (about USD 220 million), in the company and InvIT (an infrastructure investment trust similar to a mutual fund).
The proposed transaction also includes the establishment of an Infrastructure Investment Trust (InvIT) in accordance with relevant Securities and Exchange Board of India requirements. The InvIT is initially envisaged to consist of renewable power assets seeded by Mahindra Susten with an operating capacity of around 1.54 GWp.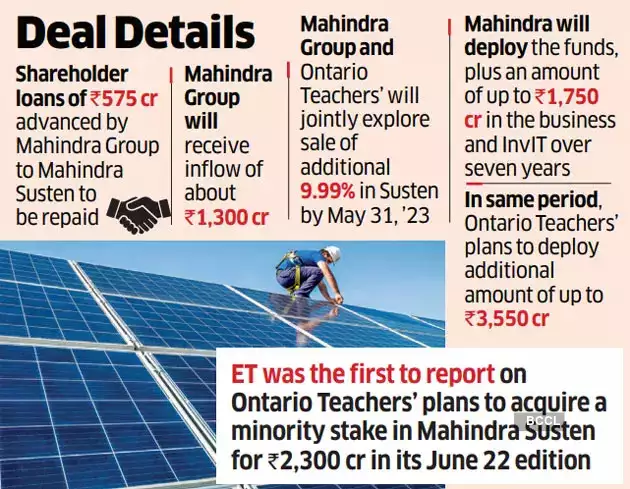 Through this deal, Mahindra Susten will be able to develop a potent renewable energy business that is centred on solar energy, hybrid energy, integrated energy storage, and round-the-clock (RTC) green energy facilities.
Mahindra Susten private limited, which was formerly known as Mahindra EPC Services private limited, is a subsidiary of the Mahindra Group, which is worth USD 19 billion. They are a portfolio business of Mahindra Partners' Cleantech division. Mumbai is home to the global Indian vehicle manufacturing company, Mahindra & Mahindra Limited (M&M). It started off as Mahindra & Muhammad in 1945 before changing its name to Mahindra & Mahindra. M&M is one of India's top car producers by output and is a member of the Mahindra Group.
"The cooperation with Ontario Teachers' will help the Mahindra Group to capture value in the renewable energy industry with continuous collaborative investments towards rapid growth," stated Puneet Renjhen, Member of the Group Executive Board and EVP, Partnerships & Alliances of the Mahindra Group.
Mahindra Susten's Managing Director and Chief Executive Officer, Deepak Thakur, stated in the announcement that this collaboration with Ontario Teachers' aligns with Mahindra Susten's goal of significantly expanding its portfolio of renewable energy sources, including solar PV, wind, and energy storage. This platform will make use of their reputable development expertise and in-depth understanding of the Indian energy sector.
This strategic agreement represents the start of what we believe will be a long-term and mutually beneficial engagement with the Mahindra Group, said Bruce Crane, Senior Managing Director, Asia Pacific, Infrastructure & Natural Resources at Ontario Teachers.
As of June 30, 2022, the Ontario Teachers' Pension Plan Board (Ontario Teachers') has net assets of C$242.5 billion. To provide retirement income for 333,000 working members and pensioners, we invest in more than 50 nations across a wide range of assets, including public and private stocks, fixed income, credit, commodities, natural resources, infrastructure, real estate, and venture development.
More than 350 investment specialists with offices in Hong Kong, London, Mumbai, San Francisco, Singapore, and Toronto have profound experience in sectors ranging from agriculture to artificial intelligence.
---
 Read More: India's economy, according to Anand Mahindra, is particularly hard on its young people and women.
---