Malaika Arora is undeniably a fashionista in her own right. Her ability to make profound style statements is evident every time she steps out, regardless of the occasion. Whether it's a red-carpet event or a casual outing, she possesses an innate knack for setting fashion trends and goals.
Recently, she graced the runway as the showstopper for renowned fashion designer Aslam Khan Couture, leaving everyone in awe with her stunning silver lehenga attire. Malaika seems to defy the passage of time, aging gracefully and effortlessly. Her ability to pull off a wide range of looks, from beachside casual to red carpet glamor, showcases her versatility and impeccable fashion sense.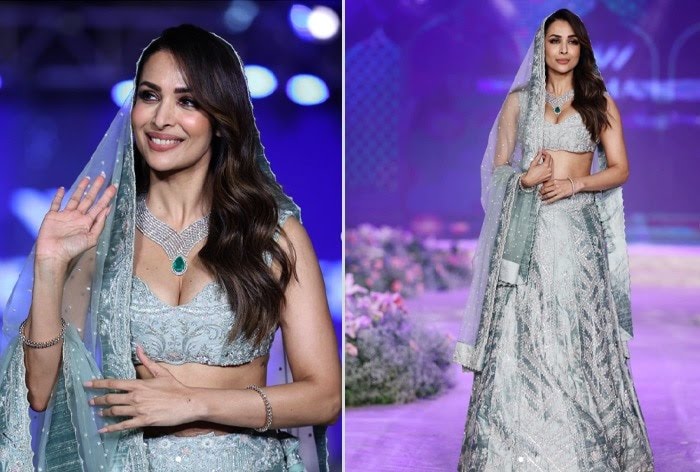 Malaika's fashion sense transcends boundaries, blending elements of glamor and sophistication effortlessly. Her sartorial choices are a testament to her impeccable taste and understanding of fashion's ever-evolving landscape. With an Instagram feed filled with captivating looks, Malaika Arora continues to be an influential icon, inspiring her admirers to embrace fashion with confidence and creativity.
A Quick Look at Malaika Arora's Recent Triumph
Malaika Arora's latest triumph on the runway was a showstopper moment for Aslam Khan Couture. She donned an exquisite silver lehenga ensemble that turned heads and captivated hearts. The attire consisted of a silver plunging neckline bralette adorned with intricate sequin embroidery, paired with a flared lehenga skirt featuring exquisite floral hand embroidery in shades of silver and light pink. To complete the look, she draped a net dupatta with a heavy border, adding an extra layer of elegance.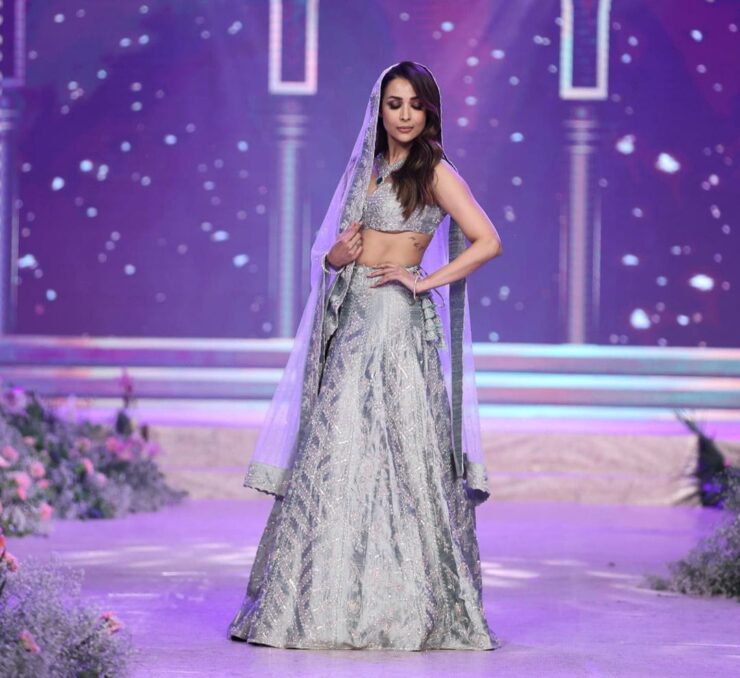 Malaika's style journey wouldn't be complete without the expert touch of her celebrity fashion stylist, Dev. She accessorized her ethnic look with a multi-layered diamond necklace, featuring a stunning green emerald centerpiece, and adorned her wrists with silver bangles. Her makeup, skillfully executed by makeup artist Simone C, included shimmering eyeshadow, winged eyeliner, mascaraed lashes, defined eyebrows, contoured cheeks, and a subtle nude lipstick. Hairstylist Madhav Trehan gave her lush locks a touch of glamour by styling them into soft curls and allowing them to flow gracefully over one shoulder, perfectly complementing her overall glamorous appearance.
Malaika's Social Media Influence
Beyond the runway, Malaika Arora continues to inspire fashion enthusiasts through her active presence on social media. Her Instagram feed is a treasure trove of stylish pictures that offer a glimpse into her impeccable fashion choices. Her recent post, showcasing her showstopper moment and her association with Wedding Diaries by Hilton at DoubleTree by Hilton Agra, powered by Oroh Shoes and AP Jewellery, garnered massive attention. The post received over 155k likes and numerous comments from her adoring fans who couldn't help but shower her with praise and admiration.
https://www.instagram.com/p/CxLKoo6NZun/?utm_source=ig_web_copy_link&igshid=MzRlODBiNWFlZA==
Malaika's Fashion Legacy
Malaika Arora's journey as a fashion icon has been marked by consistency and innovation. She has the ability to effortlessly switch between traditional ethnic wear and modern couture, making every outfit look like it was tailor-made for her. Her fashion choices have a timeless quality, making her a role model for those looking to stay stylish at any age. Whether it's her casual beachside attire or a glamorous red carpet gown, Malaika knows how to strike the perfect balance between elegance and trendiness. (Also Read:- Malaika Arora's onam look is all you want)
In Conclusion
Malaika Arora's recent appearance as a showstopper for Aslam Khan Couture once again highlighted her status as a fashion icon. Her silver lehenga ensemble, styled to perfection, left a lasting impression on fashion enthusiasts. Beyond her runway success, Malaika's social media presence continues to inspire countless individuals to experiment with their style and embrace fashion as a form of self-expression. With her impeccable taste and timeless beauty, Malaika Arora remains an enduring figure in the world of fashion, proving that style knows no bounds and can only get better with time.