Astronaut Mark Watney is assumed dead after a violent storm in Ridley Scott's 2015 sci-fi film The Martian, but he survives and finds himself trapped and alone on the dangerous planet. He claims to be "the finest botanist on the planet" after creating a garden out of local soil and human excrement, as well as water derived from rocket fuel.
While researchers from around the world are working on ways to settle humans on the red planet and also the lunar surface, a team from Indian Space Research Organisation (ISRO) has shaken hands with Indian Institute of Science (IISc) Bengaluru scientists to forge "space bricks" from Martian Simulant Soil (MSS) that can be used to build residential structures on Mars as well as Moon, says IISc press release.
According to media reports, a team led by Aloke Kumar, Associate Professor at IISc's mechanical engineering department, demonstrated that under the right conditions, certain bacteria can precipitate calcium carbonate, which can be used to make bricks using MSS, using Microbial Induced Calcite Precipitation (MICP).
Kumar in the university's statement said, "It is really exciting because it brings two different fields — biology and mechanical engineering — together".
Apart from Kumar, the team includes IISc's Rashmi Dikshit, a Biotechnology Career Advancement & Re-orientation (DBT-BioCARe) Fellow at IISc; Nitin Gupta, and Koushik
Viswanathan, as well as ISRO's UR Rao Satellite Centre's Arjun Dey. In February 2018, the five were also part of a team that built "space bricks" for the moon using Lunar Simulant Soil (LSS).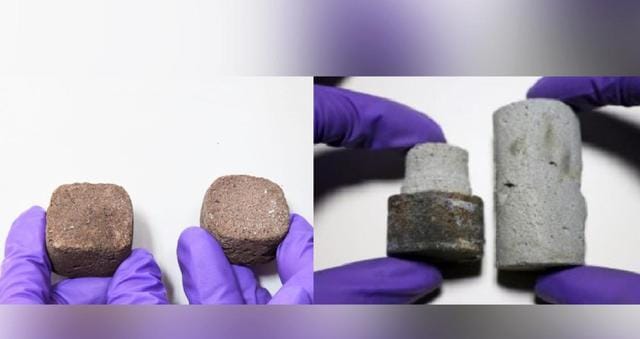 The team reported the production of bricks utilising both LSS and MSS in their most recent findings, which were published in PLOS One.
How were the bricks made?
Bio-mineralization, a process by which living creatures create minerals to harden or stiffen existing tissues, was employed to make these bricks since bacteria are extremely versatile organisms.
Sporosarcina pasteurii, a particular bacterium, was placed into the simulant soil. The resultant slurry can then be poured into moulds of any shape, according to the IISc. The bacteria in the mixture would then transform the urea to calcium carbonate crystals in the next stage. These microorganisms then release biopolymers, which act as cement, binding soil particles together.
The scientists employed guar gum, a naturally occurring polymer, as an addition to provide strength to the MSS bricks, similar to how LSS bricks are made. Guar gum is a thickening and stabilising agent derived from guar beans that can be used in food, feed, and industrial applications.
"Martian soil contains a lot of iron, which causes toxicity to organisms. In the beginning, our bacteria did not grow at all. Adding nickel chloride (NiCl2) was the key step in making the soil hospitable to the bacteria," explains Kumar.
Within 15-20 days of injecting the bacteria and other elements, the MSS, which is in powder form, would slowly change into a brick under ideal conditions.
Despite the fact that the team has previously worked on lunar bricks, MSS was not an easy task for them. They did experience difficulties, according to Kumar, and some of these issues were raised in a study published in the International Journal of Astrobiology by Hitesh G Changela and others.
One constraint, according to the paper, could be the numerous salts known to hinder or block microbial metabolism, such as perchlorates and chaotropic salts, sulphate salts, and those that cause multiple stressors and poly extreme circumstances.
The earlier process could only make cylindrical bricks, whereas the modern slurry-casting technology can make any shape of brick.
Plans ahead of the big leap
The team is now preparing to look into how Mars' atmosphere, along with its low gravity, impacts the 'space bricks.' According to the press release, the Martian atmosphere is 100 times thinner than Earth's and includes over 95 percent carbon dioxide, which could have a substantial impact on bacterial growth. Researchers have built a contraption called MARS (Martian AtmospheRe Simulator) to simulate conditions on the red planet.
According to the press release, the team has also created a lab-on-a-chip gadget that can assess bacterial activity in microgravity. "The gadget is being developed with the goal of performing experiments in microgravity in the near future," said Rashmi Dikshit, the study's first author, who has previously worked on the lunar bricks. The team hopes to deploy such gadgets into space with the support of ISRO to examine the effects of low gravity on bacterial growth.
"I'm so excited that many researchers across the world are thinking about colonising other planets. It may not happen quickly, but people are actively working on it," said Kumar.
---
Published by: Diwakar Kumar
Edited by: Khushi Thakur