PM Modi, while addressing the 'Global Millets Shree Anna Conference 2023', highlighted the importance of millets in tackling the problems of food security not only in India but also on the global stage.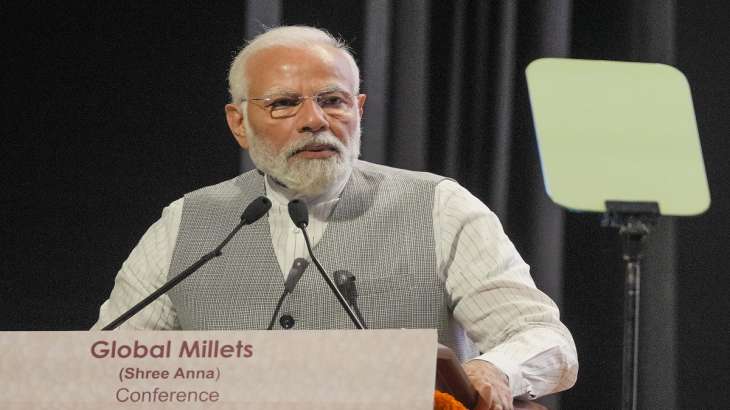 He inaugurated the two-day global conference in the national capital New Delhi. Following this, he also unveiled a customized postal stamp and a Rs.75 commemorative currency coin signifying 2023 as the "International Year of Millets".
A video relating to this grain was also released during the inauguration, citing the Indian Institute of Millets Research, Hyderabad as the spearhead for this global research.
Millets: The sustainable solution to hunger in a changing climate
The Prime Minister said on Saturday that India is currently leading the worldwide mission on millets which can play an instrumental role in tackling the prevalent ill of hunger in the global society, because of its unique nutritional structure and capacity to grow in mild as well as adverse conditions.
He noted that these grains bring with them, endless possibilities. In addition, he remarked that it was an honour for India that its proposal was accepted by the United Nations, for marking 2023 as the 'International Year of Millets', given the name of 'Shree Anna' by the Indian government.
Further highlighting the sustainability of millet farming and consumption, the Prime Minister observed that this can be consumed habitually, without any harm to the body, and can also be grown naturally, without any harm to the soil.
He said that millets will bring income to the small farmers, curb problems of food security and reduce lifestyle diseases.
He in his speech encouraged farm scientists to work on the nutritional qualities of nutri-cereals and increase the portion of millets in the global food store. He remarked that the current contribution of Shree Anna in the world food basket is anywhere near 5-6%, which is inadequate considering its nutritional and agricultural potential.
He further stated that many states such as Karnataka, have already included millets in their Public Distribution Systems (PDS). He urged other states to follow suit and join this campaign to achieve food security.
He suggested farmers and scientists to set achievable goals year by year to make Shree Anna a revolutionising element for world food security in coming years. This, in turn, could benefit 2.5 Crore small and marginal farmers in India.
Stating that India is leading the mission on millets or Shree Anna on the world stage, he informed that the government has started a Production Linked Incentive (PLI) scheme. He urged the companies to take benefit of this scheme and boost the production of millet-based food products.
'Millet' is a term categorising small-seeded grasses often called Nutri-cereals or Dryland-cereals. It includes Sorghum (Jawar), Pearl Millet (Bajra), Finger Millet (Ragi), Little Millet (Kutki), Proso Millet (Cheena), and Kodo Millet (Kodon), among others.
On 5th March 2021, the United Nations General Assembly (UNGA) declared '2023' the "International Year of Millets". The proposal submitted by India was supported by 72 Countries. India aims to position itself as the 'Global Hub of Millets' by organising a year-long campaign for elevating awareness about nutri-cereals. Taking a multi-dimensional approach, it is engaging consumers, cultivators, and R&D stakeholders in furthering this mission. This two-day conference, being held in the national capital is one of many such events taking place this year.