Prime Minister Narendra Modi will chair the 8th NITI Aayog meeting on Saturday in Delhi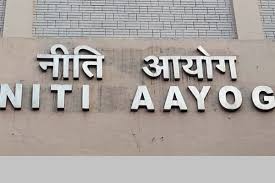 Image credit: The Statesman
On Saturday 27 May, Prime Minister Narendra Modi will head the eighth governing council meeting of NITI Aayog. The theme of which is Viksit Bharat @2047: Role of Team India. The meeting is taking place at the new convention centre in Pragati Maidan, New Delhi. 
PM Modi will conduct the meeting, being the chairman of NITI Aayog.
Pm Modi will discuss issues related to health, women empowerment, skill development and infrastructure development, with the aim to make India a developed country by 2047.
There will be eight themes discussed in the meeting- Viksit Bharat@2047, Thrust on MSMEs, Infrastructure and Investments, Minimising Compliances, Women Empowerment, Health and Nutrition, Skill Development, and Gati Shakti for area development and social infrastructure.
Chief ministers, Lt governors of all state and union territories, Union ministers as ex-officio members, the vice chairman and the members of the NITI Aayog will be present at the meeting.
To prepare for this meeting, the second chief secretaries conference was held in January 2023 where all the above topics were discussed extensively. Stakeholders, subject experts, academia and practitioners were present at the conference to gain a well-rounded, grassroots-level perspective on situations.
The release said that India, as the world's fifth-largest economy and most populous country, is at a stage in its economic development where it can achieve accelerated growth over the next 25 years.
This government council meeting will give an opportunity to create a plan for Viksit Bharat by 2047, where the centre and state can work as a team. This will play an important role as India's socioeconomic growth and transformation can have a positive impact on the world at large.
The NITI Aayog further said that the governing meeting is being held against the backdrop of India's G20 presidency, whose motto is 'One Earth, One Family, One Future'.
West Bengal CM Mamta Banerjee, Punjab CM Bhagwant Mann, Telangana CM KCR, and Delhi CM Arvind Kejriwal are set to skip the meeting of NITI Aayog. Kejriwal, in his letter to Modi, said that he would be boycotting the meeting in a protest against the centre's order to control services in Delhi.
NITI Aayog (National Institution for Transforming India) is the apex public policy think tank of the government It was formed in January 2015 and is a successor to the planning commission of India.
NITI Aayog is a vague organisation, unlike the planning commission, said West Bengal's vice president Jay Mazumdar.
The first meeting of the council was in 2015. The meeting didn't take place in 2020 due to the coronavirus pandemic.