Neeraj Chopra opts out from CWG 2022 due to an injury in the right thigh.
The Indian soil has a buffed chest because of that one sportsman who brought glory to his land. It's none other than India's javelin superstar Neeraj Chopra. Recently the athlete won silver in the javelin in World Ahethelic Championship in Oregon 2022.
But due to some physical injury, Neeraj Chopra has pulled out of the Commonwealth Games owing to a groin injury. The Commonwealth Games in Birmingham are set to begin in August and the men's javelin qualification will take place on August 5.
Injury in Right Thigh (opts out from CWG 2022)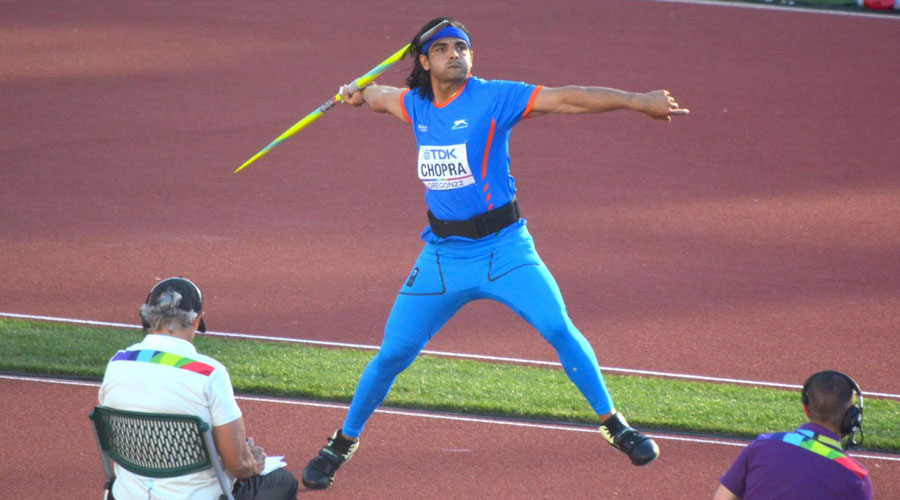 The Tokyo Olympic champion complained of stiffness in his right thigh. He woke up Sunday with pain and stiffness and had an MRI in Eugene Monday morning (US time) after continued agitation.
Reports were received and Neeraj was advised to take a month off. This also puts his participation in the Lausanne Diamond League game on August 26 in serious doubt.
Congratulations @Neeraj_chopra1 on winning the silver at the World Athletics Championships. We are proud of you. 🇮🇳👏

— Virat Kohli (@imVkohli) July 24, 2022
"Team India javelin thrower Mr. Neeraj Chopra had called from the US to convey his inability to take part in the Birmingham 2022 Commonwealth Games owing to fitness concerns. Following his participation in the 2022 World Athletics Championships in Eugene, Mr. Chopra had an MRI scan done on Monday and, based on it, he has been advised a month's rest by his medical team," Indian Olympic Association secretary Rajeev Mehta said in a statement.
Javelin Achievements
Gold winner at the 2018 Gold Coast Commonwealth Games, Neeraj was also a favorite at that edition. He was expected to reach the final, which would have coincided with the first anniversary of his gold medal in Tokyo on August 7. Also, after Saturday, the world awaited another duel between Granada's Anderson Peters and the 24-year-old from Panipat shock at Eugene. Peters won the gold medal with a best throw of 90.54 meters.
Neeraj was also scheduled to be India's flag bearer for Thursday's opening ceremony in Birmingham. After Saturday's final, Neeraj said he could gauge the extent of his injury once his body had cooled, but added he was fine for the Commonwealth Games.
I don't fight to win, I fight for excellence, I fight to get better. Gold is the goal, so I put in the hard work consistently and focus on getting better.

Watch me take the next step as I continue to push through the New Battles with New Armour. #TheOnlyWayisThrough pic.twitter.com/W6gaj2iEUP

— Neeraj Chopra (@Neeraj_chopra1) July 18, 2022
Ever since his elbow injury three years ago, which kept him out of the field for a prolonged period, Neeraj had become wary of pushing himself if he felt even an iota of discomfort. "He has become very conscious of his body after the elbow operation. At this point all we can say is a month's rehabilitation should be fine with him," a source said.
The celebrations following the gold medal at the Olympics delayed Neeraj's return to competitive events. His first event in 10 months was at the Paavo Nurmi Games in Finland on June 14th.
Indian players to play in Neeraj Chopra's absence
In the absence of Neeraj, the responsibility now lies with youngsters like Rohit Yadav and DP Manu for the Indians to fly the flag. They will have a difficult task in the presence of Peters, Olympic champion from 2012 Keshorn Walcott, and Pakistan's Arshad Nadeem, who finished fifth in Eugene. Yadav had qualified for the World Meeting Finals where he finished 10th overall.
Manu has a top score of 84.35m while Yadav has 82.54m. Neeraj's injury will also link him to Diamond League glory, which he describes as "unfinished business". He finished second in Stockholm on June 30 with a throw of 89.94 meters and was hoping for a strong performance in Lausanne.
Get Well Soon! Champion!♥️@Neeraj_chopra1 pic.twitter.com/tF50INfGhT

— RVCJ Media (@RVCJ_FB) July 26, 2022
The injury is expected to require a rehabilitation process of 15 to 20 days. With the javelin event at the Commonwealth Games featuring both a qualifier and finals, Chopra didn't want to risk aggravating the injury due to a busy season that includes the Asian Games and next year's World Championships. Chopra told the IOA that he is expected to be the Indian team's flag bearer for the Commonwealth Games.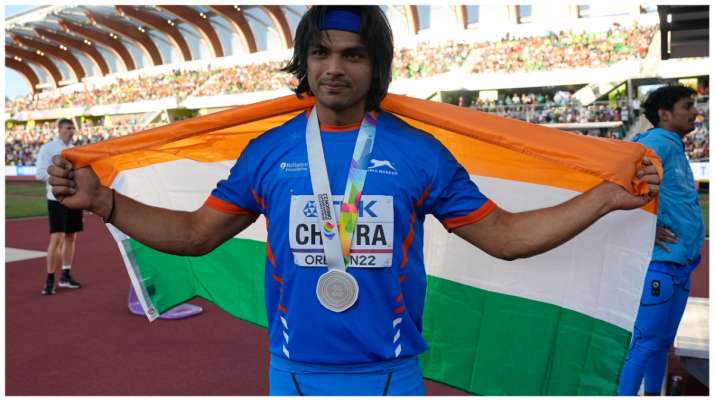 A great accomplishment by one of our most distinguished athletes!

Congratulations to @Neeraj_chopra1 on winning a historic Silver medal at the #WorldChampionships. This is a special moment for Indian sports. Best wishes to Neeraj for his upcoming endeavours. https://t.co/odm49Nw6Bx

— Narendra Modi (@narendramodi) July 24, 2022
The 24-year-old then took part in the Diamond League in Stockholm, where he again broke the national record with a throw of 89.94 m.