India's second individual Olympic gold medalist Neeraj Chopra the Golden boy of India with golden arms, brought billions of tears of joy by his spectacular throw, which emerged as a glorious moment for India at Tokyo Olympics.
Brining a prosperous victory in Men's Javelin throw of 87.58m distance brought noble instant in every Indian's heart which will be marked forever.
Early Life
A 23-year-old is belonging to an agricultural family from Khandra Village, Panipat District, Haryana.
Once admitted to the gymnasium by his father, Mr Satish Chopra, as a local child, bullied him for his childhood obesity at 13.
Today, he modelled himself as a motivation for our Athletes. At age 13, he visited his nearby Panipat Sports Authority of India Centre, where Jaiveer Choudhary acknowledged his early talent.
Without any training, the ability of Chopra's to throw Javelin 40m, Choudhary was astonished by his potential and thus, became his first coach.
After training for a year under Choudhary. Later, Neeraj was admitted to Tau Devi Lal Sports Complex in Panchkula, four hours from his home.
Here, he achieved a throw around 55m. Along with Javelin, he was also trained for long-distance running under Naseem Ahmad.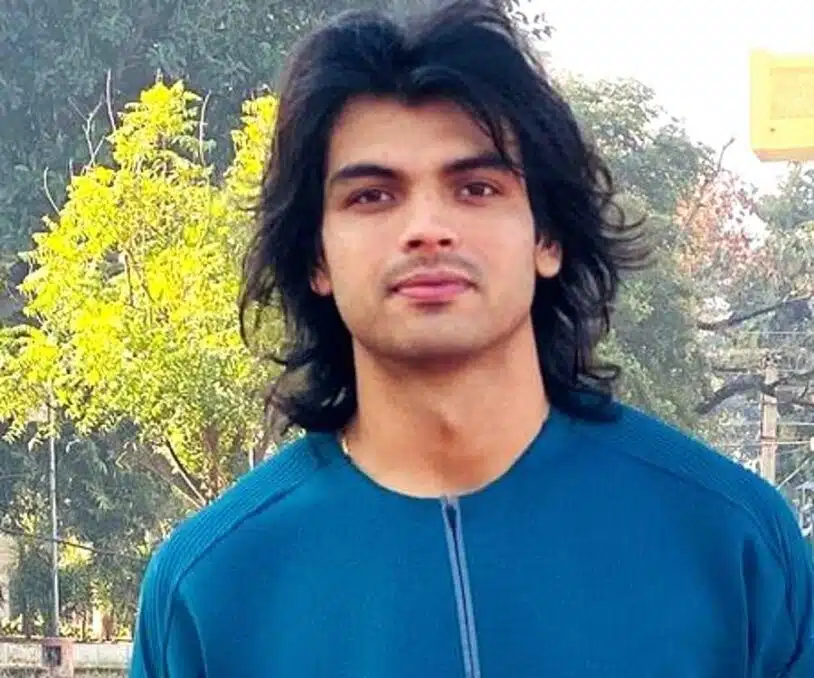 Career
Soon after one after he started taking his training seriously.
He brought his first victory in Junior National Gold in Lucknow in 2021 and breaking the all-time national record with a throw of 68.46m.
Later he fractured his wrist, which forced him to remain out of practice for six months.
He thought his career was over as the injury was caused by the same hand he uses to throw Javelin.
Also, within two months, his weight shot up from 82kg to 93kg due to lack of activity and a good diet. For the selection at World Youth Games.
He started taking training three times a day, and within four months, he returned to 83kg.
Thus, he got selected for his first international competition, organized in Ukraine. In 2014, at Youth Olympics Qualification in Bangkok, he bagged his first international Silver Medal.
He achieved his first throw of over 70m at the 2014 senior nationals, following this up with a world record throw of 81.04m, his first-ever throw of around 80m in the junior category in 2015.
In 2016, at the South Asian Games, with a throw of 84.23m, he won Gold Medal, equalling the Indian National Record. After winning Gold Medal in 2016, IAFF World U20 Championships in Poland set a world junior record of 86.48m.
Chopra failed to qualify 2016 Summer Olympics as the cut-off date was the week before the U20 championships.
Army Induction and Junior World Champion, 2016
In 2016 ,The Indian Army being impressed by his performance at the South Asian Olympics.
He was offered a direct appointment as a Junior Commissioned Officer in Rajputana Rifles with the rank of Naib Subedar.
Later in September, he left the NIS Patiala. Chopra won Gold at the Asian Athletics Championships, 2017, with a throw of 85.21m.
In the men's javelin throw at Commonwealth Games, Chopra became the first Indian to win Gold Javelin throw and one of the few debutants to win.
Chopra was the only track and field athlete that year to be recommended by the AFI for the country's highest sports award, the Khel Ratna but was awarded the Arjuna Award in September 2018.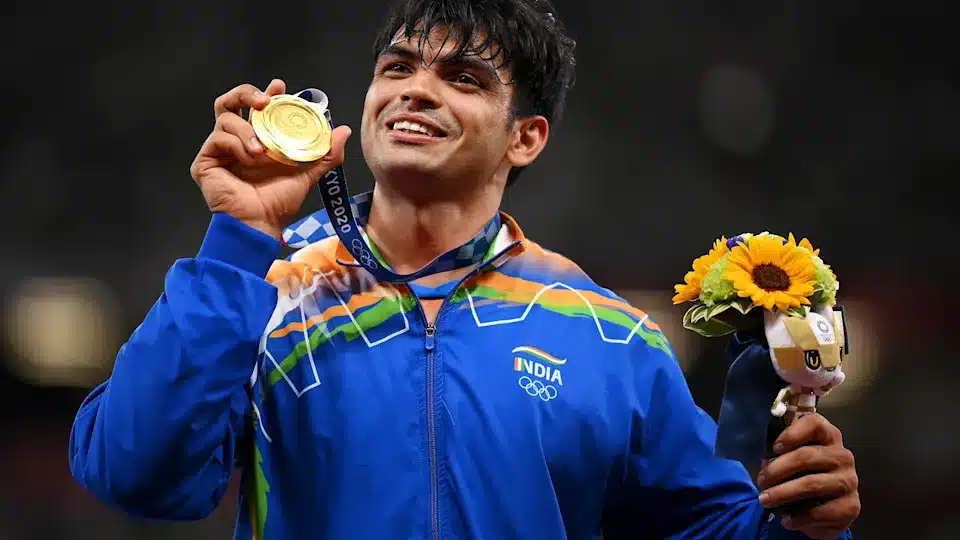 2020 Tokyo Olympics
On 2 May 2019, Chopra underwent surgery in Mumbai after he suffered an elbow injury, the day after the qualifying competitions for the 2020 Tokyo Olympics had begun.
After a 16-month break, he finally returned to international competition in January 2020 with a winning throw of 87.86 metres in the Athletics Central North West League Meeting in South Africa, which qualified him for Tokyo.
As it said, the rest is history. Chopra made his debut at the Olympics representing India at the 2020 Summer Olympics.
Chopra was placed in Group A. Despite having a disrupted sleep schedule and jet lag after flying to Tokyo.
As he was competing with more experienced and better-performing athletes, he kept his strategy straight, which he developed with his coach Bartonietz, was to rely on his speed and put his pressure on the rest of the field with a powerful long throw.
As a result, on 7 August 2021, with a throw of 87.58m, he became the first-ever Indian Olympian to win a gold medal in athletics.
He also became the second Indian to win an individual gold medal. During the visit to Tokyo for the Olympics, Neeraj gave his reliance to his father and said: "Papa, I will bring a medal.
I don't know which colour, but I will be dedicated to converting that colour to Gold." And thus, he gave his all and kept his words.
Chopra dedicated his win to sprinters Mikha Singh and P. T. Usha. His gold medal has brought pride to his nation and boosted the confidence of the Indian's performing at the international level.