As we observe Gandhi Jayanti today to mark the 153rd birth anniversary of Mahatma Gandhi—"father of the nation"—we honor Gandhi's life and philosophy not just in India but also throughout the world. UN also in it. 
Mahatma Gandhi's impact on history is not limited to just the freedom struggle in India; it extends beyond to the present day as his life continues to inspire people even today.
Non-Violence, or Ahimsa, is the principle that he lived by and it remains of paramount importance today as countries around the world are engaged in violent conflicts of varying magnitudes, with the Ukraine war being at the forefront.
UN Secretary-General Antonio Guterres commemorated Mahatma Gandhi on his birth anniversary while paying tribute to him, he urged everyone to practice non-violence and follow Gandhi's teachings.
UN chief Guterres, tweeting on the occasion, stated, "By upholding the universal ideals of peace, respect, dignity and cooperating across cultures and countries to create a better future, we can overcome the challenges of today."
Gandhi Jayanti has also been celebrated as the International Day of Non-Violence since 2007, when India, along with 140 co-sponsors, introduced a resolution in the UN General Assembly. Henceforth, the 2nd of October has been celebrated as the International Day of Non-Violence.
According to the UN General Assembly resolution, the International Day of Non-Violence is an opportunity, along with education and public awareness, to "disseminate the message of non-violence".
The declaration restates the need to "establish a culture of peace, tolerance, understanding, and non-violence" as well as the "universal significance of the concept of non-violence."
The Life of Mahatma Gandhi
Mohandas Karamchand Gandhi, popularly known as Babuji, Mahatma Gandhi, or simply Gandhiji, was born on October 2nd, 1869, in Porbandar, Gujarat. His approach of 'Swaraj' (self-governance) and 'Ahimsa' (non-violence) to fighting against British rule in India has earned him love and respect from India and abroad.
He not only inspired Indians during the freedom struggle but also greatly influenced leaders across the world who were also leading the fight against colonialism, most notably Nelson Mandela of South Africa.
Before Gandhiji became a household name in India, he also led a moment in South Africa against racial injustices. After he studied law in England, he went to South Africa to practice it, later returning to India to lead the freedom struggle.
Gandhiji played a pivotal part in the Indian freedom struggle at a time when the Indian National Congress was finding it hard to mobilize mass movements. Gandhi led mass nationwide campaigns for the rights of peasants, laborers, and farmers—this in turn integrated the common masses into the freedom struggle.
Hence, Gandhiji made the Indian freedom struggle a movement of the masses based on the principles of Ahimsa (non-violence). He stood by these principles even in cases of setbacks, as exemplified by the Chaura Chauri incident of 1922. When the non-cooperation movement turned violent, Gandhiji suspended the movement.
His ability to lead a mass movement of diverse groups of people has earned him much respect and admiration over the years.
Commemoration of Mahatma Gandhi in India
On the occasion, Prime Minister Narendra Modi and President Droupadi Murmu paid homage to Mahatma Gandhi at Rajpath, his final resting place, and emphasized the importance of the occasion this year as India celebrates Azadi Ka Amrit Mahotsav.
PM Narendra Modi urged people to try to live up to the ideals of Gandhiji and buy khadi and handmade products to pay their tribute.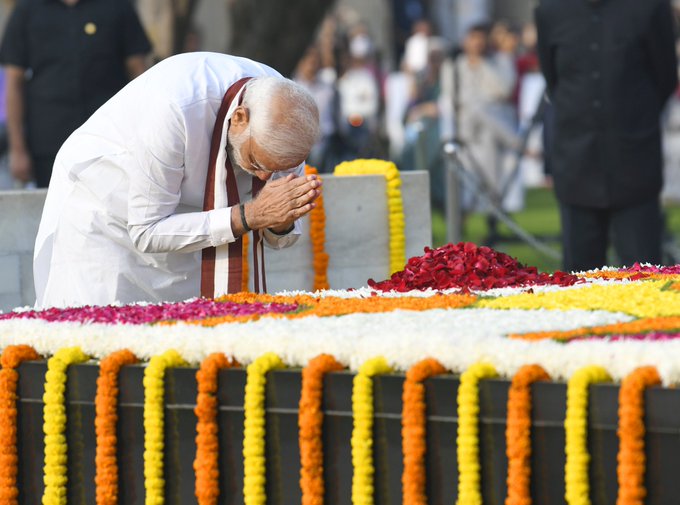 PM Modi also tweeted, "On Gandhi Jayanti, honoring Mahatma Gandhi. The fact that India is commemorating Azadi Ka Amrit Mahotsav makes this Gandhi Jayanti all the more significant. May we continue to uphold Bapu's values. As a tribute to Gandhiji, I also encourage you all to buy Khadi and handicraft products. "
President Droupadi Murmu stated that Gandhi Jayanti is an opportunity for all of us to recommit to the principles of his heroic life: peace, equality, and communal harmony.
She reiterated that given that the country has been commemorating Amrit Mahotsav, which marks 75 years of independence, observing it this year takes on a unique meaning.
Remembering Mahatma Gandhi on his birth anniversary brings into focus the ideals and principles that he lived by and that continue to be of utmost importance in today's world. The words of UN chief Guterres, PM Modi, and President Murmu on Gandhiji should be reflected upon by the people not just today but every day as a guiding light in times of peril.
---
Read More: The Obsession of Gandhiji with Healthy Diet and Bowel Movement
---
---