Parineeti Chopra is causing quite a stir in the news, and it's all for the right reasons! The talented actress is gearing up to exchange vows with the esteemed politician, Raghav Chadha, in just a week's time. But here's the million-dollar question: as we spotted Parineeti on a Sunday, striding purposefully towards the airport, could she possibly be en route to Rajasthan to kickstart her wedding celebrations?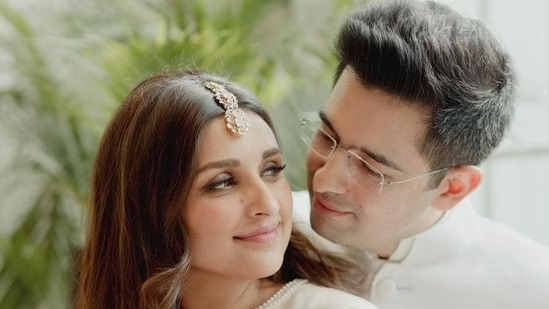 How has Parineeti Chopra kickstarted her marriage festivities?
Parineeti Chopra, the soon-to-be bride, positively glowed as she graced the airport with her presence. Sporting an effortlessly chic ensemble, the actress chose a laid-back style with a white t-shirt elegantly layered beneath an oversized blue shirt. Her ensemble was further accentuated with wide-legged jeans, a trendy cap, and a spacious bag. She's certainly setting some fashion goals while she prepares for her big day!
Parineeti Chopra and Raghav Chadha are gearing up for their much-anticipated wedding in the enchanting land of Rajasthan just a few days from now. However, in an intriguing twist, a recent report from ETimes suggests that the actor and the Aam Aadmi Party (AAP) luminary might just commence their wedding festivities with a spirited game of cricket right in the heart of Delhi!
The excitement is palpable as Parineeti and Raghav are all set to exchange vows in the picturesque city of Udaipur on the 24th of September. But before the grand nuptials, could this cricket match be their unique way of kicking off the celebrations? Stay tuned as we unravel this exciting chapter in their wedding saga!
Parineeti Chopra and Raghav Chadha are adding a delightful twist to their upcoming wedding celebrations! According to reports, the couple, who got engaged on May 13, is all set to kickstart their pre-wedding revelries with none other than a thrilling cricket match in the heart of Delhi.
As per a source quoted by ETimes, the festivities promise to be a blast, with a myriad of exciting activities planned for the guests. One highlight that's creating quite a buzz is the anticipated "Chopras versus Chadhas" cricket showdown. It's not just the bride and groom who will be taking to the field; their friends are also joining in on the action-packed fun!
But that's not all—after this exciting cricket showdown in Delhi, the families will be making their way to the enchanting city of Udaipur to continue the wedding festivities. It's shaping up to be an unforgettable celebration filled with fun, games, and, of course, love! Stay tuned for more updates as the big day approaches.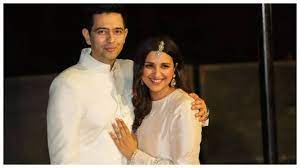 What is Parineeti Chopra doing for her pre-marriage festivities?
Parineeti Chopra has made her grand arrival in Delhi, marking the beginning of her wedding festivities with her soon-to-be husband, Raghav Chadha. The Aam Aadmi Party leader himself was at the Delhi airport to warmly receive Parineeti, and what caught everyone's eye was their adorable coordination in matching blue shirts.
Currently, both Parineeti and Raghav, along with their respective families, are in Delhi to partake in the Sikh pre-wedding rituals, which encompass sacred ceremonies such as the "ardaas" and soulful "kirtan." It's a heartwarming journey into their love story, and the blue-shirted duo is undoubtedly setting some sweet couple goals along the way!
The stage is all set for a spectacular wedding extravaganza! It's slated to kick off in the vibrant city of Delhi on the 17th of September, commencing with the spiritually significant "ardaas" and the soul-soothing "shabad kirtan." These sacred rituals will lay the foundation for the forthcoming celebrations.
Adding an intimate touch to the proceedings, there will be cozy get-togethers exclusively for the close-knit family members. It's all about cherishing those special moments with loved ones.
But the excitement doesn't end there! Following these heartwarming pre-wedding moments, the entire entourage, including the radiant bride and groom, will embark on a journey to the majestic city of Udaipur, where the grand wedding festivities will reach their zenith. Stay tuned as we prepare to witness a union filled with love, tradition, and unforgettable memories.