The first ever cross border energy pipeline between India and Bangladesh was inaugurated by PM Modi and his counterpart Shiekh Hasina on Saturday. The 130 km long pipeline was built at an estimated cost of Rs 377 crore. The very first pipeline that will supply refined diesel between from India to Bangladesh was inaugurated via video conferencing yesterday. 
The project entails building a 130-kilometer pipeline to link Siliguri in West Bengal and Parbatipur in Bangladesh's Dinajpur region.
Six kilometers of the entire distance will be on the Indian side, and the remaining 124 kilometers will be in Bangladesh. The Bangladeshi and Indian portions of the pipeline project will be carried out by Bangladesh Petroleum Corporation and Assam's Numaligarh Refinery Limited, respectively.
One million metric tons can pass through the conduit annually. It will deliver refined petroleum to the Parbatipur depot in India from the Assamese city of Numaligarh. It will initially provide Bangladesh with 2.5 lakh tonnes of diesel annually, and then it will gradually grow to 4 lakh tonnes. The 510-kilometer-long project will replace the current practice of sending diesel by train. This pipeline project is expected to cost 346 crore rupees and take 30 months to finish.
In the area of power, New Delhi and Dhaka inked a Memorandum of Understanding in 2010. The first cross-border electricity connection between the two nations was installed in 2013. Indian Oil Corporation Ltd. (IOCL) was also recognized by Bangladesh as a legitimate government-to-government (G2G) supplier of refined goods. The cooperation on energy and power transmission lines accelerated during Sheikh Hasina's visit to India in September 2022. It is important to observe that the opening of the India-Bangladesh Friendship Pipeline occurs one day after Bangabandhu Sheikh Mujibur Rahman's birthday.
The Pipeline can move one million metric tons of high-speed diesel annually (MMTPA) (HSD). In the beginning, it will provide 1 million metric tons of High-Speed Diesel to seven regions in northern Bangladesh yearly.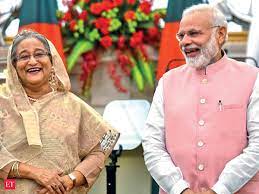 The operation of the India-Bangladesh Friendship Pipeline will establish a long-term, dependable, economical, and environmentally friendly method of transporting HSD from India to Bangladesh and will further strengthen bilateral collaboration in energy security.
The India-Bangladesh Friendship Pipeline will transport diesel from the Parbatipur depot of the Bangladesh Petroleum Corporation to the Numaligarh Refinery Ltd. (NRL) marketing terminal in Siliguri, West Bengal, which is located in Assam. (BPC).
India-Bangladesh The Friendship Pipeline would aid in securing a consistent supply of diesel for Bangladesh's 16 northern regions under the administration of Rangpur and Rajshahi. It will make sure that gasoline is delivered quickly and affordably. Currently, these areas receive imported petroleum from the Chattogram and Mongla ports via wagons and trawlers.
Each barrel of fuel carried from the port city costs about USD $8. With the pipeline, the price per gallon would drop to about $5. Additionally, it will shorten the time required for transportation from the present practice of using trawlers and wagons, which takes several days, to just one hour.