By: Saryu Sharma
Genre: Politics
Keywords: Chief Minister, Prime Minister
Prime Minister Narendra Modi on Sunday greeted Uttar Pradesh Chief Minister Yogi Adityanath on his 50th Birthday and lauded him, saying the State has scaled new heights of progress under his 'able' leadership.
A five time MP from Gorakhpur, the monk politician has made rapid strides in politics after being picked by the BJP leadership as the Uttar Pradesh Chief Ministerial face in the 2022 assembly polls, the BJP scored a big win over its rivals, with his image as a tough administrator being seen as a positive.
Mr.Modi tweeted, "Birthday greetings to UP's dynamic Chief Minister @myogiadityanath ji. Under his able leadership, the state has scaled new heights of progress. He has ensured pro people governance to the people of the state. Praying for his long and healthy life in service of the people."
Adityanath who was born on June 5th, 1972, in a village in Uttarakhand, had commenced his political journey in 1998 and had become the youngest MP from Gorakhpur. He was the Member of Parliament from Gorakhpur for five consecutive terms between 1998 and 2017.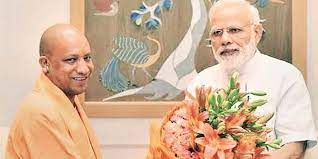 He reportedly left his home to join the movement for the construction of Ram Temple and became a disciple of Mahant Avaidyanath of Gorakhnath Math, a Hindu Temple in Gorakhpur.
In 1998, he started his political career by becoming the youngest MP (Gorakhpur) to be elected to the 12th Lok Sabha at the age of 26. Since then, he has been elected as an MP from Gorakhpur to the Lok Sabha in 1998, 1999, 2004, 2009, and 2014. From 1999 to 2000, he was re elected to 13th Lok Sabha (2nd term), where he worked in committee on Food, Civil Supplies and Public distribution member.
On 19th March 2017, he became the 21st Chief Minister of Uttar Pradesh.On 25th March 2022, he took oath as the Chief Minister of Uttar Pradesh for the second time at Atal Bihari Vajpayee Ekana Stadium in Lucknow; He became the first UP CM for a second successive term after completed a full five year term in the state.
Yogi Adityanath's early life;
Yogi left his house at the age of 21 and and was actively associated with the Ram Temple movement in the 90's.
He met, Mahant Avaidyanath, of Gorakhpur Temple in Rishikesh, later became his disciple and settled in Gorakhpur, Uttar Pradesh, in 1994, 22 year old. He then changed his name from Ajay to Yogi Adityanath.
Yogi's predecessor and spiritual leader, Mahant Avaidyanath, was the President of Hindu Maha Sabha. Both of them kept the Hinduvta agenda at the forefront of their election campaign. His mission in life is to convert other religious groups back to Hinduism. He is the successor to former Hindu Mahasabha president Mahant Avaidyanath at the Gorakhpur temple.
Yogiji is also the founder of the Hindu Yuva Vahini. It is a social, cultural, and nationalist group of young people and is very popular amongst Hindu's of Eastern Uttar Pradesh.
Yogi Adityanath's Personality:
Yogi is an avid animal lover. Yogiji on 3rd May 2022, visited his native village Panchur after becoming the Chief Minister. He even missed his father's funeral on 21st April 2020 to ensure the Enforcement of the Covid induced lockdown. After his visit to his native village, he tweeted a picture in which he is seen touching his mother's feet. Reportedly, after spending the night in his village, Adityanath attended the hair to sure ceremony of his nephew the next day.
Yogi Adityanath's budget for overall development of Uttar Pradesh:
U.P. budget blends measures to augment farming, technological innovations and employment in the State along with elaborate architectural constructions to further the Hindu cultural narrative.
With stability funds for the minimum support price of perishable crops and sanction of 15,000 solar pumps for the development and beautification of tourism facilities in Varanasi and Ayodhya, the Yogi Adityanath led BJP government on Friday tabled a budget of Rs.6.15 lakh crore.
In the last six years, the unemployment rate in U.P. dropped from 18% to 2.9%, State finance Minister Suresh Khanna Said, as he presented the budget for the year 2022 – 2023.
Mr.Khanna said that the government had provided employment to 1.61 crore youth in the private sector through private investment. More than 60 lakh youth were self employed, the government said, adding that it had provided government jobs to 4.5 lakh youth over the last five years.
The budget also included a targetted investment of Rs.40,000 crore under the Information Technology and Electronics Industry Policy for the next five years.
Conclusion:
Yogi Adityanath promotes campaigning Cow protection. He also runs Rashtra Raksha Abhiyan for social and national security. He also has a special interest in yoga and spirituality.
Yogi Adityanath has started a lot of schemes like, for socially and economically weaker and backward children, he provides hostel. He is also running more than two dozen educational institutions and working for extending health facilities to rural areas.
Yogi Adityanath the most dynamic Chief Minister says, if you want to see law and order come to Uttar Pradesh.