Given the conflict in Ukraine, China's advancement of illegal maritime claims, and military and economic pressure to bully its neighbors in the Indo-Pacific, American President Joe Biden is set to invite Indian PM Modi to a state dinner this summer, according to a Bloomberg report.
The White House hopes to hold the state dinner in June, but the timetable could change, according to people familiar with the matter. According to Bloomberg, a representative for the National Security Council declined to comment.
Table of Contents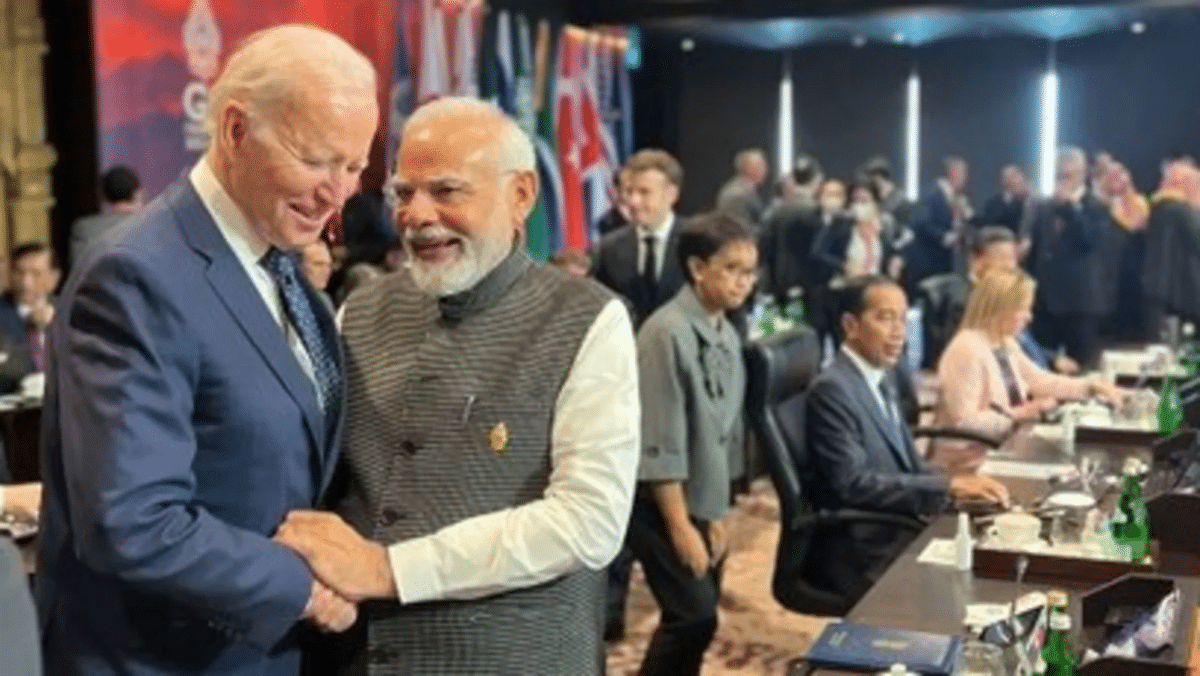 President Biden and PM Modi's interaction during the G20 summit in Bali. Image source : Hindustan Times
India-US Relations
India and the United States have had a complicated relationship since India's independence in 1947. The alliance has weathered Cold War-era suspicion and alienation over India's nuclear program. However, in recent years, there has been a renewed emphasis on bilateral connections and collaboration, particularly in the defense and energy sectors. Counterterrorism, mutual distrust of Pakistan's nuclear weapons development, and China's dominance in the Indo-Pacific are among the concerns shared by the two countries. Despite their differences, India and the US have grown closer through organizations like The Quad and the I2U2 Group.
The ceremonial state visit highlights the US-India relationship's strengthening as the administration pursues policies and initiatives for a free and open Indo-Pacific to counter what it sees as China's growing threat.
The dinner with PM Modi will be President Biden's third formal state visit and dinner, following those for French President Emmanuel Macron in December and South Korean President Yoon Suk Yeol scheduled on April 26.
President Biden is also anticipated to meet Prime Minister Modi in Australia in May, when the leaders of Australia and Japan meet for the Quad Summit.
Officials from the two sides are reportedly seeking suitable dates in June and July because India is hosting a number of G-20 events this year that will culminate in a summit in September, which would include Biden among other guests.
PM Narendra Modi addresses a joint meeting of the US Congress. Image source: MEA Spokesperson/Twitter
Purpose of PM Modi's Visit
The state visit must be for at least a few days and may include a speech to the joint session of the US Congress and a state banquet at the White House. In addition to the G-20, PM Modi has a busy calendar of domestic and foreign engagements through the fall before embarking on the campaign trail for a number of important state assembly elections later this year.
The United States and India announced the Critical and Emerging Technologies Initiative last month, a proposal to trade sophisticated defense and computing technologies, including the collaborative manufacture of General Electric aircraft engines.
India has not been as vocal in its opposition to Putin's conflict in Ukraine as the United States and its allies would want. The crucial technology alliance is meant to counter Russian influence in India by lowering New Delhi's historic reliance on Moscow for military gear as well as China's growing aggressiveness. Both political parties in the United States have attempted to develop ties with Prime Minister Narendra Modi.
National Security Adviser Jake Sullivan emphasized the importance of building a democratic ecosystem of high technology while acknowledging the influence of China and Russia in the partnership. Geopolitics, while significant, is not the sole explanation for the partnership, Sullivan told reporters. The collaboration seeks to build a strong technological foundation while addressing geopolitical concerns. The partnership's focus on developing a democratic ecosystem indicates a commitment to principles of transparency and accountability, which could serve as a counterbalance to the authoritarian practices of China and Russia.