Key Highlights:
The Prime Minister Modi wearing Special Dress on 73rd Republic Day of India. The PM Modi wears Uttarakhand's cap & Manipur's stole.
The PM of India, Narendra Modi, today on the auspicious day of republic day, is seen celebrating the 73rd republic day of India.
The Prime Minister Modi paid homage to the armed forces personnel killed in action. He arrived at the national war memorial on Wednesday morning, and he has received thereby Defense Minister Rajnath Singh and the three defence forces Chief.
We all know January 26, considered as the adoption of the constitution of India, and on this day country turned into a republic country. Every year on January 26, we remember this day as an occasion of Republic Day.
THE PRIME MINISTER MODI WEARING SPECIAL DRESS ON REPUBLIC DAY
On this occasion, everyone saw PM Modi on Republic Day in a well-suited dress as it should be on the occasion of Republic Day. He was wearing a traditional cap, and a stole for the grand parade in New Delhi.
The cap he was wearing was manufactured in Uttarakhand, and the stole was manufactured in Manipur. It shows the other side of PM Modi has a soft corner for his people in India at places Uttarakhand and Manipur.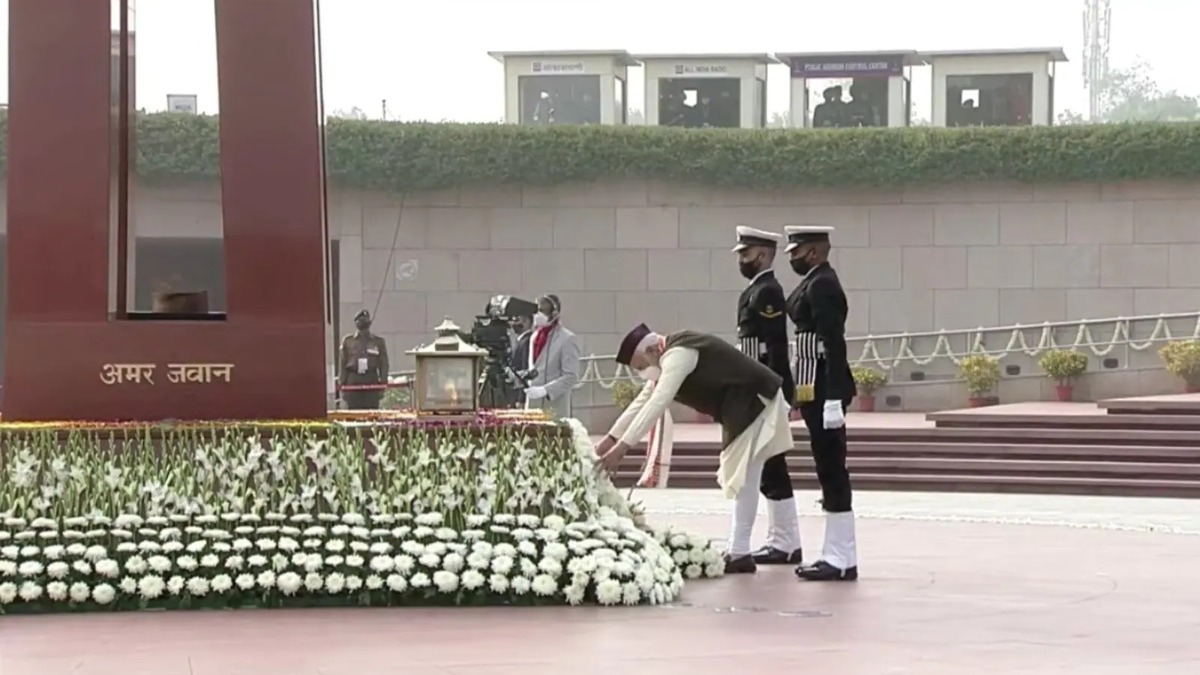 Expressing pride at PM Modi's gesture for the state, The Uttarakhand Chief Minister Puskar Singh Dhami shared his feelings in words to The PM Modi.
He expresses his word as
"I thank the Prime Minister on behalf of Uttarakhand's 1.25 crore people."
The official at the Republic Day celebration in New Delhi said that The Prime Minister Modi uses the Brahma kamal flower to offer prayers at the Kedarnath holy shrine.
The PM Modi is often seen wearing the traditional Manipuri Stole, "Leirum Phi" often. The stole has handwoven craft on it. It is typical of Manipur's Metei tribe.
Uttarakhand and Manipur are among the five states that vote next month in high-stake elections. Uttarakhand votes on February 14 and Manipur on February 27 and March 3.
And it also seems that the public of Uttarakhand and Manipur have a soft corner for The Prime Minister of India. It is very obvious to consider that the new dress of the PM Modi in Uttarakhand's cap and Manipur's stole has made everyone's occasion of Republic Day very optimistic and cheerful.
Prime Minister Narendra Modi's gesture expresses a heartwarming well wish for the people on this Republic Day.
---
Edited by- Kritika Kashyap
Published by- Satheesh Kumar