Follow Rashmika Mandanna's secret drink, Apple Cider Vinegar (ACV), to get glowing skin and start the day healthier.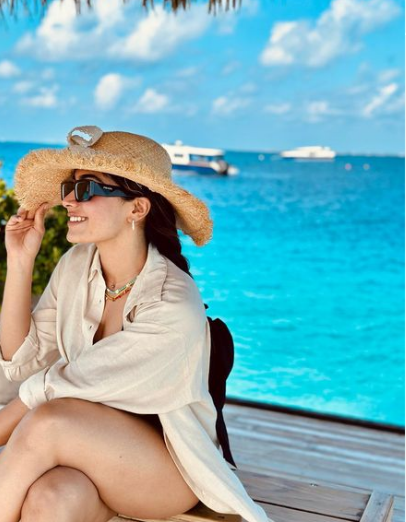 Rashmika Mandanna's Secret Drink
Rashmika Mandanna, a 26-year-old popular actress in the movie "Pushpa-the Rise", reveals her everyday secret drink. This secret drink helps her to get glowing skin but also makes her fit and healthy. Rashmika states that "My secret drink is apple cider vinegar (ACV). It's my first drink in the morning along with a glass of water, which gives me a natural skin glow. "
Apple Cider Vinegar – Key ingredients
ACV's key ingredients are apples, fermented yeast, and sugar. It's usually mixed in with salads, pickles, etc. It's made through the fermentation process of yeast, which helps the apple juice turn into alcohol. The entire process takes a few weeks. After this process, the alcohol is further broken down to acetic acid, producing vinegar at last with a tangy taste.
Health Benefits of Apple Cider Vinegar
1. ACV a Super Drink:
Stands of proteins, friendly bacteria, and enzymes together constitute a product called "mother." This produces unfiltered ACV, which makes it a super drink.
2. Prevents Hazardous Bacteria:
ACV works as a disinfectant, and it is used for treating lice, fungus in the nails, warts, etc. When diluted, ACV helps in treating acne.
3. Aids to Reduce Sugar Levels:
ACV aids in reducing blood sugar levels for patients who are not capable of producing insulin. This will help to resolve several chronic disorders.
4. ACV Helps to Lose Weight:
ACV causes the feeling of fullness. This will thereby help you burn a few calories and lose weight.
Side-effects of ACV
It's dangerous to drink more than 2 teaspoons of ACV, a day as it irritates the throat.
Always drink ACV 30 minutes before a meal.
Avoid drinking ACV before bedtime.
Always dilute 1 teaspoon of ACV in 1 glass of water, to drink.
Drinking ACV directly spoils tooth enamel.