Businessman M M Ramachandran, synonymous with Atlas Ramachandran, 80, passed away due to a heart attack at Bur Dubai Aster Mankhool Hospital late on Sunday night. The funeral will be held in Dubai later.
MM Ramachandran, sometimes known as Atlas Ramachandran, was a businessman and a producer of movies. He was 80 years old. He is survived by his wife Indira and two children-Dr. Manju and Srikanth. He had been brought to a hospital in Dubai for age-related problems, and on Sunday night, he reportedly passed away after a heart attack. 
On Saturday night, he was hospitalised after experiencing chest trouble. When he passed away, his daughter Dr. Manju and his wife Indira were by his side. He passed away just as he was getting ready to revive his now-defunct jewellery chain, Atlas Jewellery. 
Former Atlas Jewellery chairman Atlas Ramachandran has been "working hard to rebuild" his WhatsApp status for a while. When he celebrated his 80th birthday with a small group of his friends at his flat in Bur Dubai in August, he made headlines. The Dubai Police "detained" the banker-turned-jeweler in May 2018 for the failure to repay bank loans made while he was away, in the banker's words.
Early Years 
Ramachandran was born in the Thrissur district of Kerala in 1942. His late father, V. Kamalakara Menon (d. 1995), was a poet, and Akshara Shlokam recitation sessions took place frequently at his house. Ramachandran was the second son and the third child of his parent's eight children. Through a distinctive method of selling his company, Atlas Jewellery, he became well-known. 
Ramachandran moved to New Delhi for employment after receiving his bachelor's degree in business from St. Thomas College, Thrissur, a Kerala University affiliate. Ramachandran began his career in the financial industry in Delhi. He joined Canara Bank after graduating from the Delhi School of Economics with a post-graduate degree in economics. He was afterwards transferred to the State Bank of Travancore as a field officer, accountant, and manager after being appointed as a probationary officer by the State Bank of India. He was the superintendent of nearly 100 branches by the time he left the bank.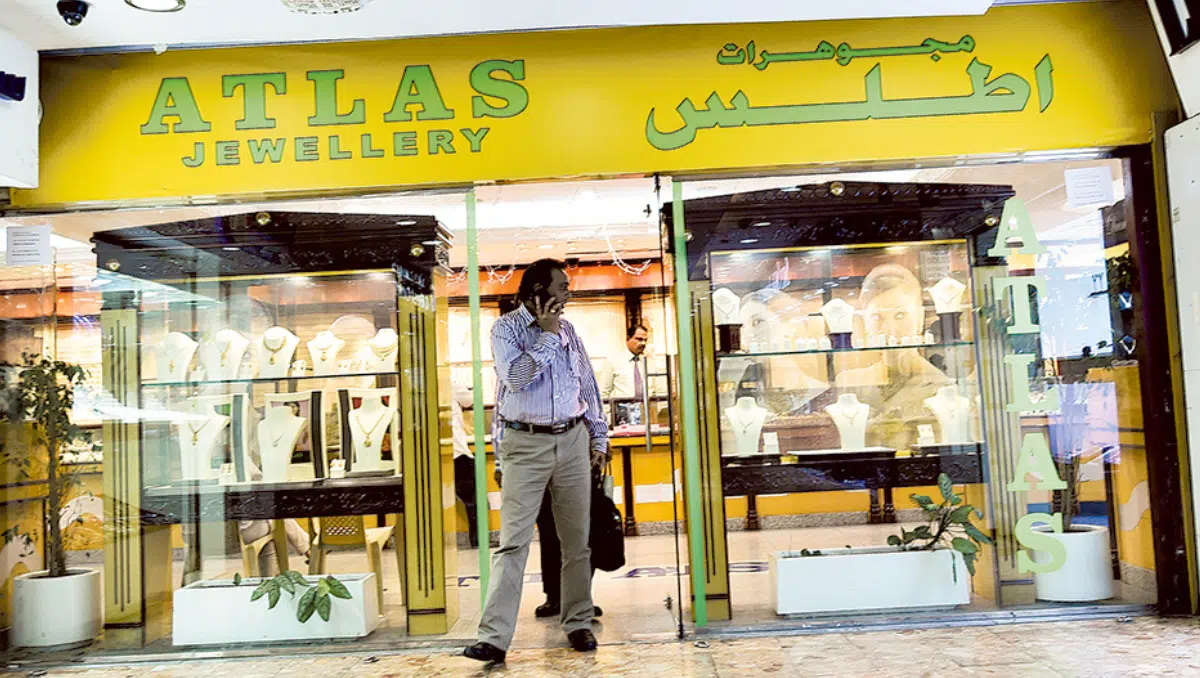 Atlas Jewellery 
Prior to going into business, he had been a bank employee in the beginning. In 1981, Atlas Ramachandran used whatever cash he had on hand to purchase two kilogrammes of gold, which was the beginning of his gold jewellery business. There was no turning back from that point until his arrest by the Dubai Police in 2018. 
His competitors in the industry did not take kindly to him holding several coveted positions, such as chairman of the Dubai Shopping Festival's Gold Promotion Council and secretary of the Dubai Gold and Jewellery Group, or being awarded the contract to open Atlas Jewellery at the Cochin International Airport Limited. When the CEOs of the various businesses refused to donate their names, Ramachandran created the slogan "Atlas Jewellery-Janakodikalude Vishwasthasthapanam" to promote the jewellery line (trusted by millions).
Three decades after its founding, the Atlas Jewellery Group had fifty locations throughout Kuwait, Saudi Arabia, and the United Arab Emirates. They also have locations in Kerala. The healthcare, real estate, and entertainment industries were also entered by Atlas Group.
Work as a Movie Producer, Actor, and a Director
Ramachandran loved movies, having both produced and appeared in a few. Ramachandran produced the well-known Malayalam films Vaishali and Sukrutham
In addition to acting in Arabikatha, Subhadram, Anandabhairavi, Malabar Wedding, and 2 Harihar Nagar, he produced a number of movies, including Vaishali, Dhanam, Vasthuhara, Kauravar, Chakoram, Innale, and Sukrutham.
He was the owner of Chandrakantha films and directed the film Holidays.Even though the travel ban had been lifted, Atlas Ramachandran wanted to resolve the last few civil lawsuits brought against him before leaving for Kerala.
In addition, he appeared in a number of films.
CM mourns the passing of Atlas Ramachandran.
Among many others, Chief Minister Pinarayi Vijayan expressed his condolences for the death of Atlas Ramachandran. Vijayan, he described the former bank employee as a person who had no qualms about aiding the underprivileged.
He was someone who kept in close contact with the Malayalis who didn't live there. Vijayan noted that he participated actively in social gatherings and public forums in Dubai. Ramachandran's time in the film industry was praised by the chief minister as well. 
His situation is like "Jacobinte Swargarajyam", in which Atlas Ramachandran's wife, Indu, or "Indu", as he called her, took baby steps in business by selling their two hospitals, following up with the banks, and getting him out of jail.