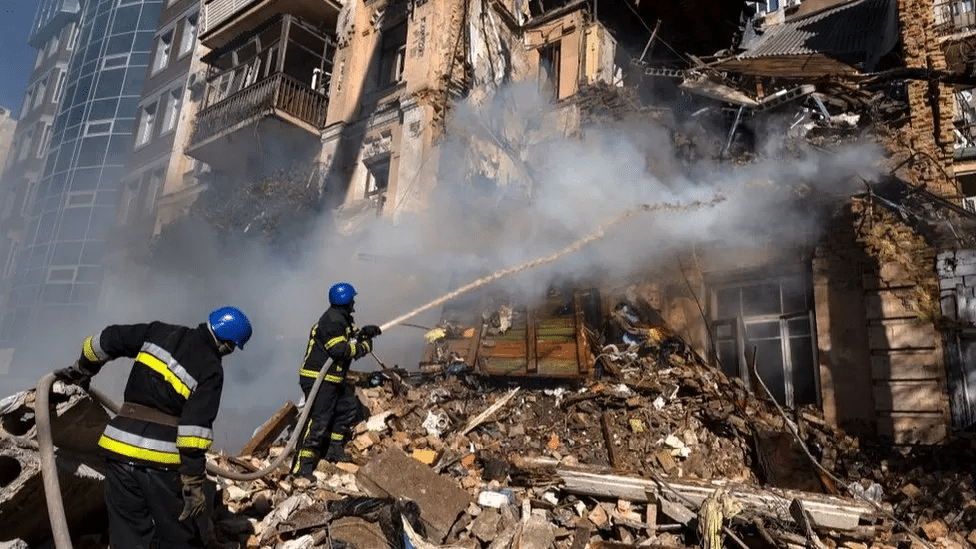 The US and other Ukrainian allies say that Iran has violated the UN sanctions imposed on it by supplying Russia with explosives and weapons.
The Russian 'kamikaze' missiles that hit Kiev on Monday are believed to be Iranian-built.
The US, Britain, and France have jointly agreed that the Iranians have breached UN Security Council Resolution 2231, which is linked to the Iranian nuclear accord. It does not allow the transfer of certain military technologies, says the US State Department.
The drones have been identified by the Ukrainian authorities as being Shahed 136, which were manufactured by Iran and named after the Japanese pilots who undertook suicide missions during the Second World War.
Vedant Patel, the spokesperson of the US State Department, says that these drones were transferred from Iran to Russia, thereby in violation of Resolution 2231, and that the Russians had planned to import various types of unmanned aerial vehicles, or UAVs.
However, these allegations were trashed by Tehran.
The attacks focused on Ukrainian regions such as Kyiv, Dnipro, and Sumi and caused power and communication outages across many of the towns and villages across the country. The drone attack resulted in the loss of eight lives, and many were injured. The US and many of Ukraine's allies condemned the attacks and have held Russia accountable for the drone strikes.
Russia and Iran have worked together to provide needed assistance to Syria's President Bashar al-Assad during the Syrian Civil War by supplying him with weapons, drones, and air strikes.
Mr. Patel further stated that the relationship between Russia and Iran should be seen as a threat and that other countries that are providing or having links in UAVs, ballistic missiles, and arms with Russia against Ukraine would be at the risk of getting strict sanctions and that the US and the rest of its allies are not hesitant to use sanctions against them.
The Russian attack on Monday came a week after a brutal attack on Ukraine aimed at Kyiv and other major cities and struck most of the country's energy fields. Western watchdogs believe that Iranian missiles are being used as Russia has a serious shortage of high-precision missiles.
According to Josep Borrell, the EU Foreign Policy Chief, they are currently analysing and gathering evidence on the drones used, and if it is discovered that they are Iranian-made, they will face severe sanctions.
The Iran Nuclear Accords, in which the country promised to limit its nuclear activities and allowed international inspectors to inspect them in exchange for the lifting of the drastic sanctions imposed against them, but the talks to resuscitate the nuclear deal agreed in 2015 have been interrupted.