Salman khan and pooja hegde in a relationship? The recent buzz is getting mixed responses from netizens. The tweet confirming this news is confronted by Salman's pal today.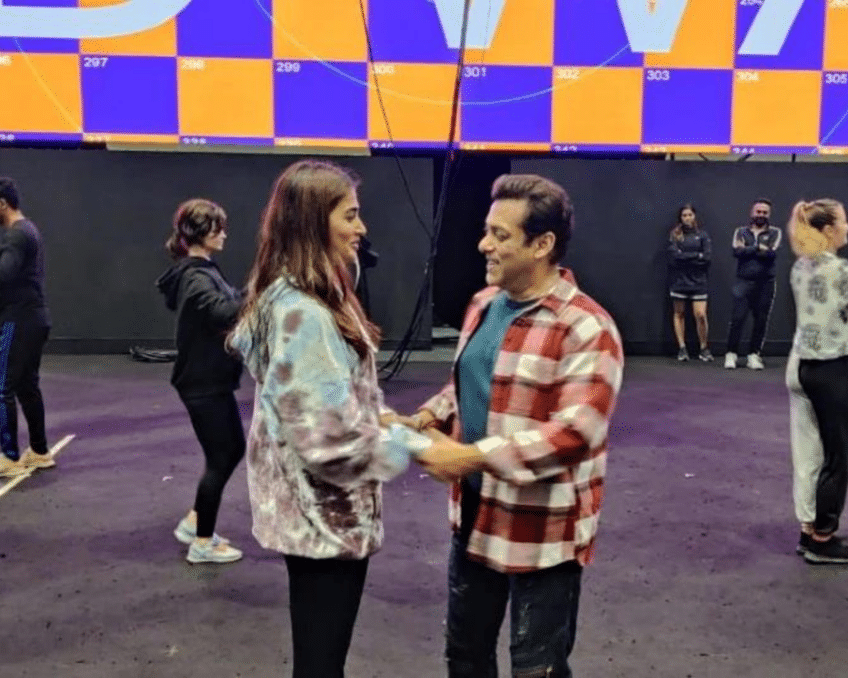 An anonymous tweet that claimed Salman Khan fell in love with Pooja Hegde while filming "Kisi Ka Bhai Kisi Ki Jaan" recently went hysterically popular on social media. One of Salman's acquaintances has now responded angrily to the unfounded rumour. He says: "wo log jo aise wahiyaat khabrien failatein hai, Kuch to sharm karo. (People who spread these kinds of rumour. Do have some shame). Pooja Hegde is the age of Salman's daughter. If they are doing a movie (Kisi ka Bhai Kisi Ki Jaan) Some buffoons might think it helps the movie's reputation. However, it is embarrassing," the buddy claimed, adding that Salman Khan "doesn't care" to confront the rumours.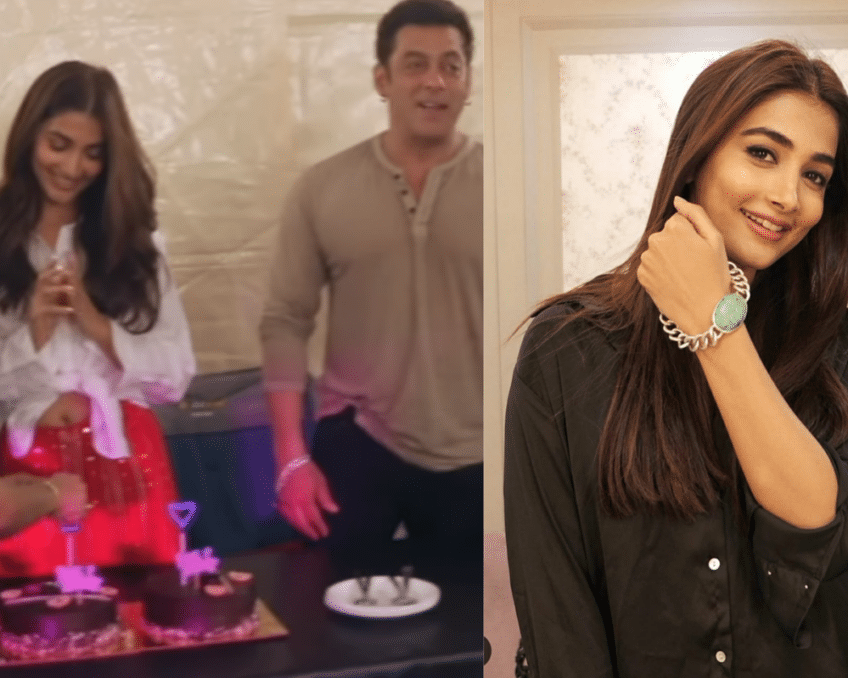 Salman Khan's relationship post
Just this week, Salman Khan and Pooja Hegde was rumoured to be the newest coupling in Bollywood by a self-described film critic by the name of Umair Sandhu. He goes on and tweeted "BREAKING NEWS: New Couple in Town!!! Megastar #SalmanKhan and Pooja Hegde fell in love! Her following two films have also been acquired by his production company! These days, they are spending time together. confirmed by close source information about Salman Khan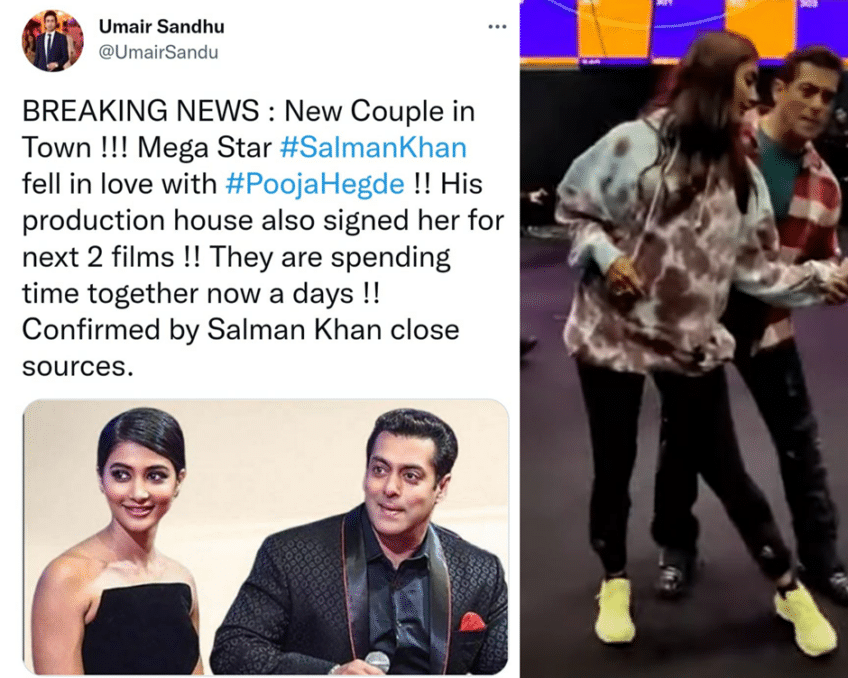 This tweet from Umair Sandhu grabbed the attention of all media houses as well as their fans. People were left in disbelief at this information. The news spread like wildfire, and both actors were constantly being tagged and questioned. Some fans even questioned the sources of Umair's tweets and confronted him while retweeting. Although Salman Khan's romantic life has always attracted his fans, this tweet was received differently because both actors have recently been papped several times together at parties and while dining.
Netizens reaction on the tweet
There was a mixed reaction from the fans. Some were supportive of the relationship, but a majority of them bashed Pooja Hegde for having this affair for the sake of fame. On the other hand, Salman Khan was equally held responsible in the eyes of the public. He was put to great shame for having a relationship with a girl of his daughter's age.
One tweet says: "The best news would be if it were real. Actually, they are the most attractive and dominant couple. Salman is top-notch. Godspeed to Salman, and may he always have the nicest things around him. love you Salman." Another tweeted: "Pooja is at least as young as Salman's daughter. This Bollywood is disgusting, and then they claim that love is blind. If this is successful, Pooja will undoubtedly receive a sizable fortune."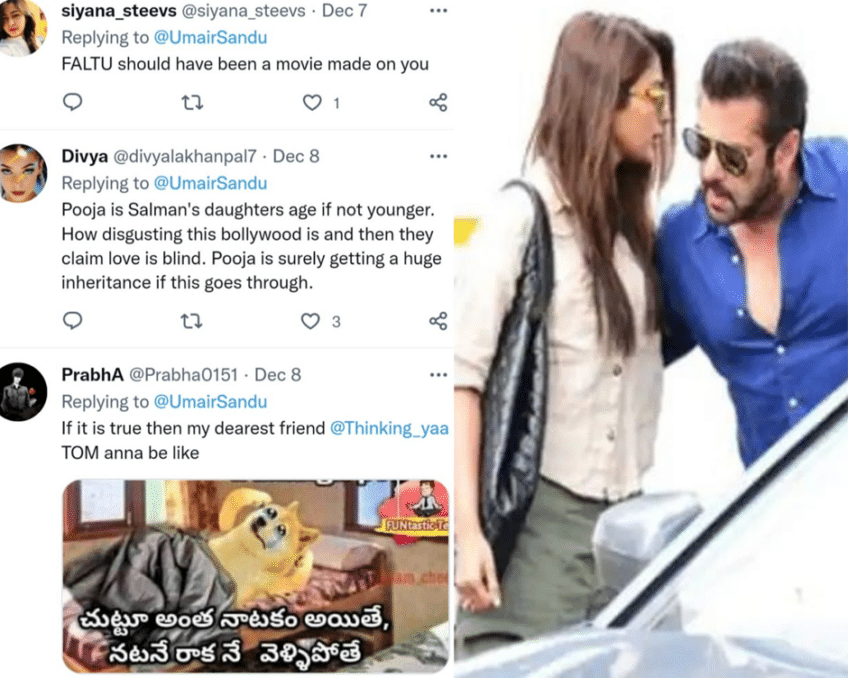 However, there were tweets questioning the authenticity of the tweet from Umair, who was confirming the news of these actors' romantic relationship. A group of Twitter users started having doubts about the tweet and claimed it to be fake and hilarious.
Declining this claim, one tweet says: " Who is that close source who gave you information about Bhai??" Another stated: "You merely want to generate noise in the name of Salman Khan from this odd item you publish in order to create interaction and noise with comments, draw viewers, and get more followers. Salman Khan is always a commodity and a real gain for you."
Pooja and Salman are doing two films together which will be released next year. One of them is "Kisi ka Bhai, Kisi ka Jaan," which began filming this year in May. The film is said to be released next year around the Eid festival. This is why they have been papped by the media ever since the start of their shooting. Salman Khan will be seen on the big screen a lot next year because of his new project with Katrina Kaif for the movie "Tiger Zinda Hai 3."