Both parents and teachers are concerned about the adaptability potential of thousands of students from mainland China, who will be returning back to their campuses in Hong Kong after 3 years in order to attend offline classes.
The Hong Kong government has stated that these youngsters could resume offline education from next month, after their studies got affected due to the Covid-19 outbreak. The schooling of secondary students will begin from February 1 and primary as well as kindergarten students from February 15.
Since travel restrictions pertaining to the pandemic have been lifted and students can again return to their schools, parents and teachers have called for a variety of support programs for kids who may experience adjustment issues.
There are nearly 21,000 cross-border students, including 900 kindergarten students, 13,000 primary and 7,000 secondary students. They attend schools primarily in North district, Tai Po, and Yuen Long in the New Territories and are predominantly from the region of Shenzhen.
Only 25 percent of students chose to remain in Hong Kong during the pandemic. While the majority of students stayed on the mainland with their families and continued taking virtual classes in 2020.
A local school teacher's understanding about the situation:–
Fung Hang-ling, who is the teacher responsible for imparting knowledge to 100 overseas students at the CCC Fung Leung Kit Memorial Secondary School in Tai Po, has predicted that they would have to face a lot of hardships adjusting to campus life.
She contended that due to the classes functioning in online mode, the students are lacking behind in their studies and are struggling to cope up with the curriculum. As a result of this, more than a dozen students were compelled to repeat their grade last year. However, some of the students themselves willingly wished to repeat their grade.
The school will support cross-border students with their academics and campus life readjustment, but Fung expressed the hope that the governments of Hong Kong and the Chinese mainland should also provide adequate assistance.
She claimed that in order for parents to conveniently contact their children, the authorities might accelerate the processing of the students' applications for travel documents and issue them and their families with free phone cards.
Concerns and suggestions of the parents: –
Homemaker Xu Liang-fang, 41, has said that her 10-year-old son has not physically interacted with his classmates in three years. The child is a Primary Five student at the HHCKLA Buddhist Chan Shi Wan Primary School in Sheung Shui.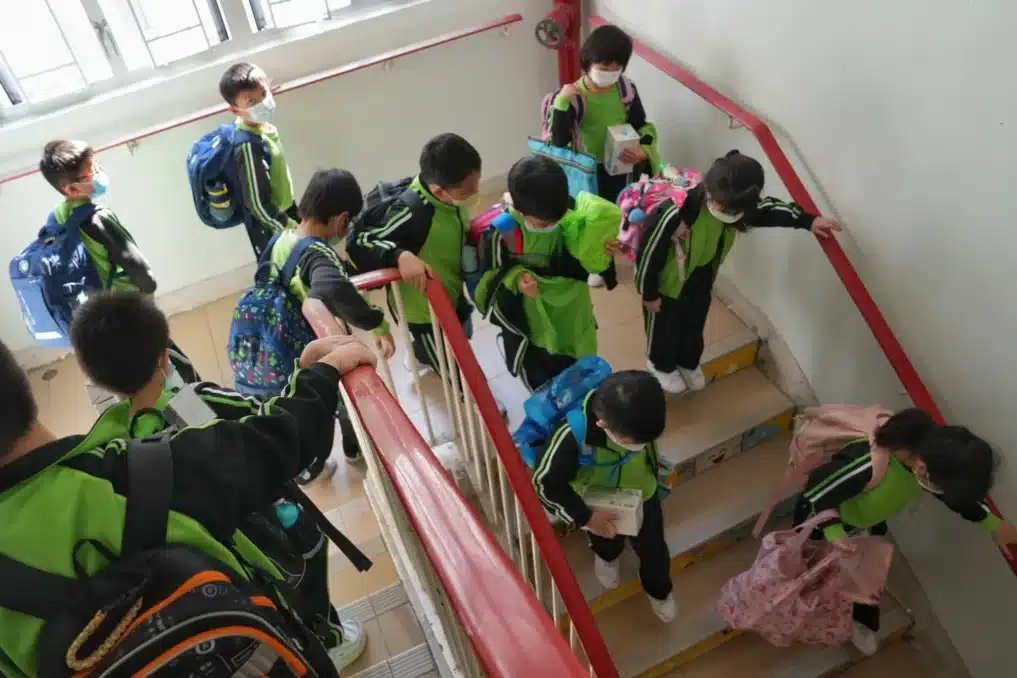 Despite the fact that he is a great student, she said, "I am happy for him but also worried." Because of the cultural difference, I'm worried that he won't be able to adjust to face-to-face teaching or get along with local classmates. The boy is her only child, who lived in Shenzhen with his parents and hadn't visited Hong Kong since the pandemic broke out.
Xu expressed hope that her son and other border children will receive individualized counseling which will assist in their adaptation.
She noted that although there has been support from various NGOs over the past three years, they had not had much assistance from the authorities on either side of the border. She expressed her sincere desire that the kids will be nurtured with more care and attention.
The 40-year-old Wendy Zhou and her husband relocated to Hong Kong in 2021 with their only daughter and rented a property in Kowloon City close to the girl's school, so she could attend the classes in-person.
The family intends to return to Shenzhen in July now that border restrictions are no longer applicable. "We adults must work to support ourselves and earn a living. We cannot afford to reside in Hong Kong any longer", said Zhou.
She went on to add that she hoped the government would also consider looking into offering cross-border children transportation subsidies.
Many cross-border families experienced financial trouble throughout the pandemic, according to Mui Ho-kay, principal of CCC Fung Leung Kit Memorial Secondary School. She is optimistic that the Hong Kong government will assist these families.
Homemaker Lai Huixia, 38, whose 11-year-old son is enrolled in Primary Six at a school in Fanling, proposed that school bus services which are mostly for younger kids, may be expanded to secondary students as well.
Her son, a single child, stayed at home during the pandemic in Shenzhen and will begin secondary school in the coming months.
Lai expressed her hope that he would be able to continue using the school bus while accompanied by a "bus nanny".
She said, "I am concerned that he isn't yet able to go to school by himself."
Lai suggested that the government can potentially designate a particular checkpoint for students who cross the border frequently.
In an earlier statement, Secretary of Education Christine Choi Yuk-lin promised that her department will keep assisting international students in adjusting to campus life through NGOs and schools.