94 years old Bhagwani Devi makes India proud by clinching a gold and two bronze medals at World Masters Athletics Championships in Finland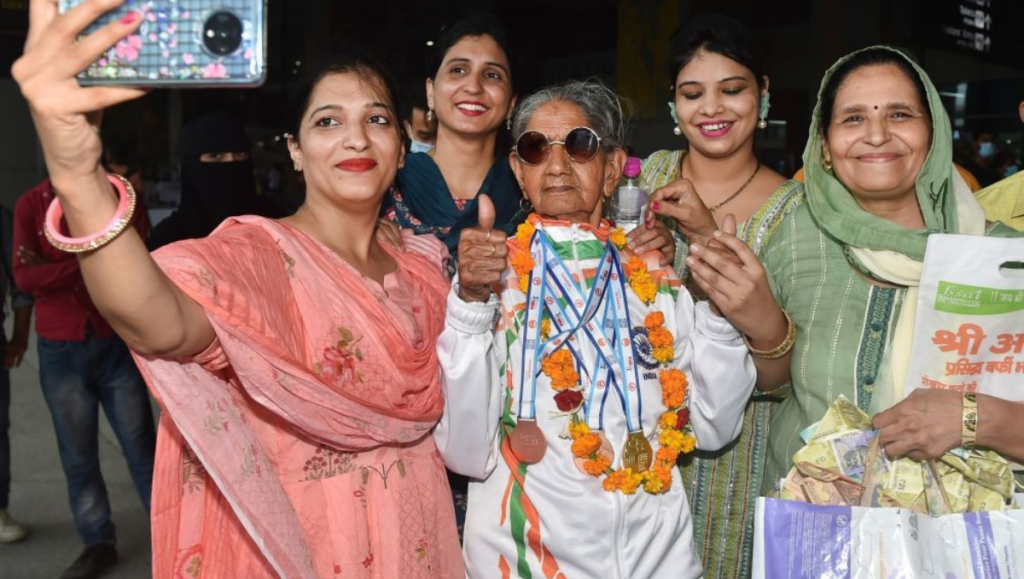 Born in Haryana, a 94-year-old Bhagwani Devi Dagar created history by victoriously clinching a gold medal in the 100-meter race. She took 24.74 seconds time duration.
Earlier, Bhagwani had also won three gold medals at the National Masters Athletics Championship.
Exemplary performance at the nationals paved her way to the World Masters Athletics Championship organized in Tampere, Finland.
From June 29 through July 10, the event ran. In the event, she went on to win two bronze medals in the shot put category. Thereafter, he grabbed gold in the 100 m race with a record-breaking time of 24.74 seconds.
Several individuals flocked to Twitter and other social networking sites to congratulate her as the word of her victory spread.
"India's 94-year-old #BhagwaniDevi Ji has yet again proved that age is no bar!
She won a GOLD medal at the #WorldMastersAthleticsChampionships in Tampere in the 100m sprint event with a timing of 24.74 seconds.
She also bagged a BRONZE in Shot put.
Truly commendable effort!
", the Department of Sports, Ministry of Youth Affairs and Sports tweeted.
Department of Sports MYAS Tweet
Haryana Governor Bandaru Dattatreya and Chief Minister Manohar Lal Khattar both congratulated her for being triumphant.
Both took to Twitter and tweeted –
"This great achievement of yours will fill the youths of our country with fervor and enthusiasm"(English Translation of tweet)
Many other ministers also congratulated her that she was breaking stereotypes that people often reasoned that after attaining 60 years of age they should retire from work and seek rest. They are old enough to work. Hence, admired internet users admired her asserting she is such an "inspiration for all."
Ministries like Anurag Thakur, Piyush Goyal and Arvind Kejriwal all joined to give their hearty congratulations.
"QUEEN OF ATHLETICS" RETURNED TO INDIA
The old yet agile woman came back to India on July 12. She received a warm welcome at the Delhi Airport. People gathered in large crowds to greet and praise the "Queen of Athletes" for her historic achievement. A heroic welcome awaited her at the airport and Bhagwani Devi Dagar also danced to add to the moment and relish it to the full.
"I will again win gold medals for the country and make India proud," she said while talking to the media and also flaunting her medals.
Bhagwani Devi Dagar after arriving at the airport.
Bhagwani Devi Dagar Background
She comes from a sports background. Her grandson, Vikas Dagar, is also a sportsperson. He is an international-level para-athlete and recipient of the Rajiv Gandhi Khel Ratna Award(now renamed as the Major Dhyanchand Khel Ratna Award). At the 2014 Grand Prix in Tunisia, he also brought home the gold for India.
World Masters Athletics Championships(WMAC)
These are championships for master athletics events held under World Masters Athletics. An athletic championship for senior-aged athletic people of 35 years or above.
It begins in Toronto, Canada, every other year and now annually. It gives a platform for senior-aged people to showcase their sporting capabilities and enthusiasm for their sports.
The original plan was for the 2022 edition to take place at York Lions Stadium and Varsity Stadium in Toronto, Canada. In contrast, COVID-19 forced a postponement of the event. A championship that was scheduled to take place in Tampere in 2021 has been postponed. Fortunately, 2022 worked out well, and Tampere, Finland, was chosen as the host city. As scheduled, the championship took place from June 29 to July 10, 2022. The participating athletes at WMAC consistently outnumber even those at Olympic track and field events. This is the "world's largest track meet."