Do you suffer from sinusitis that has been bothering you for a long time, and has been constantly nagging you? It can be a nightmare, which doesn't make you feel good. It upsets almost anything you want to do until you can't do it anymore.
Anyone can get sinusitis, but those with nose allergies, polyps, asthma, or abnormal nose structures, can get it more than others.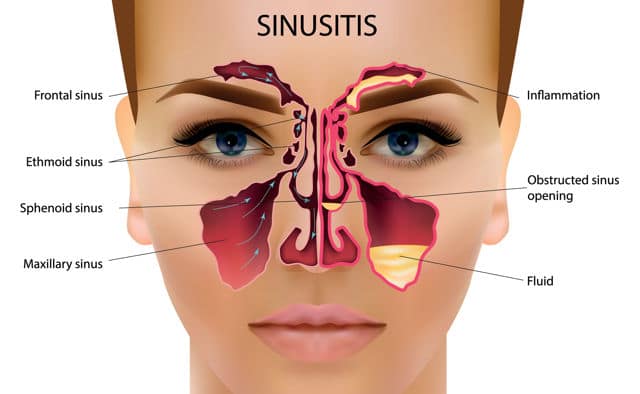 We have four pairs of cavities in our head that make all the mucous drain out through channels in our nose.
The drainage helps clean the bacteria from our nose, but when our nose is blocked, the bacteria stay and do not get cleaned up easily!
Bacteria staying in our nose causes infection, and the infection is what causes frequent colds and sinus problems.
What are the types of Sinusitis?
Bacterial: A sudden cold and a running and stuffy nose, which can get relieved, but if you taking antibiotics.
Chronic: A form of sinusitis that happens very often. Severe nasal congestion, drainage, facial pain, blocked ears, and a decreased sense of smell for at least two months.
Subacute: A form of sinusitis whose symptoms don't seem to go away for months together.
Recurrent: A type that keeps coming back at least 4-5 times throughout the year but lasts less than two weeks each time it comes back.
Signs and Symptoms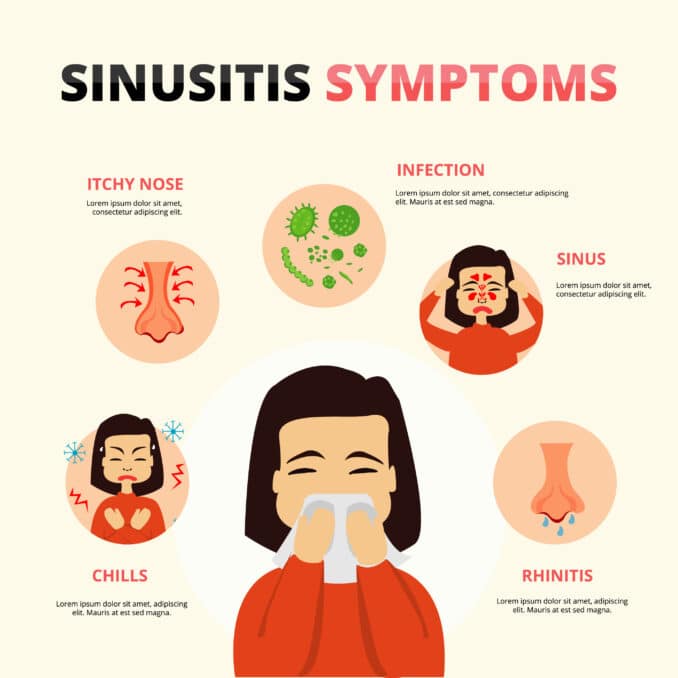 Mucus entering your throat: One way to find out if you have sinusitis is, if the mucus created by the sinus keeps dripping down your throat and makes the throat hurt.
Stuffy nose and yellow discharge: The person affected will have a continuously stuffy nose that's uncomfortable and a yellow discharge coming out of it.
Mucus entering your ears: Sometimes the mucus building up in the passage from your nose to your throat also ends up in your ears, this is a fair indication of sinusitis as well.
A lot of coughing: The most common of all symptoms is your starting to cough a lot, as if there is constantly something in your throat or chest that you want to clear, but it doesn't really go away that easily.
Feeling tired: If you feel dizzy, get easily fatigued, can't eat or find yourself simply having very little energy to do anything, it can be an indicator of sinusitis.
How do you treat Sinusitis?
There are several ways to treat and get rid of your sinusitis, like taking over the counter cold and allergy medicines, rinsing the nose regularly with saline solutions and drinking a lot of warm water at frequent intervals.
But there is one really sound way of doing away with your sinus problem permanently, and that is by taking steam with oregano in it.
Oregano has bacterial and antioxidant properties, so it can go to the root of the problem and eliminate the problem of increasing bacteria that in the first place triggered your sinusitis. Oregano oil also has specific anti-inflammatory properties that can release the swelling in your nostrils, which leads to a freer flow in your nostrils, and the bacteria not accumulating in your nose to cause the sinus infection.
Next time you have sinusitis, always be aware of these small things, they can help a lot.