As per a South Korean newspaper, the North Korean food crisis appears to have deteriorated as reports of ration cuts for North Korean soldiers, for the first time in 23 years, came to the limelight. South Korea's unification ministry, however, stated that it could not confirm the details of the media report, nevertheless, it and other agencies were monitoring the situation.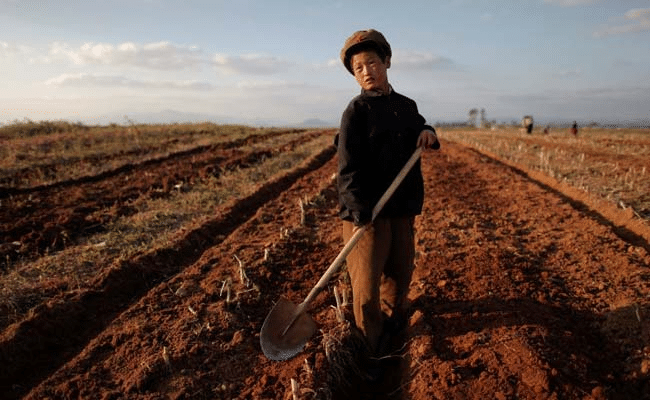 Supplies were reduced from 620g per soldier to 580g, raising concerns that the East Asian country's food shortage could be even worse than imagined. Over the recent years, North Korea has over the recent decades suffered serious food shortages, including famine in the 1990s which has often resulted in natural disasters such as floods damaging harvests.
The North Korean state news agency, reported on Feb. 6, 2023, that the Workers' Party of Korea had called a meeting for the party's Central Committee in order to discuss the imperative need to come up with a strategy for the development of agriculture. As per the South's unification ministry, such calls for special meetings were rare for North Korea.
Further, South Korea's Unification Minister, Kwon Young-se also stated that North Korea has asked the U.N. food agency, the World Food Programme, for help. However, talks failed due to differences over the monitoring of any aid.
Since 2000, this is the first time that North Korea has cut back on the food quota of one of its priority groups, in spite of the military's contribution to their leader Kim Jong-un's pledge for an "exponential increase" in the country's nuclear arsenal.
The hermit kingdom has been under strict international sanctions because of its nuclear weapons and ballistic missile programs. In recent years, its limited border trade was virtually choked off by the self-imposed lockdowns that were aimed at preventing the COVID-19 pandemic.
As of August 2022, both quantity and price data have been indicating towards the deteriorating situation that was worsened by the regime's choice to self-isolate. As per reports, the availability of food has likely fallen below the bare minimum. In spite of this, the Kim regime has insisted on maintaining a failed economic model and has remained committed to its nuclear program.
The regime which fears internal competition and its own demise has so far proved itself unwilling to pursue reforms such as embracing an export-oriented model or opening and revitalizing the industrial and service sectors of the economy, among others.
North Korea has been criticized severely for conducting a record number of missile tests last year while its people suffered one of the most severe food shortages in recent decades.
Moreover, according to other recent North Korean media reports, the appearance of the leader Kim Jong Un's daughter at state functions could be aimed at mustering up unity and loyalty to the ruling family amidst the deepening humanitarian woes.