The highway rules state that speed should not exceed 100 kmph on a highway and 120 kilometres per hour on an expressway and the BMW was way past that limit.
In a tragic incident on the Purvvanchal expressway, four people driving in a BMW car died in a deadly crash with a container truck.
They were doing Facebook live before the accident where one can be heard saying"Chaaro Marenge" (All 4 of us will die) "Aur Badha speed" (Speed up) and " 300 maar" (Hit 300 kmph). In a video, the speedometer can be seen accelerating from 100s to 150 and then to 230 kilometres per hour.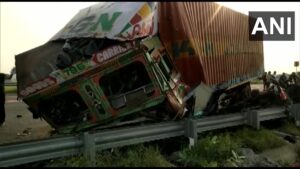 In addition to the overspeeding, all four friends including the driver were apparently drinking beer. The cans can be seen in the video. However, the intake of alcohol couldn't be verified.
The expressway had some work going on and hence the truck came from the same lane, colliding with the speedy BMW and ending up in the death of all four on the spot. The car was on its way from Bihar to Delhi.
Careless Driving
The four victims were identified as Dr Anand Prakash, who was a resident of Dehri, Bihar and was driving the car, Deepak Kumar, Akhilesh Singh from Aurangabad and Mukesh. All of them were in their thirties.
Video: Four people died in a car accident on Purvanchal Expressway near Sultanpur, UP

Minutes before the accident, the victims live-streamed a video showing their BMW car touching a speed of 230 km/h pic.twitter.com/8rRmAv6czS

— The Jamia Times (@thejamiatimes) October 15, 2022
Dr Anand Prakash was behind the steering and he can be heard saying "All four will die" as his friends were encouraging him to drive faster. He can be heard asking everyone to wear seat belts. When he slowed down after touching 230, the voice comes from behind to not apply brakes.
Another voice could be heard saying" Aaram se"(Easy)
The collision was so severe that all four fell at the distance after the collision.
According to the officials, the police and UPEIDA(Uttar Pradesh Expressways Industrial Development Authority) officials soon reached the spot with relief.
Four occupants of BMW killed after head-on-collision with a truck on Purvanchal Expressway in #Sultanpur district.

Via @PathikritToi pic.twitter.com/89cHxaAtUt

— Arvind Chauhan (@Arv_Ind_Chauhan) October 14, 2022
The container truck driver has been charged with the case of negligence. He fled from the spot and is untraceable until this report was written.
This expressway was inaugurated by the PM Narendra Modi in November 2021.
Highway Rules on Speed 
The highway rules state that one should not exceed 100 kmph on a highway and 120 kilometres per hour on an expressway and the BMW was way past that limit.
Central Data On Deaths due to Crashes
In India, we can see the news of deaths due to crashes every day. India is one of the most affected countries with deaths due to road accidents. According to the report by the National Crime Records Bureau (NCRB), India reports almost 1.50 lakhs deaths due to crashes every year.
Last year, 42000 deaths were due to negligence and carelessness while 87000 deaths were due to overspeeding.
Former Tata Chairman, Cyrus Mistry lost his life in a road accident when he was in his car near Palghar, Maharashtra. Earlier this year, renowned young Uttarakhandi music producer and singer Gunjan Dangwal lost his life in a car accident near Chandigarh.
Last year in August, an overspeeding Audi hit a pole resulting in the death of 7 people.