An earthquake of 6.3 magnitudes hit Nepal on Wednesday, It is the second earthquake within 24 hours. Delhi and its neighboring areas felt strong tremors.
On Wednesday, in several parts of Delhi-NCR, people felt the strong tremors of an earthquake. That quake hit at around 1:57 am. Many people rush out of their houses in the middle of the night for safety. In Gurugram, Noida, Ghaziabad, and even Lucknow, he jolted people out of their sleep.
According to the National Center for Seismology, the earthquake occurred on 9-11-2022 at 1:57:24 IST, with the epicenter 90 km southeast of Pithoragarh in Uttrakhand, near the Nepal border.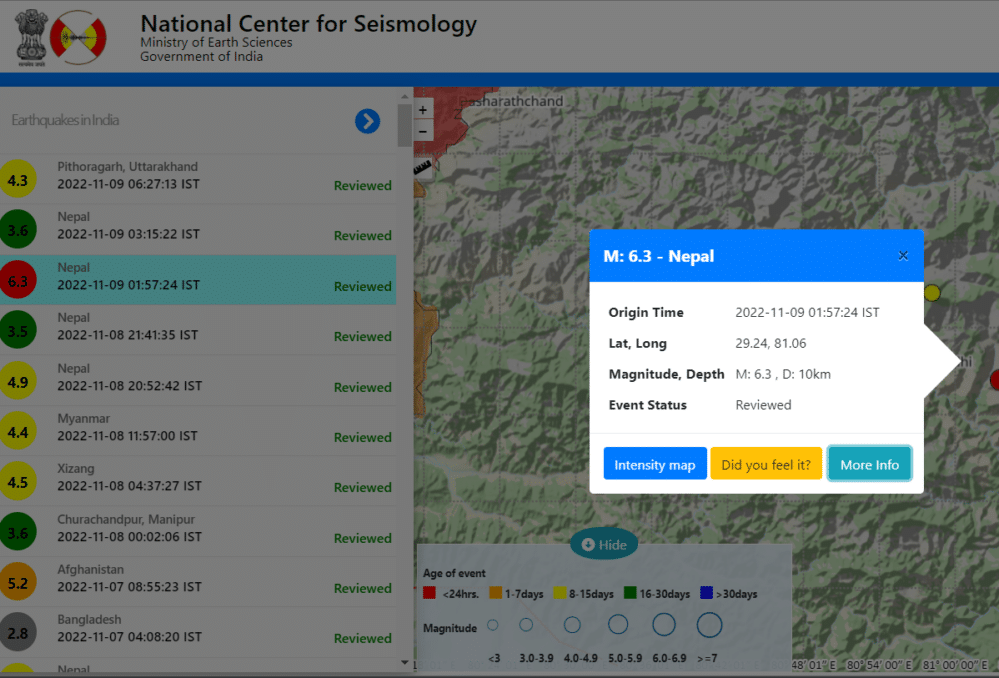 Tremors were felt across Delhi-NCR for quite some seconds (around 10 seconds) after an earthquake of 6.3 magnitudes hit Nepal.
The three earthquakes back-to-back that hit Nepal within 24 hours An earthquake with a 4.9 magnitude at 8:52 p.m. was reported in Nepal on Tuesday. And another earthquake hit Nepal at 3.6 magnitudes on 9-11-2022 at 3:15:22 IST and last with 6.3 magnitudes at 1:57:24 IST, according to the National Center for Seismology.
As per the reports, six people died in Nepal because of an earthquake of 6.3 magnitudes.
A Chief District Officer of Doti, Kalpana Shrestha, confirmed that at least six people have died, five were injured and sent to the hospital, and a dozen houses have been damaged after they collapsed because of an earthquake.
There is a trend on Twitter that started under the hashtag "#earthquake" with more than 20,000 tweets within half an hour of the quake. Some say they have never felt an earthquake this strong. Several users shared videos of them on social media platforms from the moment the earthquake was felt in Delhi-NCR.
According to the Delhi disaster management authority, no calls have been received yet at the emergency operation center about any damages following the earthquake.
Read more:https://asianatimes.com/nepal-election-why-it-is-crucial-for-india-china/