Balasore : Officials announced Saturday that at least 238 people were killed and over 900 were injured in a catastrophic three-train crash in Odisha, the country's bloodiest rail catastrophe in more than 20 years. A high-level committee will be formed to investigate the train collision, according to Railway Minister Ashwini Vaishnaw.
The Shalimar-Chennai Central Coromandel Express, the Bengaluru-Howrah Superfast Express, and a container train were all a part of the mishap.
Rescue efforts are underway, and all hospitals in the surrounding areas have been placed on high alert. Three NDRF units, four Odisha Disaster Rapid Action Force units, more than 15 fire rescue teams, 30 physicians, 200 police officers, and 60 ambulances have been dispatched to the scene.

Chief Minister proclaimed a one-day state of mourning
Chief Minister M K Stalin stated on Saturday that the Tamil Nadu government will commemorate one day of mourning for those killed in the Odisha train accident.
All government programmes, festivities, and a public gathering scheduled for today (Saturday) to commemorate former Chief Minister M Karunanidhi's centennial birth anniversary have been cancelled. Stalin told reporters at the state emergency operation centre in Ezhilagam that the state government was coordinating rescue efforts with the Odisha government, and that Sports Minister Udhayanidhi Stalin and Transport Minister S S Sivasankar, along with senior state government officials, had rushed to Odisha to coordinate rescue efforts.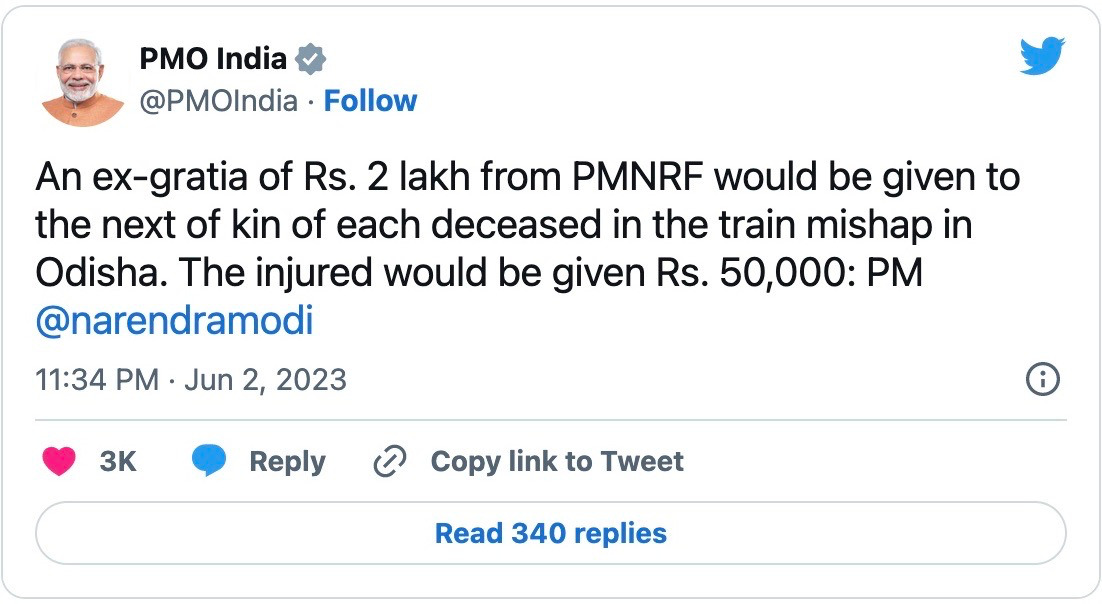 This morning, the Railway Minister went to the accident scene to assess the situation. Mr Vaishnaw has also declared a compensation of Rs 10 lakh for those who died in the disaster, Rs 2 lakh for those who were critically hurt, and Rs 50,000 for those who had minor injuries.
50 were thrown out of broken windows
Around 50 passengers were pushed out of the coaches through the shattered windows and doors as a result of the collision.
By the time rescue crews arrived at the scene, volunteers had rescued many of the injured from the wreckage.
Balasore MP and former Union minister Pratap Chandra Sarangi were among the first to arrive at the scene, as were rescue teams from Bhubaneswar and Kolkata. The NDRF, state government personnel, and the Air Force were also called in. 
Pradeep Jena, the chief secretary of Odisha, claimed hundreds of people had been hospitalised.
Both the Odisha Disaster Rapid Action Force and the National Disaster Response Force (NDRF) sent four teams each to assist in the rescue effort. Helplines were established by the railroads and the government of Odisha to offer information to travellers.