Babar Azam was cruelly mocked following his disastrous T20 World Cup performance against South Africa on Thursday, November 3.
In the Super 12 round of the T20 World Cup 2022, Pakistan's Babar Azam has struggled again, much like in the previous matches. In contrast to Mohammad Rizwan, who lost 4 of 4 balls against South Africa at the SCG (Sydney Cricket Ground), Babar scored just 6 from 15 balls.
Azam played another underwhelming knock on Thursday, continuing his troubling run scoring in the Super 12 round of the T20 World Cup 2022. The Green Army's talisman was out inexpensively in Pakistan's crucial match against South Africa at the Sydney Cricket Ground (SCG).
While Azam, who came into the T20 World Cup as the best hitter in white-ball cricket struggled for Pakistan in the Super 12 round of the ICC competition. Also, he could not manage to secure that spot for himself.
Previous Performances of Babar Azam
In the First match of Pakistan against India on October 23, with his first ball, Arshdeep got Babar Azam out lbw. After being added in the second over, Arshdeep bowled a powerful inswinger that struck Babar in front. The Pakistani captain reviewed but the team lost its review as well as the wicket of Babar Azam.
The Pakistan fans and team including Babar as well did have hopes of scoring well in the next match between Pakistan and Zimbabwe but the hopes went in vain as Brad Evans dismissed Babar at a very low score of 4.
Thereafter, low scoring saga still continued. Pakistan Versus Netherlands match turned the tables for Babar Azam and Co. as the team managed to get two winning points after two losses. Roelof van der Merwe's unexpected run-out for just four from five balls resulted in the loss of Pakistan's captain, Babar Azam.
Babar Azam fell prey to Lungi Ngidi's quality bowling this time as Babar departed at 6 off 15 deliveries in the Pakistan Versus South Africa encounter.
Trolling On Twitter
When Babar Azam and Mohammad Rizwan stepped out to bat in match number 36 between Pakistan and South Africa at the SCG, the top batsman was feeling the pressure. Although, many anticipated that Babar would silence his adversaries by scoring again. However, the star batter was given the directions to head back to the pavilion as he lost his wicket before the powerplay was almost over.
Then, the Pakistani skipper was viciously mocked on Twitter for his overlooked innings against the South Africans as Babar displayed yet another batting failure.

After back to back struggling for scoring runs for the team, Babar has become a prey to the Twitter trends and memes on various social media platforms. He has become a popular meme-material.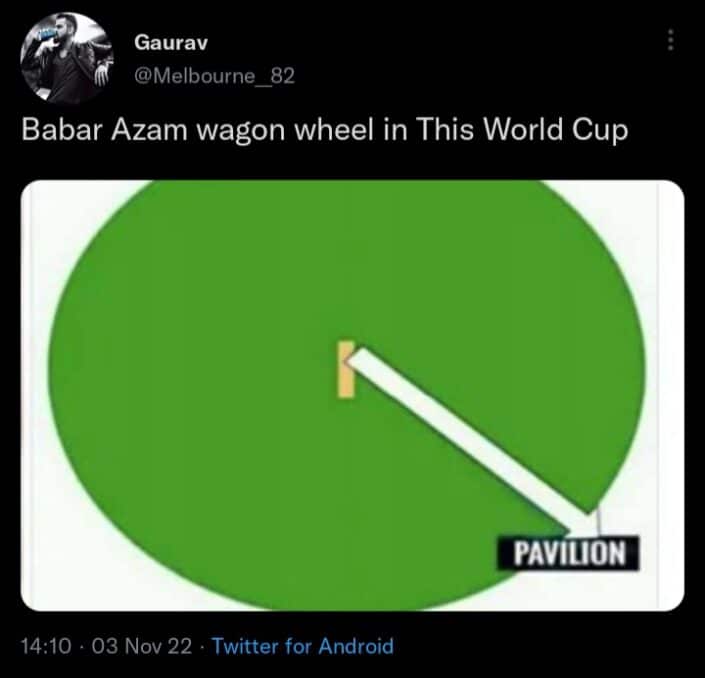 ---
Read More: Lollapalooza India Debut in 2023
---
Table of Contents