The US Administration has asserted again that they are "there for India". Talking about India's relation with Russia, the US administration accepted that; India and Russia established close ties at a time when the USA wasn't ready.
US State Department Spokesperson Ned Price acknowledged the long-standing ties between Russia and India. He has also stated that Washington remains New Delhi's "partner of choice." Relations between the two countries, including in the areas of defense and security, are improving.
"We have had several conversations with our Indian partners. We concluded that each country will have a different relationship with Mosco, "he said during a press conference.
"We have reaffirmed our commitment to our Indian partners throughout these conversations." We are hopeful about working with them. And, we have been doing that, "he continued.
We also had a "2+2″ dialogue with India. We are hopeful to see Prime Minister Narendra Modi in the context of the I2U2, the agreement we have with the UAE and Israel, as well as India, integrating India into many of our partnerships, including, of course, the Quad," he added further.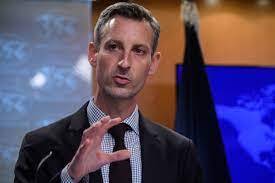 India's association with USA at a glance
The bilateral relationship between India and the United States has evolved into a "global strategic partnership." See here. 
The Indian government's emphasis on development and good governance has created an opportunity to revitalize bilateral ties and strengthen cooperation under the slogans "ChaleinSaathSaath: Forward Together We Go" and "Sanjha Prayas, Sab ka Vikas" (Progress for all through Collective Effort).
It was implemented at the first two summits between Prime Minister Modi and President Obama, which took place in September 2014 and January 2015, respectively.
The India-U.S. relationship was referred to as "Enduring Global Partners in the 21st Century" in the summit-level joint statement released in June 2016.
India is the focal point of the Joe Biden administration's Indo-Pacific strategy with regard to the US. The Indian Foreign and Defense Ministers recently met with their American counterparts in a '2+2' meeting. See here;
India and the contemporary World
India's relationship with other countries will always be an important part of India's Foreign Policy.
New Delhi has now become a global news topic due to the Russian-Ukrainian war. It has chosen a foreign policy in the war that is independent from a strategic standpoint. India decided not to side with Ukraine against Russia given its close ties to Russia.
India's status as an emerging global superpower is quite obvious if one were to consider the extensive list of diplomats, officials, and ministers from around the world that have been rushing towards New Delhi.