USCIRF noted that "the (Indian) government continued to systemize its ideological vision of a Hindu state".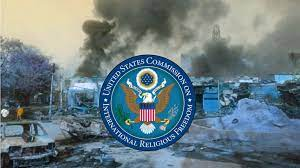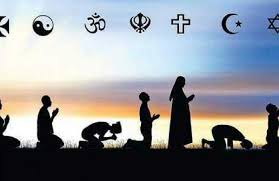 Image source-thecognate (left) , Indian express (right)
For the third year in a row, the United States Commission on International Religious Freedom (USCIRF), a nonpartisan, independent group, recommended that India, China, Pakistan, Afghanistan, and 11 others be named as 'Country of Particular Concern' (CPC), the category of countries that do the least well on religious freedom criteria.
The State Department is not bound by the Commission's choices and has refused for two years to accept the CPC's recommendation for India.
"The Indian government intensified its advocacy and execution of policies that affect Muslims, Christians, Sikhs, Dalits, and other religious minorities," the survey said. It used existing and new legislation, as well as structural changes hostile to religious minorities, to institutionalize its ideological goal of a Hindu state at the national and state levels.
According to the study's section on India, the government "repressed critical voices," particularly those of minority communities and persons who report on them. It mentions the detention of rights activist Khuran Pervez in Kashmir in October 2020 and the death of elderly Father Stan Swamy in July 2021 under the Unlawful Activities Prevention Act (UAPA). The article highlights the challenges that NGOs face, notably in terms of foreign funding. It also emphasizes anti-conversion laws.
"In October 2021, the government of Karnataka ordered a census of the state's churches and priests and authorized police to conduct a door-to-door search for Hindu converts to Christianity," the article stated.
Previously, the government contested the USCIRF's rating, contesting its locus standi. S Jaishankar, External Affairs Minister, dubbed the Commission an "Organisation of Particular Concern" in 2020.
Jaishankar, who was in Washington two weeks ago for the 2+2 discussion between the US and India's defense and foreign ministries, stated that the situation of India's human rights had not been discussed during the meeting. At a joint news conference with officials from both nations on April 11, US Secretary of State Antony Blinken stated broadly that the US continues to be concerned about the human rights issues in India.
---
Published by – Mohit Maurya
Edited by – chhavi Chaudhary