Hindutva rightism
The deep roots of Hindutva rightism and the problems other minorities face is an example. It is an example that the people who do not agree with the government or seem to. They are cast out and looked down upon.
Just as the Sikhs and the people from Haryana have protested against the farm laws.
Khalistanis
In no time they were termed as Khalistanis. They were not fighting for the farm laws to be repealed but the Khalistan or a sovereign Sikh land. Without any evidence or valid information, the protests were linked to Khalistanis and Maoists.
BJP had even made an official statement with their attorney. The movement has been infiltrated by Khalistanis.
Channels such as Times Now, Republic, and Zee News have made headlines declaring that it is a "Khalistani- separatist" movement.
 The paper " Why India Survives", asks the question "Is India a Democracy?", the answer stated is "phiphty-phiphty".
India survived as a nation and it was because of nationalism.
The "phiphy-phiphty" angle can be related to this date and that too to the current ruling party.
BJP rules India on the notion that it is a secular and democratic country.
But does it feel like one? The freedom of expression is long lost.
Getting termed as a leftist is the easiest thing that happens in our country. The farm laws too, when opposed by the farmers. They had a very disturbing impact on the country.
Minorities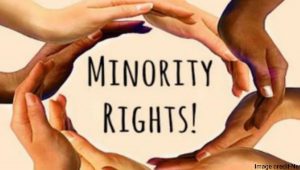 The riots increased by 38% in 2020 after a 3-year decline. We live in a country where every dissenter is proved to be anti-nationalist. One cannot marry without the involvement of the government.
Minorities always stay down because of fear. It accepted the nationalism in India to be independent of the British. They had to for the country's betterment.
Events like the 2003 Gujarat riots and the 1983 Sikh genocide will always have a scar on their hearts.
The Hindutva agenda has always been in every corner of the country. The political stability in India will remain a challenge until the government rules the country like a secular country.
The national community in India will comprise a minority class. They will always feel alienated and targeted by their government.