Non-Government Organizations – Give India & PATH have joined hands and successfully implanted 76 Oxygen generation plants across 20+ states & union Territories in India, to compensate for the unavailability of oxygen cylinders for medical emergencies in interior rural areas.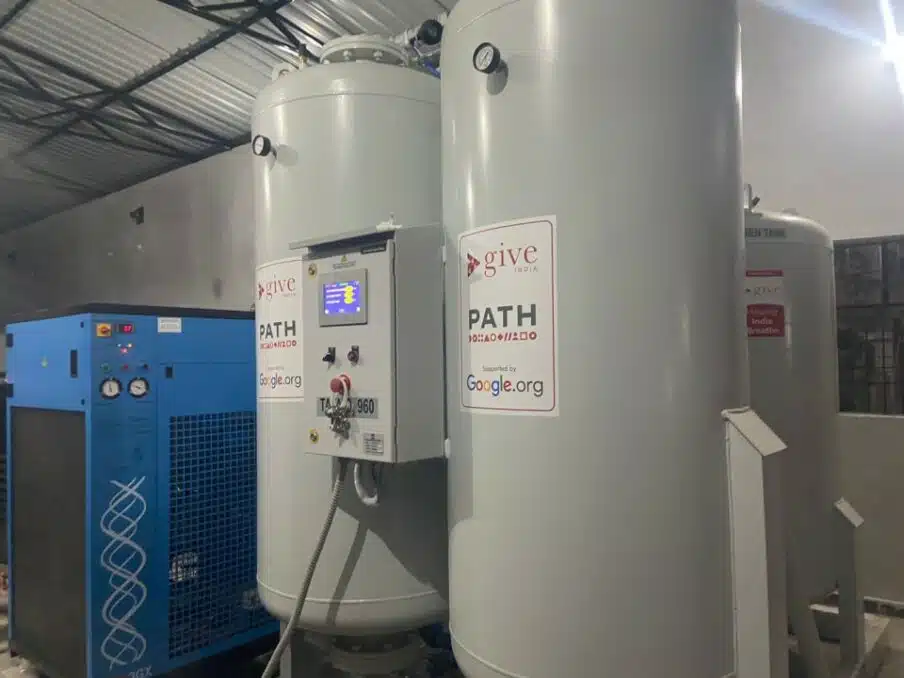 After the advent of the COVID-19 pandemic, Google.org, philanthropic arm of Google granted $15 million USD (109 Crore INR) to support the NGO's Give India & PATH to implement oxygen generation plants in healthcare setup in rural area where there is high need of oxygen cylinders. These 3 organizations came together to impact lives in the long-run and made rural medical facilities future ready.
What is an PSA Oxygen Generation Plant
Oxygen plants is an industrial structure made to absorb the oxygen from the air through pressure swimming absorption techniques or membrane separation method. In the PSA method (pressure swing absorption) the pressurized air is passed through a series of vessels with zeolite molecular sieves as absorbing membranes. These suck up the nitrogen components of the air and pass out oxygen gas which are filled up in handy cylinders for medical use.
PSA Plants Installation
76 PSA oxygen generation plants were successfully placed in the rural areas across 20+ states and UTs in India. The geographically remote areas as Sundarbans in West Bengal, Kargil in Ladakh, Sagar Hospital in Ranchi to Ganga Sagar Island in Bay of Bengal were equipped with this oxygen machinery for their medical emergencies, for aftercare of surgeries and for treating respiratory distress in patients. 
One of the beneficiaries from Nazareth Hospital in Meghalaya said we are prepared for the challenges of pandemic and their logistical difficulties and cost of procurement is reduced significantly via this movement by PATH, Give India and Google.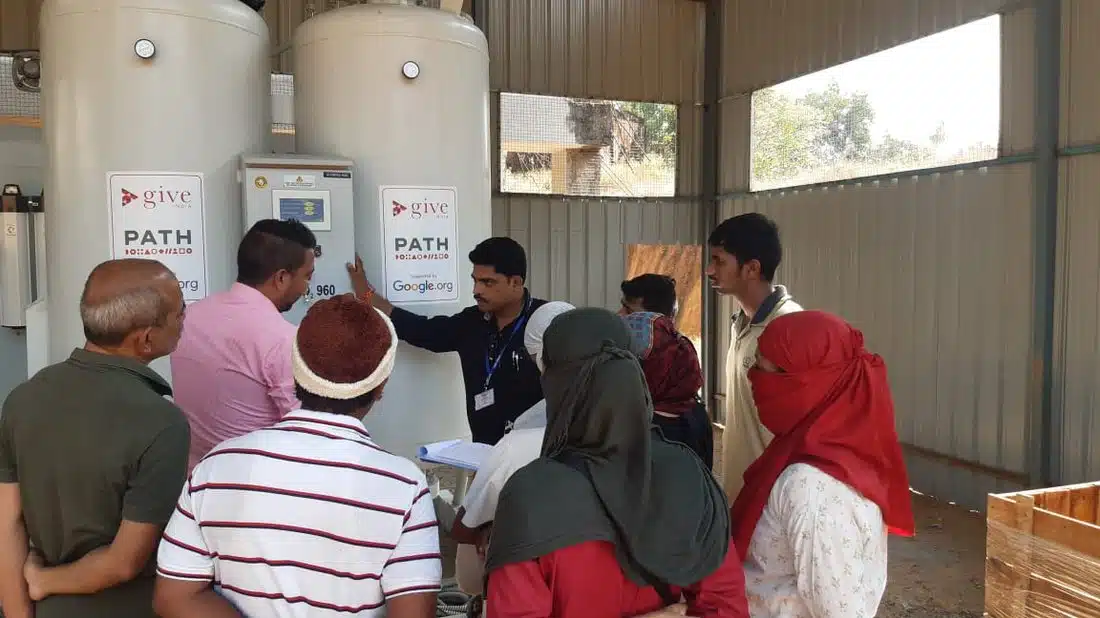 Future Ready HealthCare System
Give India and PATH have aided in furnishing the oxygen generation plants and also trained personnels to handle the unit. Around 3000 medical professionals along with 7000 workforces across various delegations of government, industry staff, NGO reps for an efficient use of the PSA plants. This rounded wholesome services from accessing the demand and gap of O2 cylinders in rural areas, from procurement to installation, guidance on operating procedures and paving a pathway to reach out in future, has provided a self-sufficient, and sustainable oxygen generation in the healthcare chain for a long term.
Stakeholder's stake on PSA plants
Sanjay Gupta, head of Google India said he is pleased to partner with Give India and PATH to enable the PSA plants across India. Atul Satija, CEO of Give India and Neeraj Jain, Director of PATH said that the timely contribution from Google has made an apt intervention in the much needed areas of health care centers in India. This beneficial impact for the long term after surviving the COVID suffocation is made possible by the united efforts of the corporates and NGOs for the welfare of the society.
PSA plants for oxygen generation have now become a boon to tackle any health crisis in the future. Many CSR activities (corporate social responsibilities) joined hands with NGOs also has created a change in people's lives for the better.