Four Holy relics of Buddha are being taken to Mongolia to be displayed on the occasion of Mangolian "Buddha Day" on June 14, 2022. Indian Law Minister Kiren Rijiju will lead this Delegation of 25 members. This follows the Mongolian government's outreach to India. India is doing this as a kind gesture by making exceptions to its rules.  
The Indian Air Force has made a special arrangement to carry these sacred relics. The Indian Air Force C17 Globemaster Transport aircraft will carry these holy relics in a special casket. The Indian Delegation is carrying two bulletproof casings and two ceremonial caskets for the relics. The relics will be treated as state guests and transported in the same climate-controlled case in which they are currently housed at the National Museum.
The last time these relics were brought out of the country was for an exhibition in Sri Lanka in 2012. The Holy Relics were put in the 'AA' category of antiquities and art treasures in 2015, indicating that they should not be moved out of the nation for exhibition due to their delicate nature.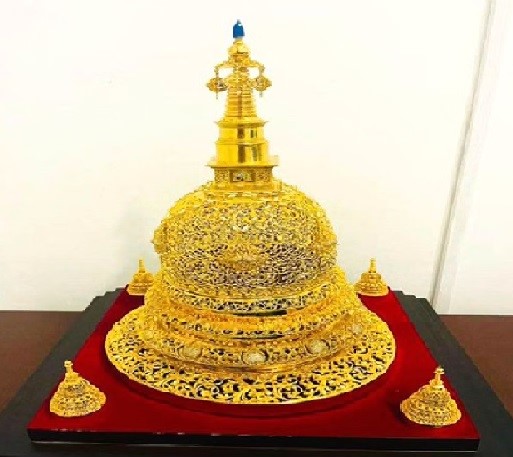 These relics are known as "Kapilvastu Relics" since they were discovered at Piprahwa, in UP's Siddharth Nagar district, which is believed to be a part of the ancient city of Kapilvastu.
India-Magnolia relationship at a Glance;
In 2015, Indian Prime Minister Narendra Modi also visited Mongolia, which was his inaugural visit to the country. He also visited the Gandan Monastery during his trip. The relics are scheduled to be displayed at the Btsangan Temple of the Gandan Monastery. The Lord Buddha relics in Mongolia would be displayed along with the relics from India.
Buddha Purnima is considered the holiest day in the Buddhist calendar year. It is one of the most important festivals of the follower of Buddhism. This holy day is celebrated by chanting and praying sessions & following the Buddhist rituals and ceremonies. They also organize the awarding events and exhibition for various kinds of activities. At the Monasteries, Painting and essay writing competitions also take place. They celebrate this great enthusiasm.
India shares a very strong cultural as well as spiritual relationship with Mangolia. Displaying these relics on this occasion would be a historical milestone in India-Mangloia relationship. It will further reshape the spiritual and cultural links between these two countries.