During his first visit to Germany since the commencement of the Russia Ukraine war, Prime Minister Modi stated that there will be no victor in the fight and urged for peace.
The Ukraine crisis has no victors, and "everyone will suffer," Prime Minister Narendra Modi said in Berlin on Monday, as India and Germany bolstered bilateral relations and signed nine agreements during discussions between Mr Modi and German Chancellor Olaf Scholz. These included a Green and Sustainable Development Partnership. Germany will provide India with ten billion euros in financial aid until 2030, including "collaboration on Green Energy Corridors, such as the Leh-Haryana transmission line and the project of a carbon-neutral Ladakh," among other things.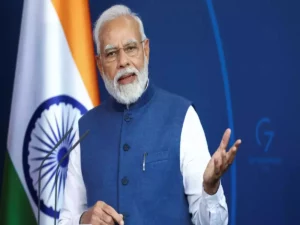 While choosing to strengthen commercial relations and defence and security cooperation, both countries announced the completion of discussions on a Comprehensive Migration and Movement Partnership, which will "enable two-way mobility of students, professionals, and researchers while simultaneously tackling the difficulties of illegal migration."
The two leaders also co-chaired the sixth Inter-Governmental Consultations (IGC) between the two countries. German Chancellor Angela Merkel invited Mr Modi to the Group of Seven meeting in Germany.
CONFERENCE DISCUSSIONS
At a press conference in front of Mr Modi, German Chancellor Angela Merkel urged Russian President Vladimir Putin to end the Ukraine crisis, accusing Moscow of violating international law by invading Ukraine. Later, Mr Modi reiterated India's call for an early halt to hostilities, saying, "There will be no winners in the Ukraine conflict, and everyone will suffer." However, the disparities in perspective between the two countries were evident in the joint statement, which saw Germany forcefully denounce Russia for its "unlawful and unprovoked assault on Ukraine," while New Delhi did not.
Both countries, on the other hand, "expressed their deep concern about the ongoing humanitarian crisis in Ukraine, unequivocally condemned civilian deaths in Ukraine, reaffirmed the need for an immediate cessation of hostilities, and emphasised that the contemporary global order is based on the United Nations Charter, international law, and respect for state sovereignty and territorial integrity." Both leaders "addressed the destabilising effect of the war in Ukraine, as well as its larger regional and global ramifications," and vowed to keep a careful eye on the situation. In a veiled reference to China's participation, they also emphasised the need for a free, open, and inclusive Indo-Pacific.
Other bilateral agreements signed on Monday included one on the execution of triangular development cooperation projects in third countries, another on the establishment of an agreement on the sharing and mutual protection of secret information, and another on the establishment of an agreement to establish a direct encrypted link between the MEA and the German Foreign Office, as well as ones on the formation of an Indo-German Green Hydrogen Task Force and bilateral collaboration on R&D.
"Russia has breached the fundamental norms of international law," German Chancellor Angela Merkel told the reporters in the presence of Mr Modi. I reiterate my call to (President) Putin to put a stop to this conflict." Mr Scholz also accused Russia of waging war on the civilian population of Ukraine. He and Mr. Modi agreed on the significance of a rules-based society and that "borders should not be altered by bloodshed," he added.
Mr Modi underlined that India has "immediately called for peace" in Ukraine from the outset of the crisis, highlighting how delicate peace and stability are. "We think that no single political party will emerge triumphantly. Everyone will be affected. We are pro-peace… He stated, "India is concerned about the humanitarian implications." Mr Modi also mentioned the war's consequences on underdeveloped countries, noting that energy costs increase due to global food and fertiliser shortages. He said that India has been assisting Ukraine with humanitarian aid.
Senior ministers from both countries, including Indian External Affairs Minister S. Jaishankar and Finance Minister Nirmala Sitharaman, attended the ICG between the two countries. "Participating ministers and officials from both sides presented brief reports on their meetings on the different tracks of the IGC — Foreign Affairs and Security, Economic, Financial Policy, Scientific and Social Exchange, and Climate, Environment, Sustainable Development and Energy," according to a statement released by New Delhi.
"Germany and India are key trade and investment partners," according to the joint statement. Both parties emphasised their strong support for planned discussions between the European Union and India on a Free Trade Agreement, an Investment Protection Agreement, and a Geographical Indications Agreement, highlighting the immense potential of such accords for growing bilateral trade and investment.
India and Germany pledged to finish the protocol by modifying the double taxation agreement as soon as possible. Both parties emphasised their willingness to continue the successful Indo-German Fast Track Mechanism structure, which has proven to be an essential reference for present and prospective investors in bilateral trade and investment."
---
Published by- NIKITA GOSWAMI