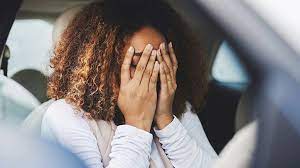 Anxiety disorder and how to manage it .Anxiety disorder is a type of a mental health condition .If you have an anxiety disorder, you may respond to certain things and situations with fear and dread. You may also experience physical signs of anxiety, such as a pounding heart and sweating.
It is normal to have some anxiety .You may feel anxious or nervous if you have to tackle a problem.at work, go to an interview, take a test or make an important decision. And anxiety can even be beneficial. For example  anxiety helps us notice dangerous situations and focuses our attention "Anxiety disorder and how to manage it" so we stay safe.
An anxiety disorder happens when:
Anxiety interferes with your ability to function.
You often overreact when something triggers your emotions.
You can't control your responses to situations.
A mix of genetic and environmental factors can raise a person's risk for developing anxiety disorders.
You maybe at higher risk if you have or had certain personality traits, such as shyness or behavioral inhibition. Feeling uncomfortable with, and avoiding, unfamiliar people, situations or environments.
Sometimes stressful or traumatic events in early childhood or adulthood cause anxiety disorder. Family history of anxiety or other mental health conditions can cause it. Certain physical conditions, including thyroid problems and heart arrhythmia can also trigger anxiety disorder.
Types of anxiety disorders:
Generalized anxiety disorder
Panic disorder
Phobias
Separation anxiety
1. Generalized anxiety disorder:
With GAD, you may feel extreme and unrealistic worry and tension, even if there's nothing to trigger these feelings. Physical symptoms of GAD are restlessness, difficulty concentrating and sleeping problems.
2. Panic Disorder:
If you have a Panic disorder, you get intense, sudden panic attacks. These attacks often feature stronger, more intense feelings than other types of anxiety disorders.
The feelings of terror may start suddenly and unexpectedly or they may come from. A trigger, like facing a situation you dread. Sweating, heart palpitations ,and chest pain are all signals of Panic Disorder.
Also called social phobia, this is when you feel overwhelming worry and self consciousness about everyday social situations. You obviously worry about others judging you or being ridiculed.
3. Specific Phobias:
You feel intense fear of a specific object or situation, such as heights or flying.
4. Separation anxiety:
Little kids aren't the only ones who feel scared or anxious when a loved one leaves. If you do, you will feel very anxious or fearful when a person you are close to.
Treatment for anxiety disorder:
Medication. Several types of drugs are used to treat anxiety disorders. Take medication from a psychiatrist.
Cognitive behavioral therapy; This common type of psychotherapy teaches you how to turn negative, or panic causing, thoughts and behaviors into positive ones.
Learn about your disorder; The more you know, the better prepared you will be to manage symptoms and roadblocks along the way. Don't be afraid to ask your doctor any questions you might have.
Don't use alcohol and drugs; Substance abuse increases your risk of anxiety disorders.
Eat right and exercise; Brisk aerobic exercises like jogging and biking help release brain chemicals that cut stress and and anxiety.
Get together with friends; Whether it's in person , or on phones  social connections help people stay healthy.
Seek support; Some people find it useful to talk to other's who are experiencing the same symptoms and emotions. Self help groups let you share your concerns with others.
---
Read more:-Tips to help kids overcome social anxiety and Managing parental stress during the pandemic