At least 500 inmates at a Bahraini jail that predominantly houses political prisoners are refusing to eat in protest of the conditions of their detention. On August 7th, detainees started rejecting food, and more have since joined.
Why are the prisoners on hunger strike?
According to a statement from the prisoners released through the outlawed Al Wefaq opposition party, the demands of the hunger strikers include more time outside their cells, which is currently limited to one hour per day, congregational prayers at the prison mosque, a relaxation of the restrictions on family visits, upgrades to the educational facilities, and access to proper medical care.
This is one of the most significant strikes to have ever taken place inside the Bahraini prison system, according to Sayed Alwadaei, a former detainee at Jau prison and researcher at the Bahrain Institute for Rights and Democracy.
According to the protesting prisoners, they are not demanding frivolous things, but are fighting for the necessary conditions required for human rights.
Prisoners in Bahrain
One of the highest rates of imprisonment per capita in the Middle East is found in Bahrain, a small island in the Gulf with a population of 1.5 million. Approximately 1,200 of the 3,800 persons in jail or prison are prisoners of conscience.
In 2011, pro-democracy protests took place in large numbers in Bahrain. Massive numbers of demonstrators connected to the protests have been incarcerated since. The administration has launched extensive campaigns, cracking down on activists, members of civil society, and political opponents, including the expulsion of two parties.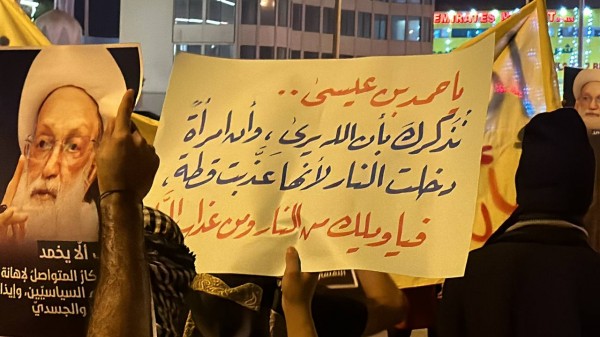 Inhumane conditions in the prisons
A majority of political prisoners in Bahrain are detained in Jau prison. Former inmates have come forward and said that especially harsh treatment is given to the political prisoners, who are housed in separate blocks.
Veteran human rights activist, Abdulhadi al-Khwaja went on a hunger strike after he was denied an appointment with a cardiologist 11 times. His daughter, another activist remarked that he was singled out and tortured after he demanded that prisoners be given better medical attention.
Prisoners claim that torture, abuse, the use of punitive solitary confinement, and denial of medical care are prevalent. The family of Ahmed Jaafar Mohamed Ali stated he had joined the hunger strike. Ahmed Jaafar Mohamed Ali is a dissident who was extradited from Serbia to Bahrain last year in violation of a judgment by the European Court of human rights out of fear he would be tortured if returned to Bahrain.
What has the government's reaction been?
According to the Guardian, the Bahraini government has been approached for a response. The interior ministry's office claimed that investigations had been carried out to address the issue and ensure that inmates are not denied their rights.
Role of foreign help:
According to activist Maryam al-Khwaja, extensive foreign help by Bahraini authorities had been received from other countries, particularly Britain. Salman Bin Hamad Al Khalifa, the Bahraini crown prince, and the UK prime minister Rishi Sunak met in July. Through its opaque Gulf strategy fund, Britain also increased funding to Bahrain's interior ministry and security organizations to £1.8 million last year.
The ruling family is aware of how reliant on their Western allies they are, she added, adding that in many respects, the allies have made it possible for the Bahraini regime to maintain power.