Synopsis- Bcci announced on Thursday (27 October) a "new pay equity policy" that men and women cricketers will get equal pay fees for matches.
On Thursday (October 27), the BCCI (Broad of Control for Cricket in India) took a historic step by agreeing to pay all contracted women cricketers, the same as male cricketers. BCCI secretary Jay Shah announce this development on his Twitter.
I'm pleased to announce BCCI's first step towards tackling discrimination. We are implementing a pay equity policy for our contracted BCCI women cricketers. The match fees for both men and women will be the same as we move into a new era of gender equality in Indian cricket, Jay Shah Said
The Indian women cricketers will be paid the equal match fee as their male counterparts. The payment for a test cricket match will be ₹15 lakh, for the one-day international match ₹6 lakh, and for the T20 match ₹3 lakh. The Pay equity was my commitment to our women cricketers and I thank the Apex Council for their support," Jay Shah added.
What are other players' views on this historic step?
The former captain of the Indian women's national cricket team, Mithali Raj, also shared her happiness regarding this momentous day.
Mithali Raj wrote This is a historic decision for women's cricket in India. The pay equity policy and the WIPL next year are ushering in a new era for women's cricket in India. Thank you, Jay Shah sir, and the BCCI for making this happen, really happy today.
Harmanpreet Kaur, captain of the Indian Women's Cricket Team, also appreciated the BCCI for supporting gender equality in sports.
Captain Harmanpreet tweeted on Twitter, Truly a red letter day for women's cricket in India with pay parity announced for women and men.
Legendary cricketer Sachin Tendulkar said, " Cricket has been an equalizer in many ways. This is a welcome step towards gender equality in the game and erasing discrimination in the sport."
Former Indian cricketer Harbhajan Singh (right arm-spin bowler) also lauded the BCCI decision regarding the pay equity policy for cricketers.
Apart from the cricketers, many Bollywood stars, such as Badshah of Bollywood, Shahrukh Khan, Anushka Sharma, and Taapsee Pannu, also praised this decision.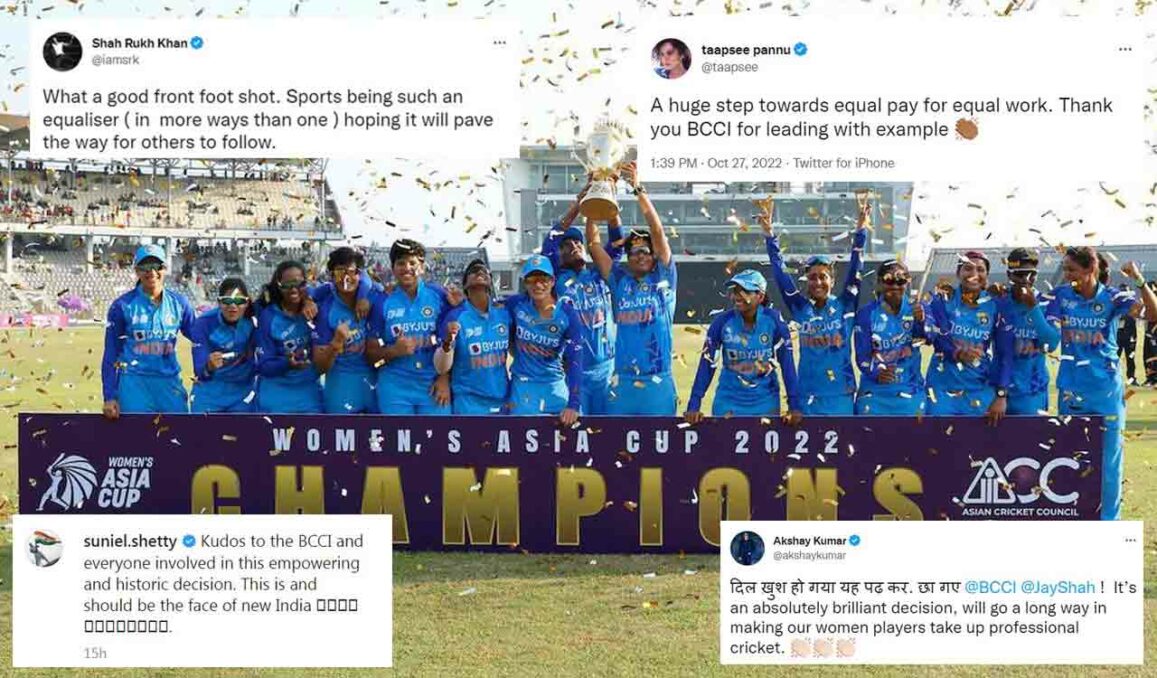 The Indian women's cricket team recently won the Asia Cup, beating Sri Lanka by 8 wickets in Bangladesh. Moreover, they showed amazing performances in Olympics. They also won their first-ever medal in cricket at Birmingham earlier this year.
Earlier this month, at its last AGM ( Annual General Meeting) in Mumbai, the BCCI announced the first-ever women's IPL next year with five teams.