Known as Tridoshic Rasayana in Ayurvedic, Triphala regulates Vata, Pitta, and Kapha -3 doshas of human life.
In the olden days, people used to take Triphala, in the early morning or during bedtime as it acts as a mild laxative that helps to clean our gut. It is made from three herbs namely Haritaki (Terminalia chebula ), Bibhitaki(Terminalia bellerica ), and amla(Indian gooseberry). This Ayurvedic formulation does wonders for our bodies.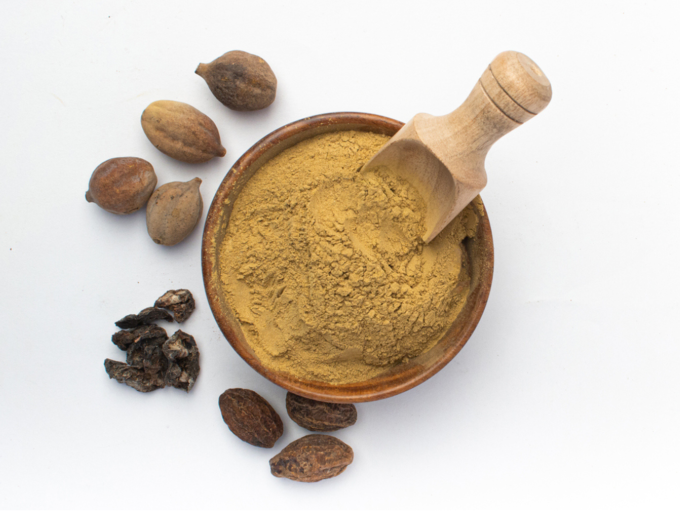 Benefits of Triphala
1. Reduces Inflammations: Enriched with vitamin C, it's a very good antioxidant that can fight against free radicals in the body. Therefore oxidative stress is reduced. This in turn reduces inflammations.
2. Aids to reduce weight
Triphala helps to clean the digestive tract which reduces bloating and enhances metabolism. This helps in weight loss.
3. Reduces the risk of cancer
Animal studies of Triphala confirmed that it has anti-cancer properties, as it reduces the growth of lymphoma.
4. Resolves Oral Issues
Its antimicrobial properties help to resolve oral issues such as cavities, gum inflammation, etc –called gingivitis, and also help to reduce bacterial growth.
5. Reduces risk of Diabetes
Triphala has Amla in it, which lowers the blood sugar level and helps to reduce the risk of type 2 diabetes.
6. Reduces Joint Pain
In animal studies, it proved to reduce arthritis in mice and has yet to be proven in humans.
7. Helps to prevent Heart attacks
Its properties of lowering the cholesterol levels and fatty acids in rats indicate a hypocholesterolemic condition that helps to prevent heart attacks in humans.
8. Improves immunity
Triphala has substances such as flavonoids, alkaloids, saponins, etc which are immunomodulatory. It is used to improve immunity.
Directions to use:
1.As a Powder
It is advisable to take Triphala Powder(Churna) with honey, milk, or ghee.
2.As a decoction:
Triphala powder is made to boil in water and it is filtered through a cloth –Decoction. This can be used to apply on wounds and several skin diseases.
3. As an oil:
When Triphala powder is boiled in oil we obtain Triphala oil. It is used to treat skin rashes and itching.
4. As an ash:
When Triphala powder is heated at a low temperature for a long time, it gives an ash called Triphala Masi, which has high Co2 content. It can be used to treat wounds when mixed with honey.
5. As ghee:
When Triphala is made as a paste along with Piper longum, Piper nigrum, Zingiber officinale, and other ingredients, ghee is obtained. It is used to treat problems of the eye.
Precautions:
People with other morbidities should consult a doctor before having Triphala.
In case of overconsumption, it can cause diarrhea.
Breastfeeding mothers can also consult a doctor for any side effects.