Bolli Blas is a Polish-British painter known for her storytelling portraits, which are often inspired by her personal life & experiences.
Bolli Blas' paintings have been exhibited in big museums all over the world, Such as New York City, Manhattan, Van Der Plas Gallery Puerto Rico, Museum of Art of Aguadilla & The Caribbean Edinburgh, Dundas Street Gallery London, Art Skt Gallery Nice, 2022 Contemporary Art Fair Paris, 2021 International Contemporary Art Fair Art 3F, etc.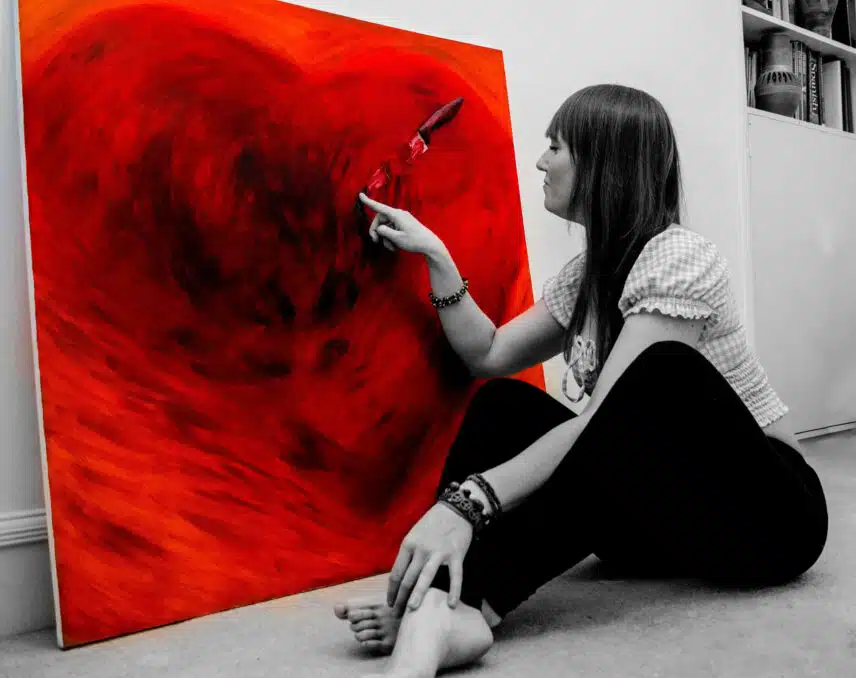 Bolli's paintings are best known for the wide-eyed characters known as 'Bollis' which are widely considered to be metaphorical mirrors of modern society, looking directly back at the viewer.
In An Interview With Asiana Times, She Talks About Her Art, Paintings, And How Teenagers Can Pursue Their Dream In This Field :
• When Did You Realize That You Have An Amazing Talent In Arts & Painting ?
I am not sure whether I have an amazing talent (but it's very kind of you to say so). I realized that I loved art and painting in my early childhood. I used to be very fond of drawing and painting on the walls of my family house as well as painting over my grandmother's face. As I got a bit older, I moved onto paper and canvases as my main base for paint. Today's Bollis are very much influenced by my early art as they return to that feeling of childhood innocence when you are not molded by everyone's expectations of what they think you should be.
• What Are The Main Inspirations Behind Your Art?
Bollis are connected to my early childhood art. As years progressed and I started 'proper' art tuition, I became conditioned to believe that good art meant traditional-style landscapes, portraits or still life. I focused my energies on trying to create the perfect reproduction of something which has already been done. While I understand that, as in music, an appreciation of the basic structure and techniques are helpful to an extent, it bored the hell out of me. I like the idea of going back to basics with the punk and rap movements replacing so-called musical virtuosity, and the Impressionists, Picasso, Pop Art, right through to Banksy and street art replacing the old guard in the art world.
This stripped back DIY thing is as much the real deal as anything else in music or art and can take things in a different direction. I have come to realize that art is an expression of the self. I want to create something unique rather than simply adding to the canon of established taste. I have for a long time had an interest in eyes. The windows of the soul so they say and beauty is in the eye of the beholder. The eyes are the medium through which we experience everything that is visually beautiful. The pupils in the eyes can either dilate or contract to the size of a pinhead. When dilated, they seem to be absorbing every little detail of the world around them.
Like black holes, attracting everything within their orbit with an irresistible gravitational pull. Also, the use of black enhances the brightness of the other colors. I like to use vibrant colors in my work and the wide-eyed Bollis hopefully enhances the other detail and colors in the picture.
• How Do You Develop Your Art Skills?
I develop ideas. I believe art is all about an idea, not much about the skill. It's the uniqueness of ideas that makes me admire my favorite pieces of other artists. I have been working on the colorful, big-eyed characters called Bollis, which I used as metaphorical mirrors of modern society, for several years now. I am currently on a lookout to build on this theme to grow this idea into something different and even more unique.
• You Have Travelled To Many Countries And Been To Lot Of Places Around The World, Does That Experience Influenced Your Arts Journey ?
The major turning point in my life and my art career that transformed my perception of life was backpacking through some of the poorest countries of Central America, Africa and Asia. That's when I met a lot of amazing people from different backgrounds, so welcoming and happy to share the little they had, they allowed me to see the world from different perspectives. I find that new life experiences and meeting people from outside your day to day environment gifts new ideas to create meaningful pieces of art. I want to create art that can be enjoyed by all the people, not just whom you would traditionally consider connoisseurs or experts in the field.
I owe my art career to the people I met in different parts of the world as their company shaped who I am today. I believe in giving back and I want my life and art to bring happiness to the lives of others. Even during my busiest times of exhibitions I try to set aside time for people who want to talk to me, create personal connections or give advice to follow artists. It's an extremely rewarding experience to give something back and not just focus on our own lives.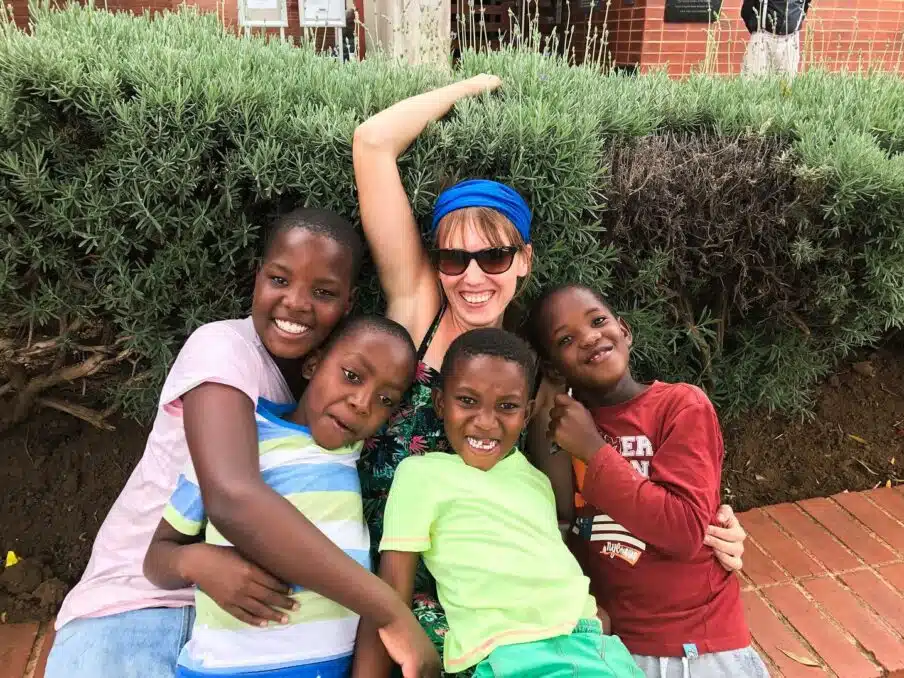 • Can You Tell Us About Your Interview on' Darriel Roy Show' How Did You End Up Getting In Touch With Her ? It Was Your First Interview Right ?
I enjoyed being part of Darriel's show so much. She's a lovely and inspirational person and a friend of mine too. Her show is really popular these days. We first met on Instagram in 2020 and we got talking about art. Darriel really enjoyed my piece 'Shower Time' and was keen to interview me about my background and inspirations. It was my second ever interview.
• How Do You Prepare Yourself For Exhibitions ?
To me, exhibitions are very much about good vibes and people being able to enjoy the show. I spend quite a lot of time planning my events to ensure there is enough wine, nice music and balloons. Paintings are important of course but I focus on making people feel welcome and at home. There are many traditional art galleries that have quite a boring feel when you come inside them which doesn't encourage enjoyment of art or young people visiting.
• How Was Your Most Recent Exhibition In Edinburgh, U.K ?
During my most recent exhibition in Edinburgh, U.K. we stayed open till late (or rather early morning) and were serving drinks throughout the whole week, there were also paints and crayons for anyone keen to do some art. We had people coming back and bringing their friends because they really enjoyed the atmosphere of the venue (and the free drinks probably too). Many visitors said it was a unique experience which they really loved.I normally also paint new pieces of art for any new exhibition. And then, there are the less interesting parts of exhibition planning which involve marketing, packing and sometimes shipping.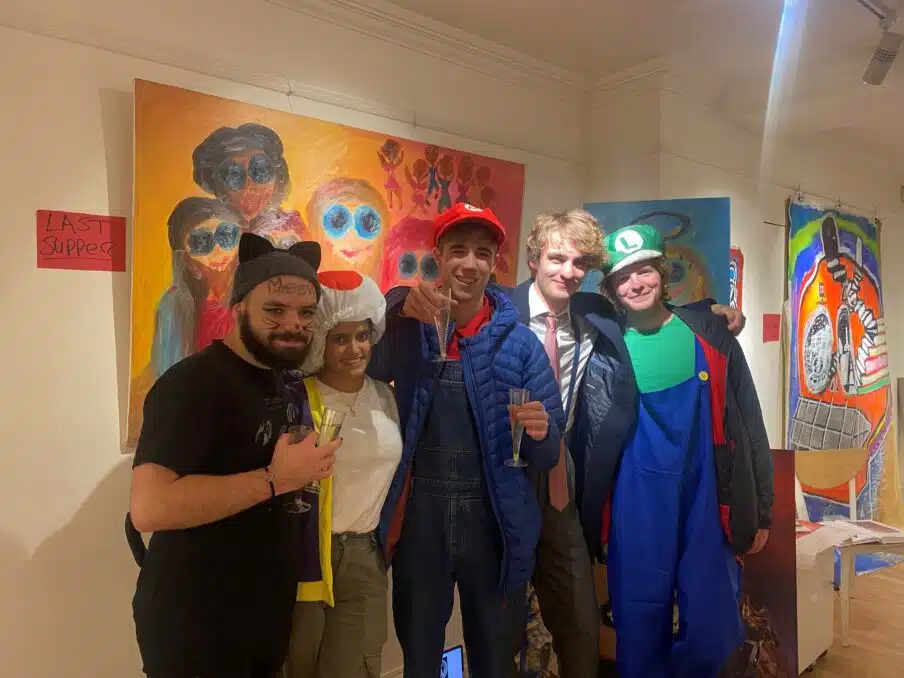 • What Do You Think About The NFT's? Do you Think That This Technology Will Led To The Diminishing Of The Real Arts And People Will Not Buy The Physical Paintings In The Future?
I don't think NFTs will be able to replace physical art. I believe there will always be demand for physical artworks as means of decorating homes and other spaces. Also, many people enjoy visiting galleries and admiring real pieces of art in person. They wouldn't really get the same experience from looking at NFTs. I had a go at creating several NFTs myself a while ago, but I learned that I don't really enjoy them, and I am going to stick with physical art. I just don't get the same emotion and feeling that art should bring out when looking at NFTs.
• Which Is One Of Your Favorite Paintings And What Message Does It Potray?
I very much enjoy street art and the creations of Banksy and their message that advocates peace. As for paintings, I love paintings of Picasso, Munch and Dali. I enjoy the uniqueness of their styles.But my favorite is a piece I saw in MOMA in NYC which represents three white canvases. I honestly can't remember who the artist was but it's a work that really pushed me in the current direction of doing something unique. I don't know what the intended message behind it was and each person would probably interpret it slightly differently but to me, it was saying that literally anything can be a piece of art.
https://www.instagram.com/p/CZPDQCQtrtN/?igshid=OGQ2MjdiOTE=
• What Will Be Your Last Message To The Teenagers, Who Wants To Become A Painter One Day ?
It often takes a long time to start making any money from art and even longer to make enough to support a good standard of living, so it is helpful to also have a good alternative career alongside art. As romantic as it sounds, it's no fun to be a struggling artist.
Also, there are many people trying to exploit new, inexperienced artists who have only just started an online presence by trying to sell them made-up art awards, charging to place photos of their work in art publications that no one really reads, and opening new galleries that will try to charge enormous amounts of money to sell the dream of fame and sales when in fact the only people attending the shows are other artists and their friends, so there is little selling potential.
Try to find places that will give your art exposure for free, or hire a place and put your own exhibition – it's really fun! There are many artists out there and I think it's important to make sure that the artist's work is different and stands out somehow. Ideally, people should look at a piece and know straight away that it's theirs, no matter if they like it or not. You will never be loved by everyone, so there is no point aiming at that. A piece of uniqueness, developing your own style definitely helps, I encourage artists to think about what they like and develop it into a brand theme.