It was an extremely cold Christmas in the US this year. The bomb cyclone that hit the US has brought chaos to a million Americans. This storm is not showing signs of slowing down anytime soon. Many states are facing power outages and people are freezing. It is estimated that 34 people have died due to this blizzard. 
"Much of the eastern United States will remain in a deep freeze through Monday before a moderating trend sets in on Tuesday," the NWS (National Weather Service) said in its latest advisory. 
The cold weather has sent wind chill temperatures in 48 states across the US to below freezing over the weekend. This has also affected the weather conditions in Canada. 
About two-thirds of all the deaths that have taken place across 9 states in the last few days have been weather related.
In Buffalo, the western region of New York, the blizzard has left the city trapped. The emergency services were unable to reach the worst-hit region.
"It is (like) going to a war zone, and the vehicles along the sides of the roads are shocking," said New York Governor Kathy Hochul, a native Buffalo, where eight-foot (2.4-meter) snow drifts and power outages made for life-threatening conditions. Hochul has advised people in these regions to stay indoors. She told reporters that the people in these regions have to face a 'very dangerous threatening situation'. 
This blizzard has created a stop in everybody's life. Travel plans were interrupted, and over 200,000 homes didn't have electricity on Christmas day. Electricity will not be reaching these homes until Tuesday since the electric substations are frozen. The airports in these regions are also expected to open up on Tuesday while the driving ban will remain in effect.
Ban on Travel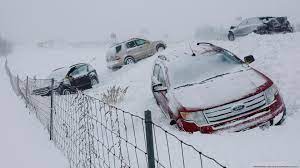 The blizzard has caused nearly 3,000 flights to be cancelled on Sunday and 1,000 flights in the early hours of Monday. This has also led to many families getting stuck at the airport for hours at a stretch on Christmas day.
Icy roads have led to the closure of many busy highways. Drivers are warned to not take these roads.
Historic Blizzard
"We now have what'll be talked about not just today but for generations (as) the blizzard of '22," Hochul said, adding that the brutality had surpassed the region's prior landmark snowstorm of 1977 in the "intensity, the longevity, the ferocity of the winds.
---
READ MORE:
https://asianatimes.com/mamata-devi-lost-her-membership-post-conviction/
https://asianatimes.com/chinese-warplanes-into-taiwans-air-defence/
---