JK deactivates his Instagram account, jungkook.97, leaving millions of his fans in shock and confusion, especially Indian fans. Here's why BTS's youngest member, Jungkook, deleted his Instagram account and what armies have to say about it. Read on!
BTS is one of the biggest boy bands in the world at this moment. They have billions of fans around the world. Also, their fanbase is continuously growing in highly populated countries like India.
The kind of popularity they have is quite unimaginable for any other artist to enjoy in today's fast-paced world. Their fans are called armies, which are people from different parts of the world who live in different countries and speak different languages but still tune in all the time to support and listen to what BTS members have to say.
In short, it is one of the biggest fandoms in the world. If you have been following BTS, then you might already know that the story of these seven boys is nothing less than a miracle, yet heartwarming. They were underdogs and struggled for many years, but when they tasted success, it was one of the greatest of all time.
Why Did JungKook Delete His Instagram Account?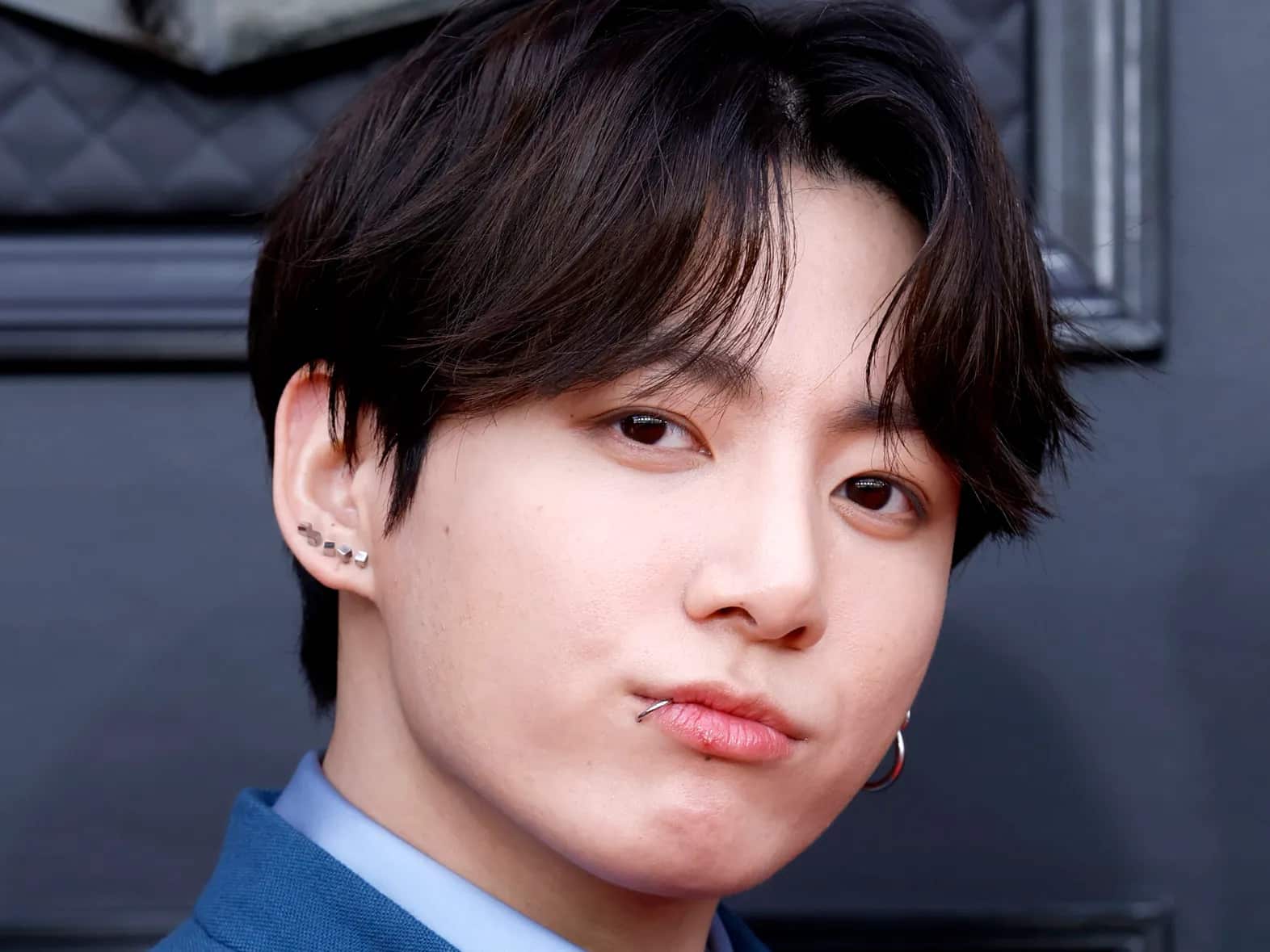 BTS has a dedicated YouTube channel with over 70 million subscribers, and they are also quite mammoth on Twitter. Whenever they tweet something or something new has happened related to them, it's normal to see their dedicated hashtags trending worldwide.
Last year, they also made their debut on Instagram. Since then, BTS members have been quite active on this social media application; however, JK has been one of the least active on Instagram.
For the newly joined armies, JK is one of the most popular and talented members of BTS, famous for his amazing singing and dancing skills.
The Dynamite hitmaker is known for his intelligence and sharpness in almost all areas of life, be it singing, dancing, athletics, gaming, painting, sketching, and whatnot. Also, Jungkook is known for his shy, yet relatable, personality. He is one of the most famous K-pop idols of all time.
Whenever he wears something, it gets sold out in a jiffy, and whenever he puts out new music, it goes viral in no time. In short, the fan bases and admirers of the singer are large and substantial.
So, lately, when fans tried to find the Golden Makane on Instagram, they weren't able to. That's what panicked the fans, and rumors regarding JK's Instagram account getting hacked started circulating and making the rounds.
However, Jungkook immediately jumped into the scene and clarified that he himself had deactivated his Instagram account. While talking on a fan community forum on Weverse, JK cleared the air on the hacking rumor. In fact, he said he has deleted the Instagram application from his device completely. Why?
Here's what he said: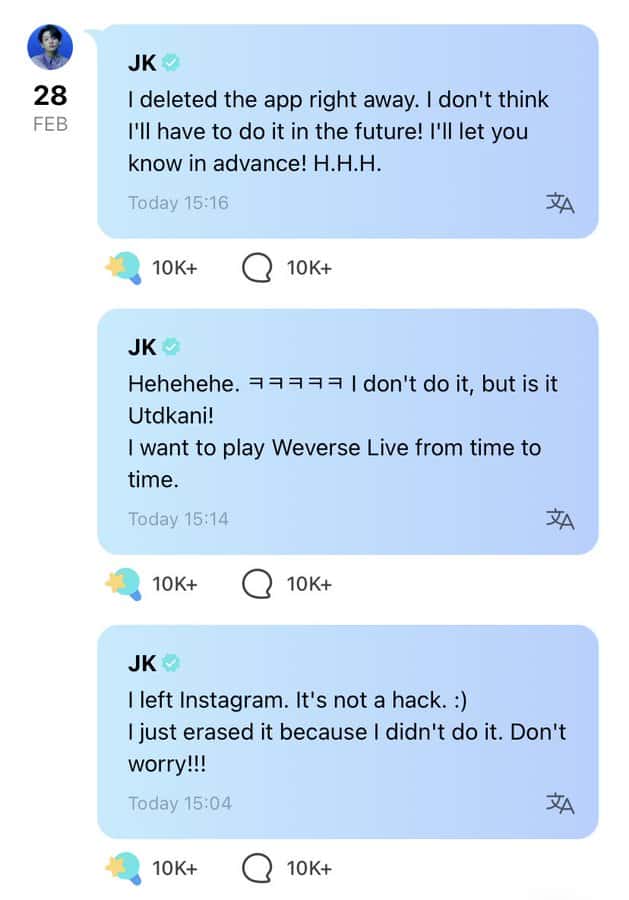 "It wasn't hacked." Don't worry!!"
"I deleted the app right away. "I don't think I'll use it again in the future."
"I have quit Instagram. It's not hacked. I didn't use it, so I just deleted it. Don't worry!"
The Butter singer said that he has not been using Instagram at all. That's why he has deactivated the account on the social media platform. However, he will be using Weverse for fan interactions.
He stated in another post, "What can I do because I simply don't utilize it? I'd prefer to occasionally participate in weverse lifestyles." He further noted, "The app has been deleted by me as well, and I doubt I'll use it again. I'm informing everyone in advance!"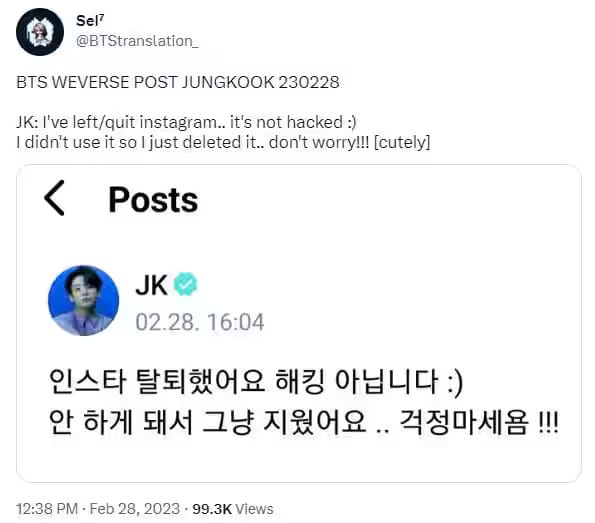 Of course, most of the armies were sad and gave mixed responses to JK's this step.
A fan commented:
"JK has a point. He has not been using Instagram much. So, it's fine! Weverse is fine. It's more connected and intimate. He told us how he is feeling and about his dog, Bam. That's all we want."
Another army wrote:
"I am sad, but I am also happy that JK knows what he really wants. So, as long as he is happy, I am happy."
So, what do you think about JK deleting his Instagram account? Will he ever make a comeback on Instagram? We can only wait and watch! Well, as Indian fans of BTS, we are always here to support and listen to their music, which is what they are truly known for and stand out for!
Also Read: