The official Twitter account of Bungo Stray Dogs revealed a new trailer for Bungo Stray Dogs season 4 of the anime and an "overseas key visual," embellish by character designer, Nobuhiro Arai and background design by Tsuyoshi Kusano on 6 Aug 2022. 
The Bungo Stray Dogs staff members had unveiled official trailer at panel of Crunchyroll Expo 2022. 
The four new characters are been revealed in new trailer with its official release date on January 2023. 
About the Cast of Bungo Stray Dogs Season 4: 
The announcement of new cast and staff for Bungo Stray Dogs season 4 is as follows:
New cast members: 
Akio Otsuka – Fukuchi Gen'ichirō 
Makoto Koichi – Teruko Ōkura 
Takehito Koyasu – Nikolai G 
Takeshi Kusao – Mushitaro Oguri 
Staff members: 
Prop Design – Fumihiro Katagai 
Art Director- Yumiko Kondou 
Color Key Artist – Yukari Goto 
Director of Photography –Tsuyoshi Kanbayashi 
3D CG Director – Yōta Andō, Yuuki Oguri 
Editing – Shigeru Nishiyama 
Music – Taku Iwasaki 
Music Production – Lantis 
Sound Director – Kazuhiro Wakabayashi 
Sound Effects –Shizuo Kurahashi (Sound Box), Sachiko Nishi (Sound Box) 
Sound Production – Glovision 
Mamoru Miyano voice of Dazai is been reprising is role and other cast members who are reprising their role for the series are below: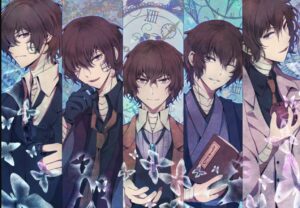 The cast members reprising their role: 
Yuto Uemura – Atsushi Nakajima 
Mamoru Miyano – Osamu Dazai 
Sumire Morohoshi – Kyoka Izumi 
Kenshiro Ono – Ryunosuke Akutagawa
Kisho Taniyama – Chuya Nakahara 
This Bungo Stray Dogs season 4 of anime is directed by Takuya Igarashi and script writer will be Yoji Enokido. 
The character designer will be Nobuhiro Arai and Yumiko Kondo will be art director. 
BONES studio will be in charge for the animation. 
About the Anime: 
The anime adaptation of the series was been on 2016. 
The premiere of first season of anime was from April to June 2016. 
The second season was aired on 2016 from October to December 2016. 
The third season of anime was been premiered in 2019. 
Crunchyroll and Funimation had released English dub episodes of the anime in March 2022. 
Crunchyroll describes the anime as: 
Kicked out of his orphanage and on the verge of starving to death, Nakajima Atsushi meets some strange men. One of them, Dazai Osamu, is a suicidal man attempting to drown himself in broad daylight. The other, bespectacled Kunikida Doppo, nervously stands by flipping through a notepad. Both are members of the "Armed Detective Agency" said to solve incidents that even the military and police won't touch. Atsushi ends up accompanying them on a mission to eliminate a man-eating tiger that's been terrorizing the population… 
Abstract: 
The movie of this anime series was been released title: Bungo Stray Dogs Apple, which was premiere in Japan in 2018, March. 
According to the Box Office Mojo, the film collected around just over $2.3 million at the international box office and it was only released in theatres of Japan, Russia and South Korea. 
Instead of releasing in theatres worldwide, the film was been streamed on Crunchyroll. 
Just after one year of movie release the season 3 of the anime was been broadcast and now after 3 years Season 4 release date is been announced. 
The series had also released one spin-off series title name as Bungo Stray Dogs WAN! Which had been aired in 2022. 
The Yen Press had also released manga plus light novel in English for this series. 
Conclusion: 
The best part is after waiting for so long for Bungo Stray Dogs season 4 no one has wondered that Bungo Stray Dogs season 4 of this anime will commences. 
There is No doubt, there is hype among Dazai fans. 
And also, all the episodes till season 3 plus movie and OVA are available on Crunchyroll so people who haven't watch the anime should try it if you are interested in genre such as Suspense, thrill and Comedy. 
OFFICIAL TWEET:
OFFICIAL TRAILER:
---
READ MORE: https://asianatimes.com/anime-vs-indian-cartoons-which-is-better-to-watch/
---