Cancer has been a major problem in the world as no known medicine is available that can be used to treat it properly. Scientists all over the world are working to find new ways to deliver anti-cancer medication to tumours and treat them permanently.
In Zurich, there is an idea to use bacteria as carriers and through blood circulation to transport medications to the tumors. It has been a breakthrough in controlling some bacteria so that they'll be able to reach the tumor by passing the blood vessel wall. It has been done by ETH Zurich researchers.
Exploiting Temporary Gaps
Simone Schurle, a professor of Responsive Biomedical Systems, led his ETH Zurich team of researchers to choose to experiment with naturally magnetic bacteria due to their containing iron oxide particles. Magnetospirillum bacteria can be controlled by magnets outside the body as they respond to magnetic fields.
In cell cultures and animals, Schulz and her colleagues demonstrate that in the tumor, applying a rotating magnetic field boosts bacteria's ability to pass through the vascular cell wall near the malignant development. Because of the spinning magnetic field on the vascular cell wall, the bacteria move in a circular motion.
A deep examination is required to understand how this spinning mechanism works to cross the vessel cell wall. The blood vessel wall is composed of cells and serves as a barrier between the lifeblood and the tumor tissue, which is permeated by countless tiny blood vessels. Because of the small spaces between these cells, some substances may pass through the vessel wall. The vessel wall cells control the size of these intercellular spaces, which can be momentarily large enough for bacteria to flow through.
Strong Propulsion and High Probability
The ETH Zurich researchers demonstrated three reasons why a rotating magnetic field is effective for pushing bacteria.
Firstly, it is observed that rotating magnetic field propulsion establishes the course for the bacteria so that they can proceed on their own. It is not possible for static field propulsion. This makes the rotating field propulsion ten times more powerful.
The second and most significant factor is that driven by the rotating magnetic field, germs are continually migrating along the vascular wall. This increases the likelihood that the bacteria will come into contact with the gaps that rapidly form between vessel wall cells as compared to other propulsion modes, where the bacterium's motion is less explorative.
Third, unlike other systems, tracking the microbes does not require imaging. Once it is above the tumour, the magnetic field does not need to be changed again.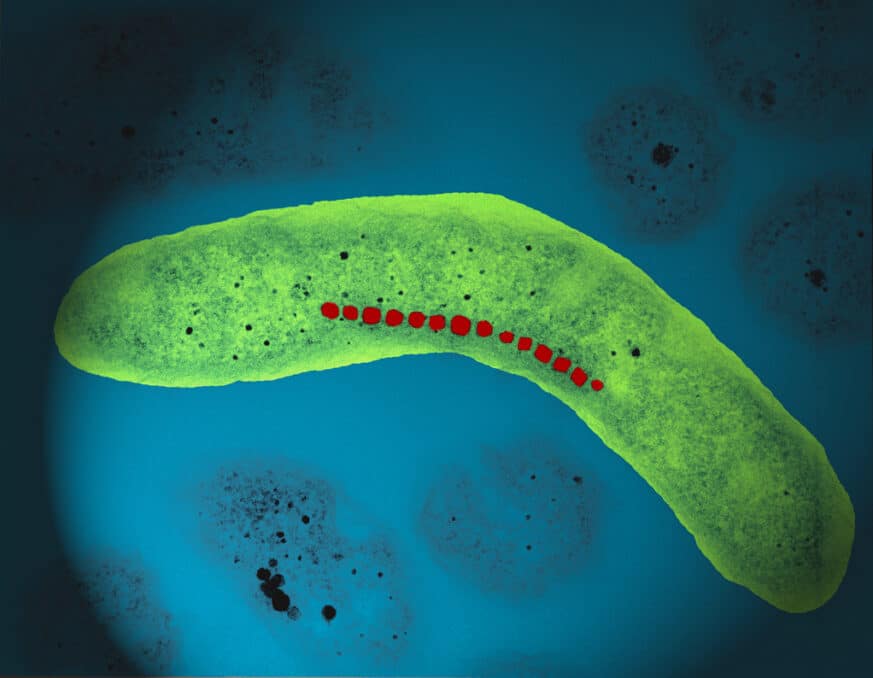 "Cargo" Accumulates in Tumour Tissue
Schurle says that they also exploit the inherent and independent motility of the bacteria. The bacteria can autonomously travel deep into the tumor's interior after they have gone through the blood vessel cell wall. In order to effectively propel the bacteria past the vascular cell wall and into the tumor, the researchers only employed the external magnetic field for propulsion for just one hour. It is enough as the rest is done by the bacteria itself.
It is possible that in the future, such microorganisms could be used to transport medications for cancer patients. In cell culture tests, the researchers at ETH Zurich replicate this use by attaching liposomes (small spheres of fat-like molecules) to the bacteria. The liposomes are labeled with a fluorescent dye by the researchers. This allows them to see in a petri dish that the bacteria transport their cargo into the cancerous tissue, where it accumulates. Medications would be loaded into liposomes for future medicinal use.
Bacterial cancer treatment
Bacteria can aid in the battle against cancer in two ways. One is by serving as medicine cargo. The other technique, which has been around for more than a century, is based on particular types of bacteria's innate inclination to destroy tumor cells. This might include a number of steps. In any case, the bacteria are known to activate immune system cells, which eventually destroy the tumor.
Several research studies are now being conducted to investigate the efficiency of E. coli bacteria against tumors. Microbes may now be genetically changed to increase their medical impact, make them safer and minimize side effects.
Making Non-magnetic Bacteria Magnetic
To use bacteria's natural ability to treat cancer, one critical question must be answered: how will they efficiently treat tumors by reaching them? It is feasible to inject the bacteria directly into tumors that are close to the body's surface, but this is not an option for tumors that are buried deep inside the body. Here, the micro robotic control developed by Professor Schurle is used. The researchers intend to leverage their engineering method to increase the effectiveness of bacterial cancer treatment.
Because E. coli used in cancer research is not magnetic, a magnetic field cannot drive or control it. In general, magnetic responsiveness is a very uncommon trait in microorganisms. One of the rare bacteria genera to have this trait is Magnetospirillum.
Professor Schurle wants to make E. coli bacteria magnetic too, but there are challenges. She hopes that one day it will be possible to use a magnetic field to control clinically used therapeutic microorganisms that lack inherent magnetism and treat cancer for good.
Read also:https://asianatimes.com/the-top-risk-factors-in-india-for-cancer/