19-year-old Carlos Alcaraz is the newest Grand Slam champion on the ATP Tour. The Spaniard defeated Norway's Casper Ruud 6-4, 2-6, 7-6(1), 6-3 in the final of the US Open to win his maiden Grand Slam and also became the youngest World. No 1 in ATP history.
https://twitter.com/usopen/status/1569108035775221762
After playing 3 back-to-back 5-setters in the previous rounds and having spent 20 hours and 19 minutes on the court, Carlos Alcaraz still managed to preserve his form and energy to outlast Casper Ruud. The latter also had the chance to become the new World. No 1 with the victory.
https://twitter.com/TennisTV/status/1569108230055383041
First Set
During the opening set, both the players aggressively looked to attack second serves. There were some brutal baseline interchanges. Alcaraz and Ruud saved 2 breakpoints each in their opening games, but the former broke to go ahead 2-1 when Ruud smashed his forehand wide. Carlos Alcaraz was aggressive as he kept pushing hard to turn the defense into the attack on the baseline and used the net brilliantly to finish off the points as he did all match.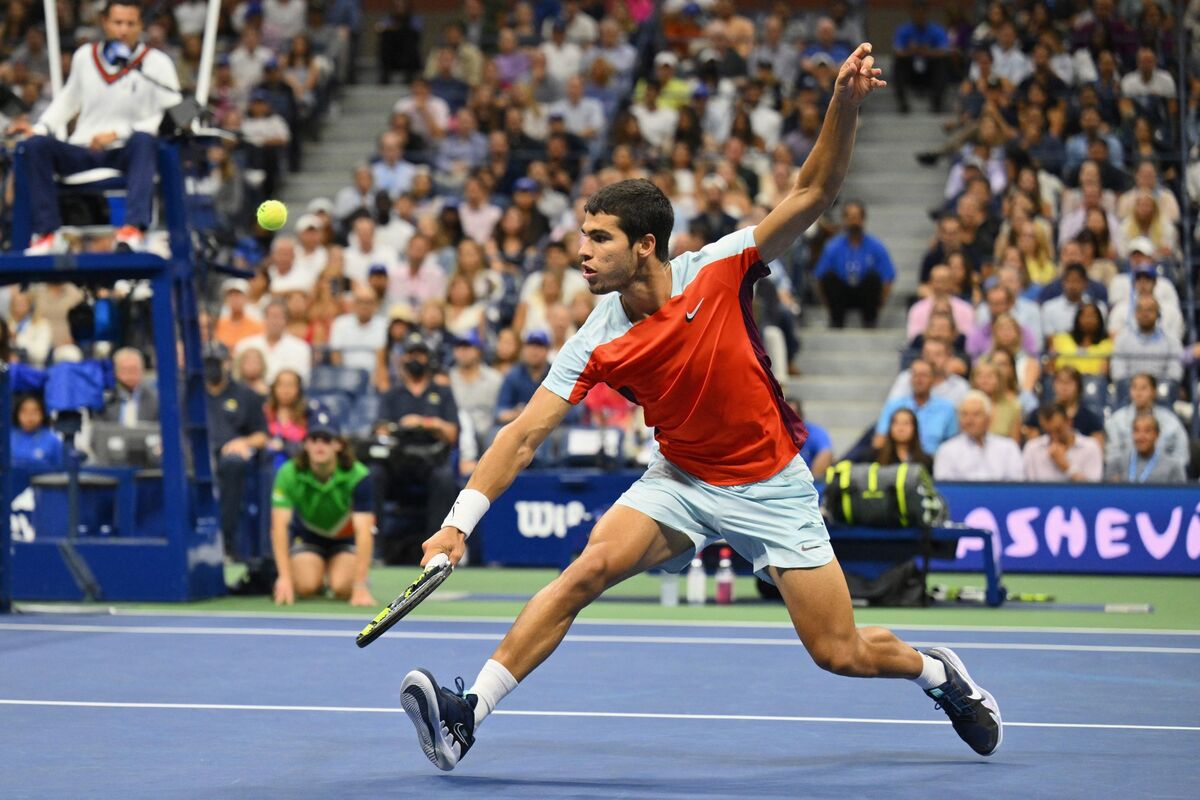 The lone break ultimately proved enough when Carlos Alcaraz served out the set to go ahead in the match. 6-4 Alcaraz.
Second Set
Ruud made an encouraging comeback and started to damage Alcaraz with his groundstrokes. He saved a breakpoint at 2-2 and broke Alcaraz for the first time in the next game to go ahead. He reduced the number of mistakes and only hit two unforced errors to win it comfortably after breaking Alcaraz to close the set. 6-2 Ruud.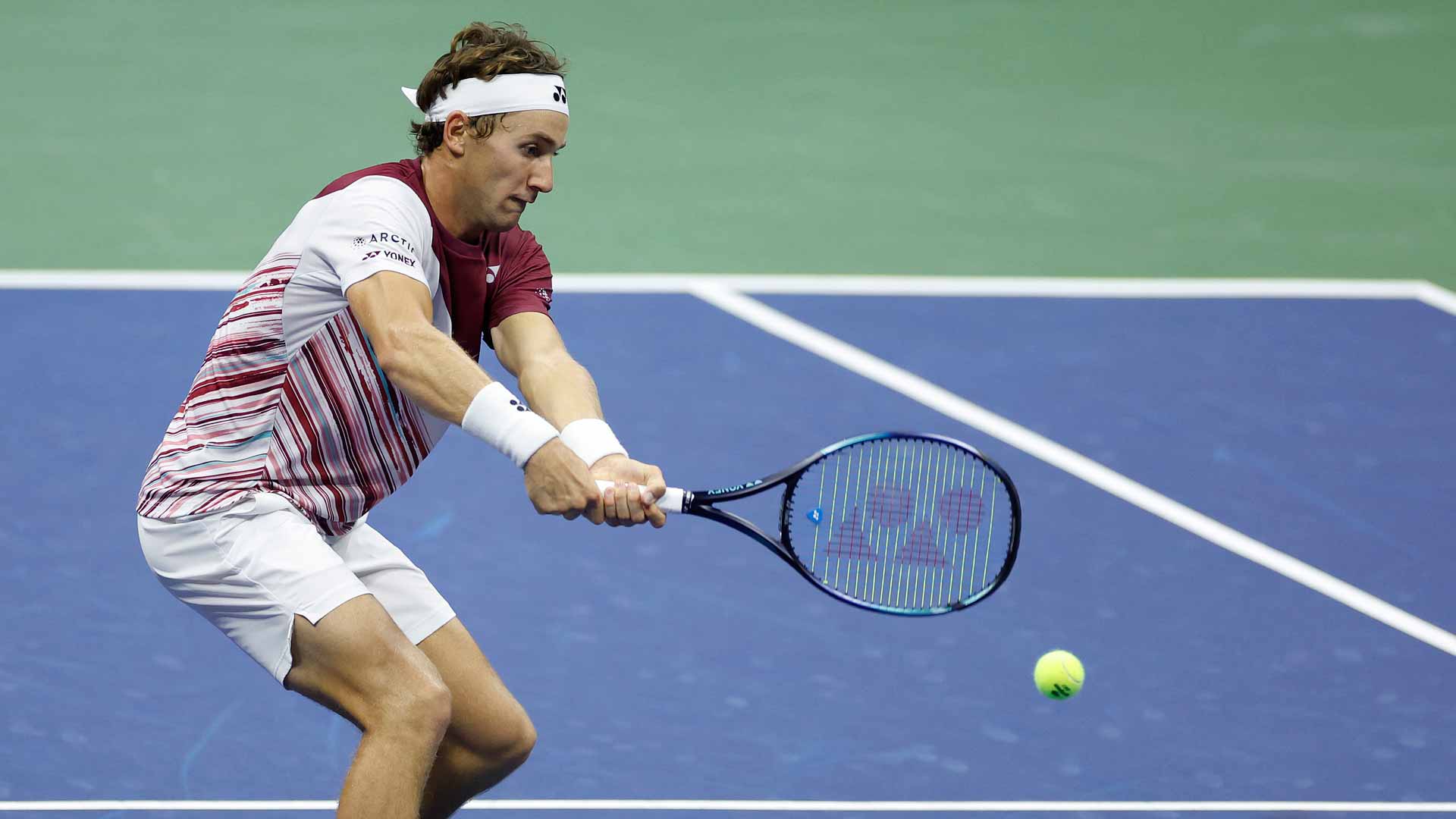 Third Set
The third set featured a tug-of-war. Carlos Alcaraz started aggressively and broke Casper Ruud in the opening game to go ahead. He quickly held his serve in the next game to put Ruud back on serving with pressure mounting. Ruud held his serve after the deuce game. He then pounced on the opportunities and secured 2 breakpoints in the 4th game. Carlos Alcaraz saved the first one with a backhand winner after a huge serve.
Ruud capitalized on the second breakpoint to level the match at 2-2 and put off some pressure that has started to appear. Ruud started to get aggressive and hit a forehand which landed inch perfect on the line for 40-15 in the 5th game. Carlos Alcaraz smashed a forehand long to give another hold of serve to Ruud, who had now won 3 consecutive games. The pressure was now on Alcaraz.
Carlos held his serve in the next game as the match approached the 2-hour mark. Ruud quickly went up 40-0 in the 7th game. However, Alcaraz was landing more first serves consistently as compared to Ruud. The latter double-faulted but held his serve to remain ahead for 4-3. During the 8th game, Ruud went up 15-30 before Alcaraz smashed a ferocious forehand and made a huge first pump as he held his serve.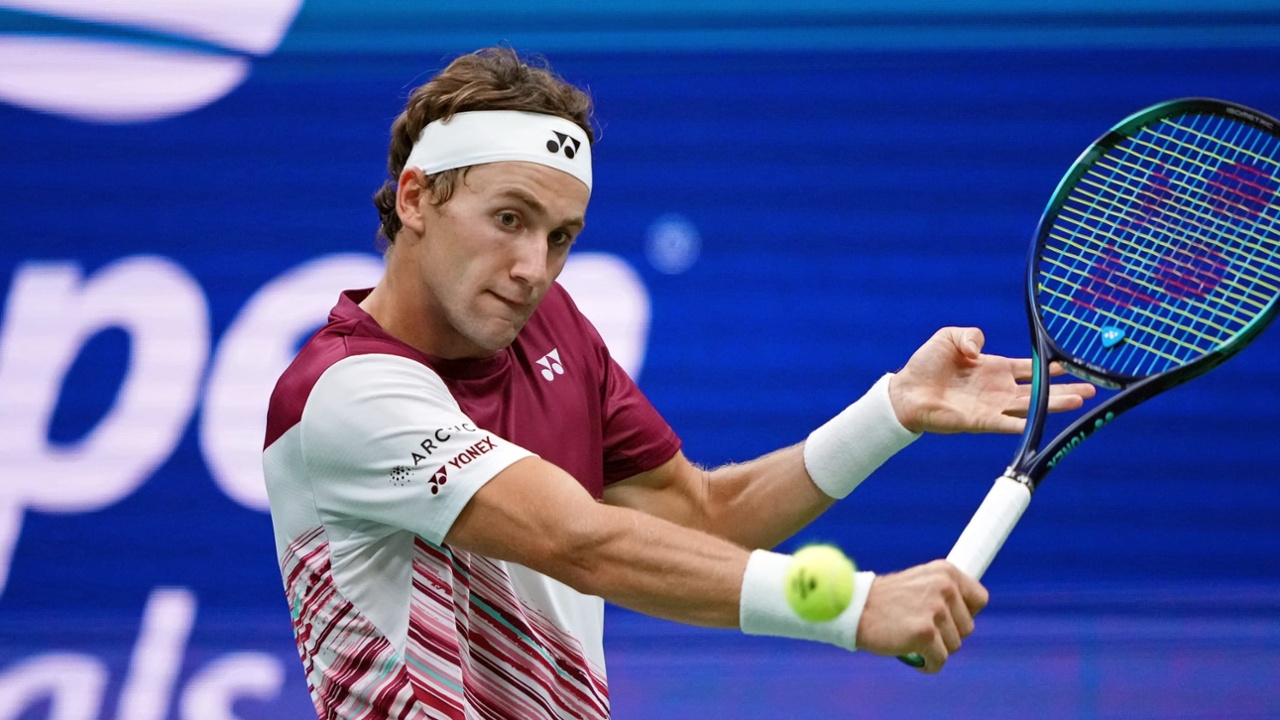 Alcaraz's aggressive hold in the previous service game helped him put more pressure. When Ruud was up 30-0, he secured a point after a good rally and another one when Ruud sent his backhand long. Ruud won a long 17-shot rally as the crowd went up on its feet but smashed the ball into the net afterward for another deuce game. Ruud finally held the serve when Alcaraz misfired a drop-shot followed by a huge serve.
The 11th game of the set featured some huge forehand winners from both players. Alcaraz held his serve when Ruud's forehand hit the top of the net and went wide. Ruud looked visibly annoyed afterward. Ruud went up 15-0 in the game after a messy exchange on the net. Ruud found his first ace of the match to go up 30-0. Alcaraz sent his forehand long as Ruud held to love with a huge serving game.
In the 12th game, Alcaraz sent his forehand wide for 15-15 and again for 30-30. It was followed by a huge forehand on the line from Ruud. which gave him the first set point. Alcaraz used the net effectively to his advantage to deny Ruud the opportunity. Ruud smashed another forehand for deuce no. 2. It was followed by another deuce game when Alcaraz's forehand went wide.
As the game duration approached 6 min mark, Ruud hit a crosscourt forehand to get his 2nd set point. Alcaraz saved again for a 4th deuce game. It was followed by another deuce game when Alcaraz hit the shot on the net. As the game duration approached 10 min mark, Ruud sent the ball into the net before Alcaraz hit a forehand winner from the former's tweener to finally hold and sent the set into a tiebreak.
Carlos Alcaraz completely took over the tiebreak. Casper Ruud kept making mistakes as Alcaraz secured 7 consecutive points including 2 mini breaks to close out the set. 7-6(1) Alcaraz.
Fourth Set
After being two sets to one down, Ruud started the 4th set aggressively with a big backhand winner followed by another one to go up 0-30 in the opening game. Alcaraz used the net to his advantage again to make it 30-30 followed by a long 21-shot rally ending with a forehand unforced error from Ruud. He held his serve when Ruud misfired a powerful forehand from him.
Ruud misfired a forehand on his serve followed by an ace and a delicate shot at the net to go up 40-15. He held when Alcaraz fired the ball into the net. ALcaraz started serving huge combined with forehand winners and aces to hold quickly. Ruud followed the same and held at 2-2 with an ace as the match approached the 3-hour mark.
Carlos Alcaraz started to use serves as a big weapon with aces kept piling up. He served 3 consecutive aces to go up 40-0 in the 5th game but double-faulted on the net serve. He held for 3-2 after Ruud sent his forehand long. Carlos Alcaraz lacked some energy in his game during the set but Ruud wasn't able to capitalize. Alcaraz smashed 2 backhand winners followed by a misfired high forehand from Ruud to hand him a breakpoint. He pounced on the opportunity and broke to go 4-2 up.
Ruud looked for a comeback when Alcaraz fired two unforced errors for 0-30 in the 7th game. The latter however was resilient and hit a forehand winner followed by 2 aces and held for 5-2. One game away from victory. It was at this moment Ruud brought out his A-service game. He held to love after big serves combined with forehand winners. He kept himself alive.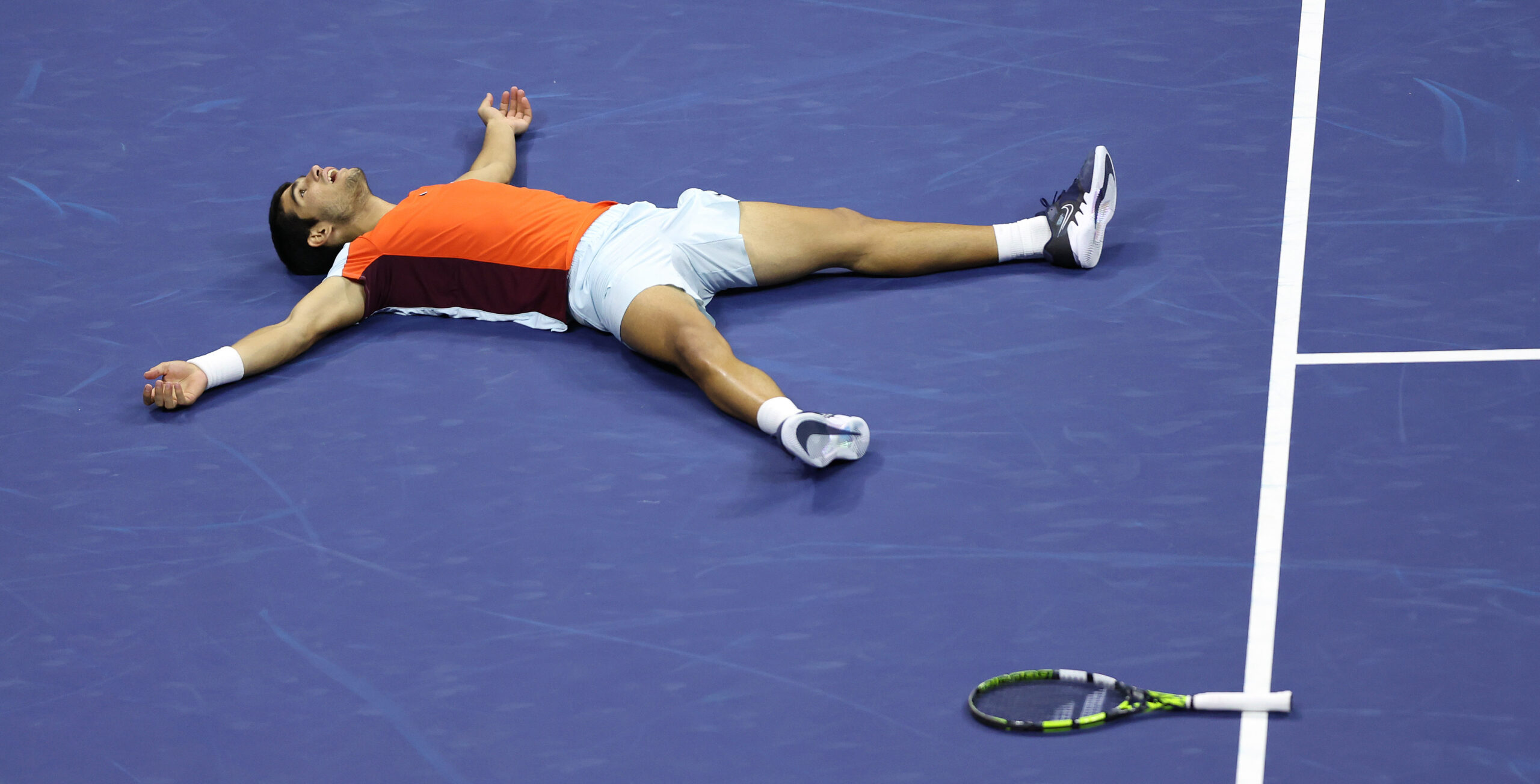 In the 9th game, Carlos Alcaraz took the balls to serve for the championship. He started with an ace followed by a delicate placement of Ruud's forehand to go up 30-0. He misfired a high forehand on the net but served another ace to get 2 championship points. Ruud saved the first one when Alcaraz hit his forehand long. Carlos Alcaraz converted his 2nd championship point with a big serve that was sent wide by Ruud to close the set and the match. 6-3 Alcaraz.
Carlos Alcaraz went to the ground as the crowd went up to their feet to cheer for the new US Open champion. Casper Ruud congratulated Alcaraz on the net before the latter climbed up the stairs to hug and celebrate with his team. He later came down and waved to the crowd acknowledging their support. With Carlos Alcaraz winning the US Open, it marks the 3rd consecutive year a new champion has risen in New York.
https://twitter.com/usopen/status/1569120360142110720
Reactions from Carlos Alcaraz and Casper Ruud after the match
"It is something I have dreamt of since I was a kid. To be No. 1 in the world, to be champion of a Grand Slam, is something I have worked really, really hard [for]," Alcaraz said during the trophy ceremony. "It is tough to talk right now, I have lots of emotions. This is something I have tried to achieve. All the hard work I have done with my team and my family. I am just 19 years old, all the tough decisions have been with my parents and my team as well. It is something that is really special for me."
Carlos Alcaraz spent 23 hours and 39 minutes on the court during the US Open and surpassed Kevin Anderson's 2018 Wimbledon record of most time played in a single grand slam.
"There is no time to be tired in the final rounds of a Grand Slam…You have to be ready and give everything you have inside. It is something I work really hard for," Alcaraz said.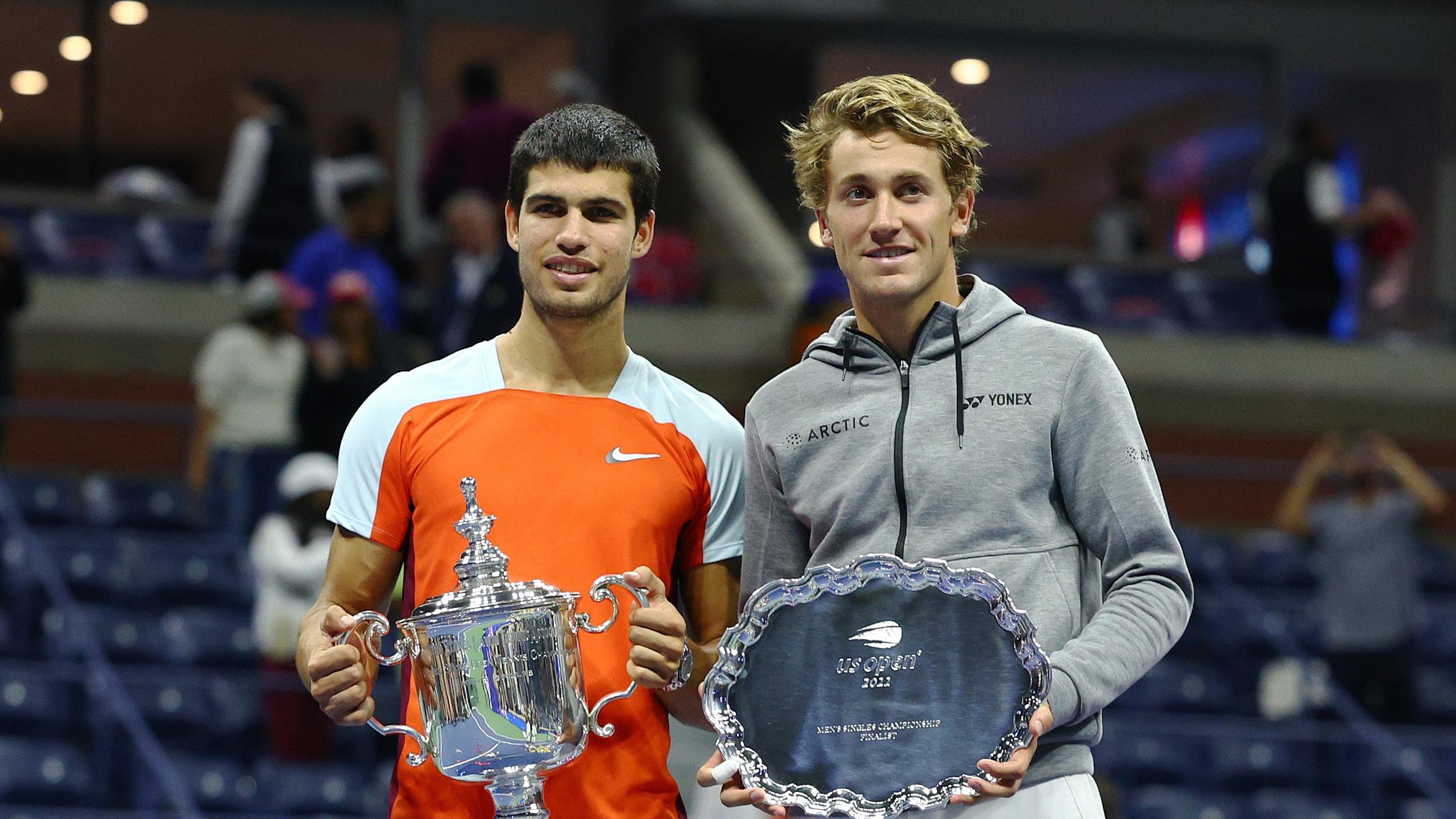 Casper Ruud, who also had the chance to become the new World. No. 1 with a win played 2 Grand Slam finals during the season (lost the Roland Garros final to Rafael Nadal). He will become the new World No. 2 following his campaign at the US Open. He has previously won 3 ATP 250 clay events in Buenos Aires, Geneva, and Gstaad.
"Things have been going so well. Today was a special evening," Ruud said during the trophy ceremony. "Both Carlos and I knew what we were playing for and what was at stake. We will be No. 2 and No. 1 in the world tomorrow, I think it is fitting. I am disappointed of course that I am not No. 1, but No. 2 is not bad either. I am happy with that number and I will continue to chase for my first Grand Slam title and No. 1 ranking."
https://twitter.com/TennisTV/status/1569120116138479617
Carlos Alcaraz won his 5th title of the year. He earlier won 2 ATP Masters 1000 titles in Miami and Madrid. He has qualified for the ATP Finals along with Rafael Nadal. He is also the first player since Novak Djokovic in 2019 Wimbledon to save a match point on the journey to a Grand Slam title.