Shaping a whole new identity, Tollywood mega-budgeted movie 7 years Celebrating. 
PAN- Indian release the biggest mega-budgeted movie in box office and earned gross amount 1.65 Billion. It became highest-grossing film in India.
Even in South Indian film industry, third highest-grossing Indian film worldwide, marks 7 years of completion. 
Bahubali has part of almost every individual. From storyline to acting and production of film, they connected many individuals tied up in emotions.
Some found storyline to attractive whereas overall production and lavishly designed sets were intriguing and captivated take attention of viewers.
Others got attracted to the cliffhanger created by the movie "Kattappa ne Baahubali ko kyu maara?"
The major question when first installment of Bahubali franchise released and next installment.
Bahubali: The Conclusion, turned out to the biggest anticipated movie. It released two years after.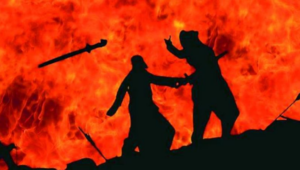 Total budget around 450 Crore INR
SS Rajamouli's dedication and creative vision along with art director Manu Jagadh managed Bahubali to come among highest-grossing films of the time.
The first film's budget, Bahubali: The Beginning is180 Crore INR and the second's budget an estimated budget of 250 Crore INR.
Making the total budget around 450 Crore INR and above which comes under the most expensive Indian film of that time. 
Karan Johar distributed Hindi version of film and made money as well from it, however producers were waiting for release of the second installment of film because the entire budget set for both films.
It decided that revenue will be earned from both films with IMDb rating of 8/10.
Bahubali: The Conclusion helped Karan Johar earning 24-25 Crore for Hindi version. In 2016, high on VFX movie justified as it received the 'National Award for the Best Feature film'.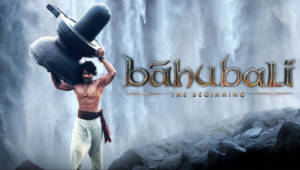 Well, the film created a deeper impact on our minds, it still doesn't feel like 7 years of Bahubali.
Bahubali Pride: Prabhas Invested 4 to 5 Years For Movie 
As Prabhas, lead role in Bahubali gave his 4 to 5 years for this movie, and it brought him the worldwide recognition that he deserves.
Prabhas has managed to break the records and has successfully made fans across the globe, not forgetting fact that he also speaks Hindi making him one of the finest actors.
The fact that actor devoted and invested his time in this production says a lot about his confidence in the plot and the director.
According to the Times of India, during a conference on Bahubali, Prabhas said ''For Rajamouli, I would have even spent more than four years on Bahubali.
I would have been ready to dedicate even seven years for him on the project."
The film starred some of the brilliant actors in the industry – Rana Daggubati, Anushka Shetty, Tamanna Bhatia, and Ramya Krishnan in prominent roles.
Bahubali Pride via social media
Tamannaah feels proud to part of this biggest blockbuster. She feels nostalgic and goes down her memory lane.
She posted a thread of the unseen pictures or sometimes called Behind the Scenes from film on Twitter.
Check out the tweet below:
Dharma Production also shared a video
The Dharma Production also shared a video on Instagram handle to celebrate seven years of the movie.
Even if it has been 7 years of the release of the movie, we are still very much connected to this film, the songs, and characters.
The scenes from movie are even today lodged in memory such that it gives chills while thinking about it.
It surely feels surreal, and so does it for the actors. Time goes by fast and waits for none – this has been proved yet again.