This year, China intends to send two crewed missions to its new space station, and a Tianzhou cargo ship will also transport supplies to space. On Wednesday, February 15, the China Manned Space Agency (CMSA) made the announcement (opens in new tab) that it intends to send the crew of the Shenzhou 16 mission to the newly established Tiangong space station in May. The Shenzhou 17 mission will take place nearly six months later, in October.
The six astronauts of China's Shenzhou 14 and Shenzhou 15 missions to the Tiangong space station pose for a crew photo in orbit in November 2022. (Image credit: CMSEThree astronauts will be aboard each Shenzhou crew spacecraft, whose identities are typically kept a secret until the day before their launch on a Long March 2F rocket from the Gobi Desert's Jiuquan Satellite Launch Center.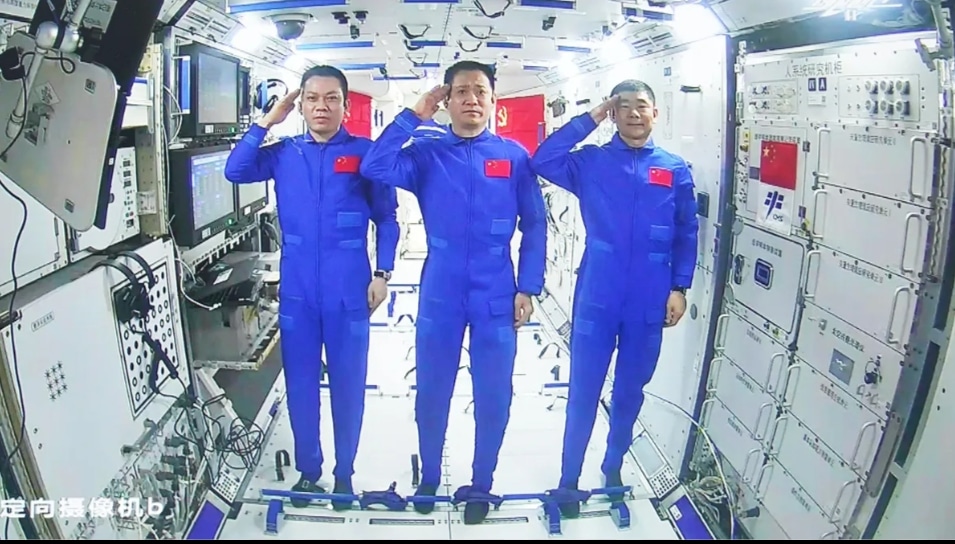 In May, the robotic Tianzhou 6 freighter will also take off to provide Tiangong with propellant and supplies in advance of the astronaut missions. A Long March 7 rocket will take off for that mission from China's Hainan island coastal spaceport. Before each Shenzhou mission heads to Tiangong, China has previously launched a Tianzhou cargo craft.
However, the China Academy of Space Technology, the manufacturer of Tianzhou, has increased the pressurized segment's cargo capacity by approximately 1,100 pounds (500 kilograms), necessitating just three supply missions every two years instead of four. As part of a space outreach campaign, CMSA is also looking for designs for patches for the missions (opens in new tab).
Previous contests for the names of spacecraft, such as the Yutu lunar rover and Zhurong Mars rover, have been held by China's space authorities. The Shenzhou 15 crew is currently staying at Tiangong, where they are about halfway through their 180-day stay. Before landing at the Dongfeng landing area near Jiuquan a few days later, the crew will welcome Tianzhou 6 and Shenzhou 16, handing over control to the new crew. In order to attach brand-new equipment to the outside of the space station, the 15 astronauts from Shenzhou recently carried out their very first spacewalk.