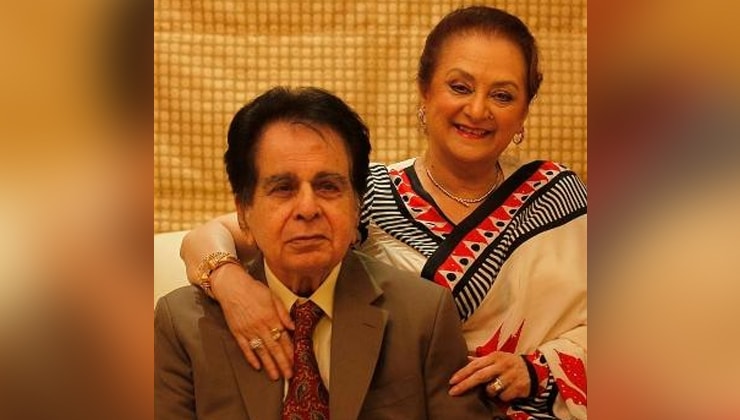 In a career spanning roughly six decades,Dilip Kumar was not only famous for his method acting and flawless dialogue delivery but also for his superhit songs .Dilip Kumar,the celebrated actor bid adieu to the world on July 7,2021,after a prolonged illness.The veteran actor's demise left an unfillable void in the hearts of his heartthrob fans .However,it is Dilip Kumar's beloved other half Saira Banu,who was completely disheartened after the demise of the actor.Saira Banu gets teary-eyed on seeing Dilip Kumar's special poster.
Saira Banu at film festival
For those unversed,PVR has organized a film festival where paradigmatic films of the actor will be screened across 20 cities in India to celebrate Dilip kumar's 100th birth anniversary.According to a video shared by a paparazzo on Instagram is going viral,Saira banu is seen getting teary eyed after she spotted the Mughal-E-Azam ' actor .In the heartbreaking video,the heartbroken wife is seen walking towards the poster of upcoming documentary 'Dilip Kumar: Hero of Heroes' and moved her hand around her husband's face in the poster.In the short clip,other guests were seen trying to soothe her while saira banu was visibly trying her best to control tears and that sight left the fans of the iconic couple in deep melancholy.
Saira Banu's unconditional love for Dilip Kumar
On the occasion of Dilip Kumar's first death anniversary ,when she was asked about Dilip Kumar,she answered she is incapable of move on from the heartbreak after the demise of her better half.She also explained her unconditional love by saying that her life is "pheeka"without Yousuf Saheb.She added that their love was something different.The veteran actor also added,"You just cannot replace some people in your life. Give me all the wealth in the world and Dilip saheb on one side, and I would want Dilip saheb,"
Saira Banu and Dilip Kumar,the iconic couple
For the unversed, the couple tied the knot in 1966 after a long period of courtship. They had an age gap of 22 years. In his autobiography, the iconic actor disclosed that her wife had conceived once but due to complications in pregnancy they lost their child. The legendary couple, Dilip Kumar and Saira Banu's unconditional had made their fans speechless.
-Debaki Majilya