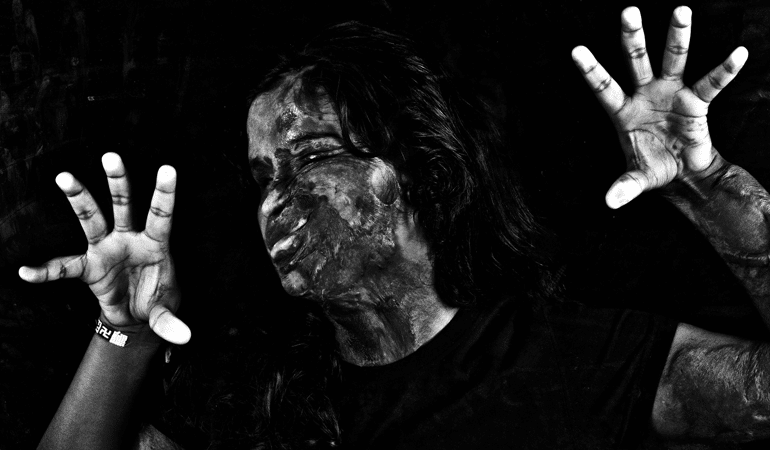 Two goons on a bike splashed acid over a 17-year-old schoolgirl's face in Dwarka, Delhi. This heinous incident occurred on 14, December 2022 at 7:30 am.
The girl was going to school with her young sister aged 13 at the time of the incident. Delhi police received a call about the incident at around 9 am.
The footage featured by a CCTV in the area shows two girls walking when a bike with two people slows down and throws acid over the 17-year-old girl's face. She runs, covering her face in agonizing pain.
The victim gave the names of two suspects known to her. One has been detained by the police and the search for the other is still on.
The victim is admitted to Safdarjung Hospital.
A doctor stated "She has suffered 7-8 per cent facial burns and her eyes have also been affected. She is being examined. She is admitted the burn ICU and is stable."
The victim's father told the media "Our younger daughter came running to the house and said that acid has been thrown at her sister. Both the boys had covered their faces, they are yet to be identified. It (acid) has entered both her eyes,"
On being asked if their daughter had complained about any kind of harassment by anyone, the Father said "No, she did not. If she had, I would have accompanied her everywhere. The sisters would travel to school together in Metro."
Her mother also denied any complaints about harassment from her.
Delhi Police stated "A PCR call was received around 9 am regarding an incident of throwing acid on a girl in the area of PS Mohan Garden. It was stated that a girl aged 17 years was allegedly attacked using some acid-like substance by two bike-borne persons at around 7:30 am. The girl was with her younger sister at the time of the incident. She has raised suspicion over two persons known to them. One person has been detained and further investigation is going on," 
Swati Maliwal, chairperson of Delhi Commission for Women expressed her concern over the incident through her tweet  "Acid was thrown at a schoolgirl near Dwarka Mor. Our team is reaching the hospital to help the victim. Will get justice for the daughter. The Delhi Commission for Women has been fighting for years to ban acid in the country. When will the government wake up?"
Saurabh Bharadwaj, spokesperson of Aam Aadmi Party tweeted in Hindi "LG Saab, you have Delhi Police and crime is increasing every day. Instead of interfering in the work of the Delhi government, you should concentrate on your work. After your arrival, crimes are increasing in Delhi."

Arvid Kejriwal, Chief Minister of Delhi tweeted "This cannot be tolerated at all. How did the accused gather so much courage? The accused should be given the strictest punishment. The safety of every girl child in Delhi is important to us."
According to National Crime Records Bureau (NCRB) data, 1079 acid attacks have been recorded between 2018-2022. In 2021, 176 acid attacks were reported, along with 73 'attempts to acid attack'.
Further details are awaited.